Rasheed Sulaimon is no Austin Rivers -- and that's a good thing
Duke needed to fill Austin Rivers' shoes after last season, and the Blue Devils found his replacement in Rasheed Sulaimon -- but he might be a better fit.
• 4 min read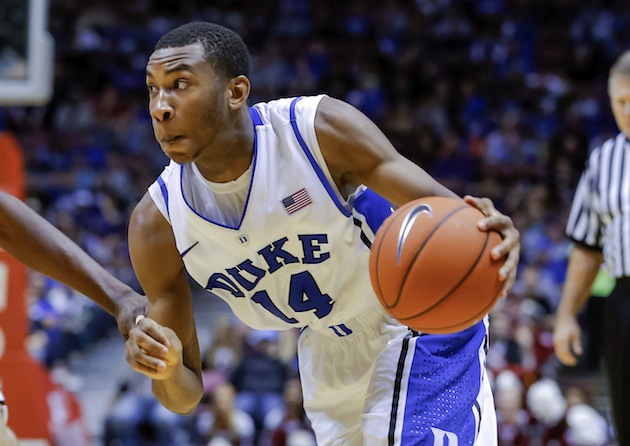 Duke freshman Rasheed Sulaimon had seven assists and zero turnovers against Temple. (US Presswire)
EAST RUTHERFORD, N.J. -- Rasheed Sulaimon wasn't the leading scorer for Duke in its win against Temple on Saturday afternoon. In fact, Sulaimon was shut out of the scoring column in the second half.
But the Duke freshman's head coach couldn't stop raving about his performance.
"Rasheed is an outstanding player," Mike Krzyzewski said after Duke's 90-67 win at the Izod Center.
"He does it all," sophomore guard Quinn Cook added.
More on college basketball
Related links
More college basketball coverage
Sulaimon, a 6-foot-4 shooting guard from Strake Jesuit College Prep (Texas), came into Durham with the label of a five-star recruit. CBSSports.com ranked him as the No. 13 prospect overall in the class of 2012. Given his all-around skills, it wasn't a huge surprise when Krzyzewski slotted him into the starting lineup for the season-opener against Georgia State.
He was replacing another heralded freshman, one who left after just a single season with the Blue Devils.
"Rasheed reminds me of Austin [Rivers]," Cook said, referring to the 10th overall pick in last June's NBA draft.
It's not hard to see the comparisons. Both are extremely talented, both can shoot the ball from the perimeter and both can get their own shot off the dribble. Moreover, both players are very competitive.
But that's where the similarities end.
A year ago, Rivers was the focal point of the Duke offense. He was the only player who could get by his defender and make plays on his own. On the other hand, though, there seemed to be a disconnect between Rivers and the veterans, something that lingered under the surface throughout the entire 2011-12 campaign. 
Sulaimon had no visions of being the new Austin Rivers in Durham.
"When I committed, they told me I was going to be a defensive player," Sulaimon said. "That was the easiest way to get on the court. Most of the time, I'm guarding the other team's best perimeter player. So I'm going to bring energy."
After nine games at Duke, Sulaimon has already established himself as one of the premier defenders in the ACC. On Saturday, he held Scootie Randall to just six points on 3-for-9 shooting. Randall had come into the game as Temple's leading scorer, averaging 16.7 points per game.
"I just tried to stay on him, not let him get comfortable," Sulaimon said. "He likes to play the game at his pace, so I wanted to speed him up."
Defense might be what Duke needs most from Sulaimon, but that's certainly not the extent of his skill set. On Saturday, he dished out seven assists -- and didn't turn the ball over at all. His vision and ability to create shots for teammates has been a major asset for the Blue Devils this season.
Sulaimon had just eight points against Temple, but that was the first time since the season- opener that he didn't reach double-digits in points. He's shooting nearly 40 percent from 3-point range, and can do so many different things on the offensive end.
The Texas native is simply a better fit for Duke than Rivers. Whatever Duke needs to him to do, he's ready to take on that responsibility. If that means taking fewer shots and being a ball-handler, that's fine. If it means creating his own shot or using up his energy on defense, Sulaimon will do it. More importantly, the chemistry has been noticeably better so far this season.
And remember, we're only nine games into Sulaimon's college career.
"I've known Rasheed for about three years, and he's always had a chip on his shoulder -- even in board games or video games," Cook said, adding that he wasn't surprised by Sulaimon's stellar first-month performance.
Duke showed again on Saturday why it's a legitimate early contender for the national title. Mason Plumlee is a dominant performer on the block, and he's surrounded by players who can stretch the defense. Seth Curry had 23 points and five 3-pointers, Ryan Kelly had a double-double, and Quinn Cook went for 14 points and four assists. Duke has a lot of pieces on the offensive end; it doesn't need Sulaimon to go for 20 points on a nightly basis.
As Sulaimon gets more comfortable, though, he will provide yet another weapon.
"I definitely [was nervous] at first," Sulaimon said. "But I've played in Cameron, in the Georgia Dome, in the Bahamas -- those are big environments."
If Sulaimon continues to impact games like he has so far, he and Duke could get a chance to prove themselves on the biggest stage on them all: the Final Four. 
Northern Colorado will be on probation through 2020 due to academic and recruiting violati...

You might not see a projected NCAA Tournament bracket quite like this one anytime soon

The Wildcats, once written off after a three game skid, appear poised to enter Pac-12 play...
The Ducks are riding a three game winning streak yet are slight underdogs against the Bulldogs...

The Hurricanes are one of only a handful of unbeaten teams left in college hoops

The Bearcats are fresh off a convincing win over previous unbeaten Mississippi State