Recent Arizona decommit Tyler Dorsey restarting his recruitment
Tyler Dorsey decommited from Arizona just days ago, but plenty of schools have already begun pursuing him.
• 2 min read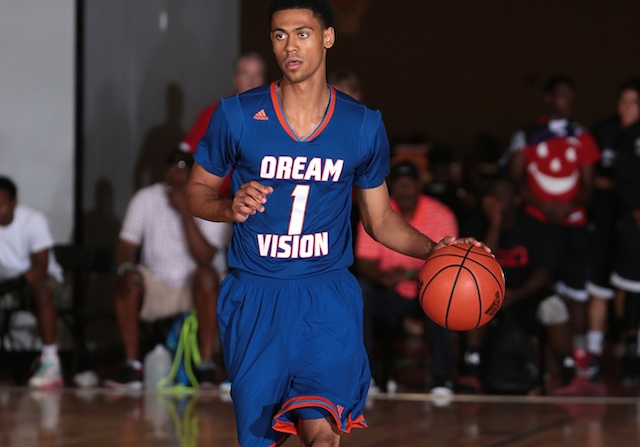 CHARLOTTESVILLE, Va. – It wasn't exactly a shock to most people, but Tyler Dorsey shook up the recruiting world last weekend when he decommitted from Arizona.
The announcement came via a press release on Saturday morning, but Dorsey says he didn't make his final decision until that Friday night.
"I sat down and talked to my family, and I wrote that letter," he said on Wednesday. "And I meant what I said on that letter."
In the release, Dorsey had mentioned that he felt he made his college decision too quickly and wanted to look at some other schools before making a final choice. The letter also hinted at his expectations of backlash regarding the decision to part ways with the Wildcats.
With his Tucson plans in the rearview mirror, Dorsey is now looking forward. And one of the most important things on his wish list is to have ability to play point guard in college. For what it's worth, Arizona had a commitment from 2015 point guard Justin Simon, while also having incoming freshman point guard Parker Jackson-Cartwright on the roster.
Dorsey said he wouldn't shy away from going to a school with an established point guard on the roster.
"It doesn't matter," he said. "I can play with anybody in the country. It just depends on how I'm going to be used in the system."
The 6-foot-4 St. John Bosco (Calif.) product is known more as a scorer than a distributor at this point, given his ability to get his own shot and make plays with the ball in his hands. It was more of the same at the NBPA Top 100 camp, as he was making shots in the mid-range and getting to the rim consistently.
Dorsey doesn't deny the score-first ability right now, but he sees his future at the one.
"I feel like that's my best position at the next level," he said. "I have to build those skills and attributes to be able to play that in the NBA. You see the guards in the NBA, most of them are score-first, but also can make the right basketball play. Russell [Westbrook], Damian Lillard. I call them lead guards. That's probably my best position."
Since the decommitment, a long list of schools have made contact. Oregon, Oregon State, Stanford, California, Arizona State, Georgetown, Kansas, Louisville, Missouri, Florida and Tulsa are among the schools that have reached out.
"After the AAU season, I might cut my list a little bit," Dorsey said. "I have no set plans or dates to do anything."
He's ranked as the No. 12 player in the 247Sports Composite for the class of 2015.
"Four Sides of the Story" also takes a look at Tiger Woods' first PGA tournament and the role...

Indiana's Archie Miller and Mizzou's Cuonzo Martin have been killing it on the recruiting...

Duke's much-anticipated Allen-Duval connection is off to a hot start already
It'll be Miller vs. Miller if the Hoosiers and Wildcats can finalize the proposed series

Wisconsin's Ethan Happ has made only two jumpers in his career, but is adding a long-range...

The deal is part of long-awaited $2.64 billion contract; CBS' hoops-only commitment runs through...