Recent decisions heat up race for nation's best frontcourt
With recent commitments and NBA decisions, the three best frontcourts are clear: Florida, Kentucky and Arizona.
• 2 min read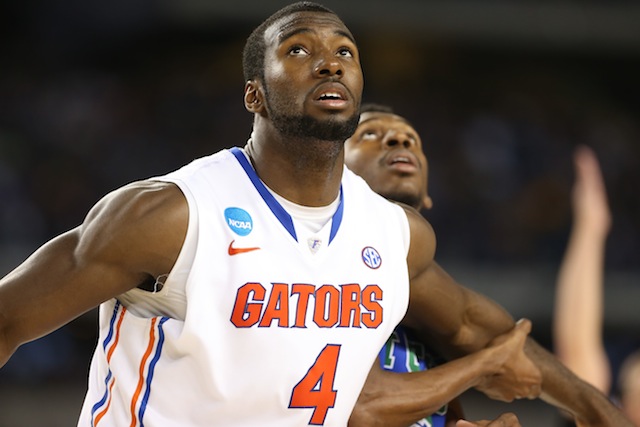 Over the past few weeks, there have been several personnel decisions that will undoubtedly affect the rankings next seasons. More specifically, the battle for the best frontcourt in the country in 2013-14 also heated up with a handful of decisions in the last three weeks.
For Kentucky, top-five recruit Julius Randle committed, while Willie Cauley-Stein and Alex Poythress decided to return to school. Florida's Patric Young passed on the NBA for one more season in Gainesville, and Arizona received a commitment from stud recruit Aaron Gordon.
Kentucky, Florida and Arizona will have the three best frontcourts in the country, so let's take a look.
Kentucky: Once Cauley-Stein and Poythress announced their intentions to play another season in Lexington, the Wildcats immediately jumped to the forefront in terms of frontcourt talent. With those two and Kyle Wiltjer returning, John Calipari has a solid trio back from this season. It's the newcomers who take this group to the next level, though. Randle is ready for an immediate impact, while centers Dakari Johnson and Marcus Lee will also be in line for good minutes off the bench. The biggest question will be minutes – will Wiltjer come off the bench? Will Johnson or Lee be satisfied with fewer minutes? Also, the potential addition of Andrew Wiggins would make this group even better. Swingman James Young could give minutes at the 3, but he will be used mostly on the wing.
Florida: The Gators do lose Erik Murphy, but everyone else returns up front for Billy Donovan. Young deciding to bypass the NBA means the Gators have a returning start at the center spot, which makes things easier for everyone. The other returnees were bench players this past season, with athletic small forward Casey Prather and Will Yeguete back again. What has everyone excited, though, are the newcomers. It starts with transfers Dorian Finney-Smith (Virginia Tech) and Damontre Harris (South Carolina). Both players are extremely talented and will fight for starting spots right off the bat. And we haven't even mentioned top-10 prospect Chris Walker, who could be a future lottery pick due to his terrific athleticism and ability to run the floor. Like Kentucky, it will be interesting to see how Florida sorts out the frontcourt rotation.
Arizona: The Wildcats are slightly less proven than Kentucky or Florida, but they are certainly just as talented -- with five former five-star prospects leading the way. Gordon committing last week put them over the top, as he is capable of being one of the three best freshmen in the country next season. He will look to play at small forward, despite playing inside for most of his high school career. Down low, Sean Miller has Brandon Ashley, Kaleb Tarczewski and Grant Jerrett returning from this past season. If one or two of those guys takes a step forward and becomes a legitimate go-to-guy, Arizona could be dominant up front. Rondae Jefferson is another five-star prospect, and he's a point-forward type who creates matchup problems. Returnee Angelo Chol and redshirt junior Matt Korcheck round out the frontcourt roster.
All three frontcourts are ridiculously talented and deep, but which one has the edge heading into the spring? 
Northern Colorado will be on probation through 2020 due to academic and recruiting violati...

You might not see a projected NCAA Tournament bracket quite like this one anytime soon

The Wildcats, once written off after a three game skid, appear poised to enter Pac-12 play...
The Ducks are riding a three game winning streak yet are slight underdogs against the Bulldogs...

The Hurricanes are one of only a handful of unbeaten teams left in college hoops

The Bearcats are fresh off a convincing win over previous unbeaten Mississippi State