Recruiting mailbag: How does Kentucky look for 2013?
Welcome to our first basketball recruiting mailbag, where we -- surprisingly -- take questions and answer them. It will be a weekly feature, so feel free to send us all sorts of questions.
• 6 min read
Welcome to our first college basketball recruiting mailbag, where we take questions asked via Twitter or email -- and answer them. It will be a weekly routine for the next couple of months, or until people get tired of asking me questions. Feel free to send your questions via Twitter (@jeffborzello) or email (jborzello@gmail.com). They can be about anything, from AAU to high school, player rankings or team rankings, college hoops questions -- and non-basketball questions. House music, hair product, pastel-colored clothes, anything. Hope you enjoy!
@DCulb – Where is Demetrius Jackson going to land? Does Notre Dame have a chance?
Jackson seemed like he was going to make a commitment several months ago, but he held off and is now going through the process. Notre Dame is very much in the mix for him, so the Irish certainly have a chance. Illinois is showing interest, and Michigan State, Florida State and Butler are also involved. Michigan and Xavier have offered.
@mjcollins31 – What are your thoughts on the AAU club, Illinois Wolves?
I haven't seen them play yet this spring, so I went to my guy in Chicago, Scott Phillips of the Chicago Sun-Times and Scout.com. He had this to say: "Mike Mullins is renowned for running a great program that focuses on skill development and playing in half-court sets and produces a ton of Division I talent. The Wolves are usually one of the winningest programs on the circuit and have recently produced guys like Evan Turner, Demetri McCamey, John Shurna, and Chasson Randle.
Kendall Stephens, a Purdue commit, has played very well this spring. Nathan Taphorn might be the best shooter in Illinois and is drawing some high-major interest. Many players on that Wolves team currently hold multiple D-I offers."
Phillips also mentioned Keita Bates-Diop, who is playing on the U-16 team. He has high-majors offers from the likes of DePaul, Illinois and Purdue.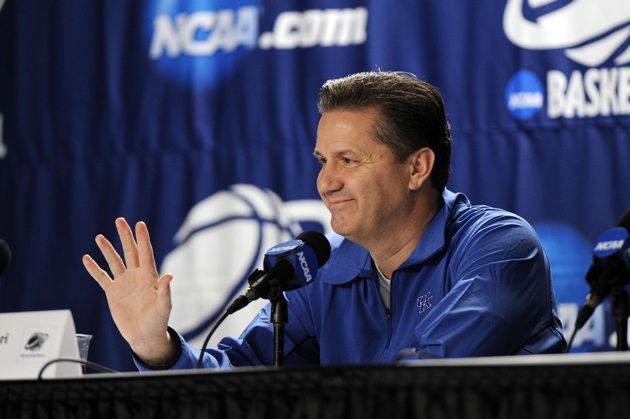 John Calipari and Kentucky are potentially headed toward yet another No. 1 recruiting class in 2013. (US Presswire)
If Kentucky gets Montrezl Harrell, would they have the No. 1 class?
It doesn't look like the Wildcats are even in the mix for Harrell anymore. His finalists include Louisville, Florida, Cincinnati and Alabama. Harrell has a visit set to Louisville, and Florida coach Billy Donovan will coach Harrell at the USA U-18 National Team training camp in early June.
Either way, I think Kentucky will have the No. 1 class for 2012. I have them at the top spot right now, and it will probably stay that way. Three top-15 prospects and another top-50 recruit give them the edge over UCLA.
Beatles or Stones?
Don't listen to either, but my roommate says Beatles. So there you go.
@j2centerfield4 – Who do you think Kentucky gets in '13?
I think the Wildcats are set up really nicely for 2013. Andrew and Aaron Harrison are constantly tied to Kentucky, and the Wildcats have the edge in that recruitment. Chris Walker likes Kentucky, but the Wildcats have not yet offered the top-10 prospect. The same goes for James Young, who has emerged as an elite prospect this spring. If Kentucky offers Walker or Young, one or both could pull the trigger. The Wildcats already have 6-foot-9 forward Derek Willis in the fold.
@_HunterShannon – What do you think of Arkansas '13 class with Dederick Lee and Bobby Portis?
I love Portis. He was one of the more impressive players during the April live period. He has a versatile offensive game, scoring in different ways -- in transition, off the dribble, from the perimeter, with a jump hook. Lee committed one year ago this week, and Mike Anderson played a major role in that decision. He's a 6-foot-2 shooting guard and is a nice piece.
@DeronMavs – Any talk of Andrew Wiggins reclassifying to 2013?
There's certainly talk of it but no decision has been made yet. Wiggins is old enough to do it -- in fact, he's older than No. 1 prospect Jabari Parker. If Wiggins were to reclassify, there would be a tremendous debate for the top prospect in the country. Wiggins or Parker? We would go with Wiggins, but there's no need for that discussion just yet.
@MattStr – How good of a player is Tony Trocha? Know anything about his recruitment?
The Colombia native is likely to reclassify to the class of 2012, but there's still some mystery surrounding his recruitment. He just took the SATs and is still waiting for his scores back home. According to Eric Bossi of Rivals.com, Trocha plans on taking a few visits -- and Kentucky, UCLA, Oregon and Providence are in the mix.
Where do you see Theo Pinson, Tyus Jones and Julius Randle landing?
For Pinson and Jones, it's still too early to gauge where they might end up. Jones seems likely to stay in the Midwest, but Duke is also a possibility. As for Randle, everyone in the country is on him. Kansas could have the edge, but Duke, Texas, North Carolina, Kentucky and others are in the mix.
@AlligatorArmy – What team do you think sets up best for the class of 2013?
Kentucky could end up with four of the top eight players in the class, if the Wildcats offer Chris Walker and James Young. If not, they could still get the Harrison twins. Either way, Kentucky looks good for yet another No. 1 class.
@AlligatorArmy – Could Florida have its best class ever?
It's a little early for that, as the Gators only have one recruit thus far -- top-10 prospect Kasey Hill. He's one of the best guards in the country, and it's certainly a great start to the class. They are gunning for several of the elite prospects in the country, but I still think it's too early to say it will be their best class ever. Back in 2002, the Gators ended up with one five-star and three four-star prospects. We have to wait and see if they stand a chance of beating that.
@MarkyMark0408 – Does the Stanford Robinson pick-up for Indiana make them frontrunners for BeeJay Anya? Too soon to tell?
Even without the Stanford Robinson commitment, I think the Hoosiers could be considered the leaders for BeeJay Anya, the No. 1-ranked center in the class of 2013. The main reason is Indiana's recent hire of assistant coach Kenny Johnson from Towson. Johnson is a former coach with – and still has a relationship with – Team Takeover, which just happens to be Anya's AAU squad. Indiana has done a good job of getting kids from the DMV area, and Anya could be the next one.
@ThePhxRealtor – Are there rankings for this year's transfers? Who is your top 10?
There could be rankings out there in the vast space of the Internet, but I have no idea where you could find them. There's more than 400 of them, so it's tough to whittle it down. However, a list of the best ones would probably include -- in no order -- Gil Biruta, Gerard Coleman, Dorian Finney-Smith, Derrick Gordon, Damontre Harris, K.T. Harrell, Rodney Hood, Trent Lockett, Mark Lyons, T.J. McConnell, Alex Oriakhi, Deshawn Painter, Glen Rice Jr., Rayvonte Rice, Adam Smith, Evan Smotrycz, Josiah Turner, Ralston Turner and Trey Zeigler.
@tgh3316 – How many top 10 recruits does Kentucky bag in the class of 2013?
I think they have a really good chance of getting three or four. The Wildcats are heavily involved with the Harrison twins, and Chris Walker and James Young seem to love Kentucky.
@anthonyUKfan – Will Kentucky get Montrezl Harrell?
Nope. His finalists include Louisville, Florida, Cincinnati and Alabama.
@RobKalling – Do you have any info on Norvel Pelle's recruiting?
Pelle still has some academic hurdles to get past before getting cleared to play next season. The former St. John's signee has been linked with different schools over the past few months, but his academics have been too much of a red flag for most. Pelle is reportedly not currently enrolled in a high school, which might not bode well for his academic future.
Coach Shaka Smart doesn't expect him to be out for an extended period of time

Jackson isn't showing the Sun Devils much respect after beating KU

One AP voter must not know ASU is undefeated with wins over the Jayhawks and Musketeers
Duke and Kansas take a hit in the coaches poll

The top 10 gets a major shakeup after a wild week of upsets

The Sun Devils make a big jump and the Jayhawks slide after ASU pulls the big upset