Recruiting mailbag: What's the latest on the remaining 2012 stars?
The class of 2012 is just about to wind down, while the class of 2013 is heating up. Moreover, people are already looking ahead to the top freshman for next season. Villanova and Washington need important recruiting classes in 2013; where do they stand?
• 7 min read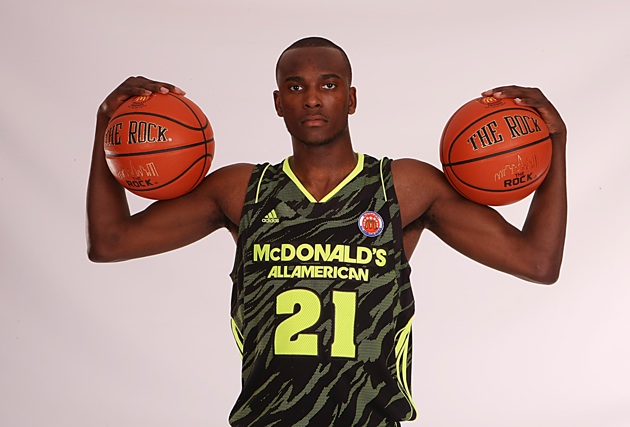 Devonta Pollard is the final five-star prospect on the board in 2012, but he will make his decision on Friday. (US Presswire)
Welcome back to our college basketball recruiting mailbag, where we take questions asked via Twitter or email -- and answer them. Feel free to send your questions via Twitter (@jeffborzello) or email (jborzello@gmail.com). They can be about anything, from AAU to high school, player rankings or team rankings, college hoops questions -- and non-basketball questions. There's lots of good stuff in here, so dive in!

What's the latest on Devonta Pollard?
Pollard is the last remaining five-star prospect on the board – but that won't last very long. Pollard is expected to announce his decision on Friday, with Alabama, Georgetown, Missouri and Texas still on his list. There has not been a ton of information about his recruitment, as Pollard and his family have played it very close to the vest. Missouri doesn't seem to have any available scholarships, though, and Georgetown assistant coach Robert Kirby is now at LSU. That could leave Alabama and Texas as the favorites.
Will Chris Obekpa actually commit to a school this summer?
One expects that will happen, yes. Where he will go remains unclear. Cincinnati has been in the driver's seat for a bit, but it's still open. Oregon is heavily involved, while Providence, St. John's, Connecticut and DePaul are making a push. It seems likely that he will end up in the Big East, but don't count out the Ducks.
@kybballcrazy – What do you know about Tony Trocha's game and who is the favorite to get him at this point?
Given that Trocha arrived too late for many people to see him, I don't know much about his skillset. The Colombia native has received plenty of hype from people that have seen him, though, and he is certainly one of the best available prospects in the class of 2012. As far as recruiting, his high school coach told Cats Pause this week that Texas A&M and Kentucky would be the favorites.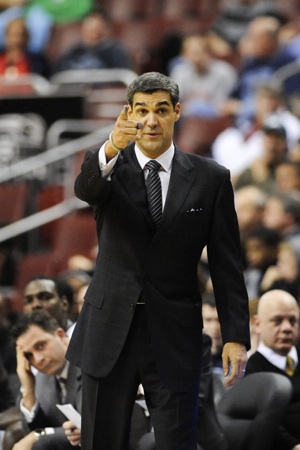 Jay Wright and Villanova enter a very important recruiting period in the class of 2013. (US Presswire)
@Tweetmonster87 – Any updates on Villanova? Haven't heard anything about 2013 commitments yet.
Villanova doesn't have a commitment in the class of 2013 yet, having struck out with Stanford Robinson, who committed to Indiana earlier this month. The Wildcats are on the short list for the Harrison twins, but they have a lot of ground to make up. Five-star prospect Al Freeman was down to Kansas and Villanova, but he has since expanded his list and is now considering a handful of schools. Rondae Jefferson has boosted his stock in the past couple of months, and Villanova is heavily pursuing the Chester (Pa.) product. Point guard Rysheed Jordan is another prospect from the Philadelphia area, and the Wildcats are involved with the four-star guard. Top-50 forward Tyler Roberson is from New Jersey, and has been hearing from the Wildcats, while Washington D.C. guard Josh Hart picked up a Villanova offer in February. Jay Wright and staff are also eyeing Kris Jenkins, Jaren Sina and others.
@OmahaTiger – How about a quick scout of Memphis?
Despite losing Will Barton and Wesley Witherspoon, the Tigers still have plenty of talent for next season. Joe Jackson and Chris Crawford return in the backcourt, and Adonis Thomas should be healthy and ready to go on the wing. Tarik Black showed flashes of his potential last season, but he needs to bring it on a regular basis. Antonio Barton is solid off the bench. The only question could revolve around interior depth, but freshman Shaq Goodwin is talented and rising senior Ferrakohn Hall played well down the stretch.
@pioneer_pride – Which incoming freshman might have the biggest impact in the NEC? D. Anderson, E. Fanning, T. Carey, T. Falzone, J. Palm, etc.?
The Northeast Conference has plenty of talented prospects coming aboard next season, but the best of the bunch looks to be Dwaun Anderson. The former Michigan State signee transferred to Wagner before playing a game after his mother passed away last spring. He was the Mr. Basketball in Michigan, and is extremely athletic. Several high-majors pursued Anderson, but he chose the Seahawks and he should make a major impact.
Who did you pick as ACC freshman of the year?
With four top-25 recruits and several four-star prospects entering the fold, there will be a nice influx of young talent in the ACC. When it comes to making the most impact, though, I think it comes down to Robert Carter (Georgia Tech), Rodney Purvis (North Carolina State) and Rasheed Sulaimon (Duke). Carter will need to make an immediate impact down low for the Yellow Jackets, and I think he will get every opportunity. Purvis brings scoring on the wing, and Sulaimon is the best player entering the conference. If Duke's Andre Dawkins doesn't play next year, Sulaimon will start immediately (he could do that anyway) and should be a top-10 frosh in terms of production. Moreover, North Carolina's Marcus Paige could get the keys to the Tar Heels immediately. It will be a close race, but Purvis could have the best opportunity.
It was just announced that Kentucky will play Baylor in Cowboys Stadium during the 2013-14 season. How big is that towards the recruitment of the Harrison twins or Julius Randle?
I don't think playing in the state of Texas a year after Randle and the Harrisons decide will make a big deal. However, the two schools do face each other this upcoming season – in Lexington. With that said, Kentucky is clearly making an effort to make itself even more accessible to the state of Texas – which can't hurt when recruiting the state. The Wildcats and Baylor both recruit elite prospects on a yearly basis, and the winner could get bragging rights when it comes to recruiting pitches.  
@GatorsAllTheWay – Who do you think leads for Chris Walker and where do you think he lands? Florida, Kansas, Kentucky?
Chris Walker isn't the type of player who is listening to 15-20 schools and has no clue when he wants to narrow down his list. He has a list of a few schools, and is going through the process. As of now, it looks like Kentucky is the favorite. However, the Wildcats have yet to offer the top-10 prospect. If they never offer Walker, Florida could be next on the list. Walker goes to high school in Florida, and has a good relationship with head coach Billy Donovan. He has taken an unofficial visit to Kansas, and Baylor, Ohio State and Syracuse are also involved. 
@TherealJ_Dray – Who are the Washington Huskies targeting?
The Huskies made a big splash in the class of 2013 on Wednesday afternoon, when top-50 guard Nigel Williams-Goss committed. He's a great piece to start with for Lorenzo Romar. The Huskies are involved with Jabari Parker, Aaron Gordon, Jabari Bird, Isaac Hamilton, Marcus Lee and a host of other West coast prospects. Gordon has said Washington is his favorite, but he is not ready to make a commitment and has thought more about leaving the West coast. Bird also said Washington is in his top five.
@Matt_Amick11 – Updates on Jabari Parker, Jabari Bird and Aaron Gordon? 
I don't expect any of those three five-star prospects to make a decision in the foreseeable future. Parker still has a long list of schools in pursuit, and he's taking his time with the process. Local schools like DePaul and Illinois are involved, while Michigan State and Duke have a great shot. Kentucky is also making a run, and BYU and Washington are also in the mix. Bird said earlier this month that his top five were California, Arizona, Washington, Oregon and Colorado, but he was open to other schools making a push. As for Gordon, he has been quiet since he is injured and can't play on the AAU circuit right now. With that said, he has consistently mentioned Washington, New Mexico and Arizona – with the Huskies potentially being the favorite. Oregon and UNLV are also involved.
@lj854 – Impact of Isaac Chew at Marquette?
Chew was hired at Illinois less than two months ago, after spending one year at Missouri. Earlier this week, Chew left the Fighting Illini to replace Aki Collins on Buzz Williams' staff. Collins was hired at Memphis last week. Chew has strong connections to the Chicago area, and will look to make an immediate impact on the recruiting trail in that area. 
Oklahoma's star freshman has a father who has been there and done that

Kentucky now is at risk of slipping out of the Top 25 (and one)

Cherry's commitment gives ASU a top-20 recruiting class and its highest rated pledge since...
Matt Norlander is on a 11-7 run in college basketball picks and shares his best bets for W...

Kentucky losing this game probably cost it a shot at earning a high NCAA Tournament seed

Freshman had 12 turnovers and 20 points; the Wildcats rattled him and kept OU on its heels