Recruits react to the Big East split: Does it matter?
What do recruits think about the Big East splitting up? We spoke to several prospects to get their take.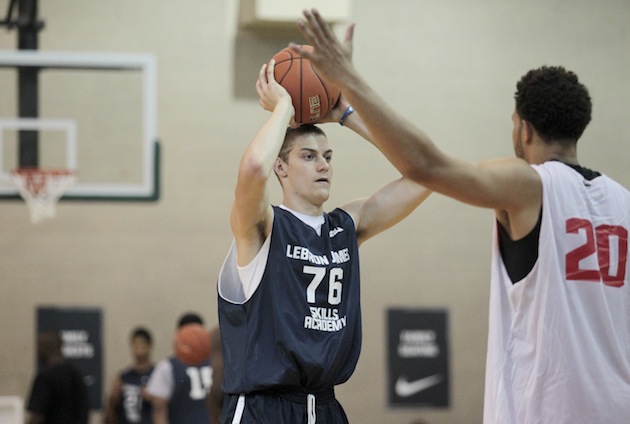 Memphis commit Austin Nichols expected to play in the Big East. The landscape is changing, though. (Nike)
By Jerry Meyer, 247 Sports
The college basketball landscape is on the verge of major change, as the Big East is essentially splitting. The seven nonfootball-playing schools are going off on their own, and it remains to be seen what happens with the rest of the league. We wrote on Thursday that the recruiting world would also drastically change. It will be more difficult for the teams to sell a marquee league to high-level prospects.
What do the recruits think, though? We talked to some uncommitted and committed prospects, as well as their coaches and parents, to get some insight.
No. 28-ranked Austin Nichols' dad, Mark Nichols. Nichols is committed to Memphis, which has the No. 4-ranked recruiting class.

"Memphis going to the Big East played a role in Austin choosing Memphis, not necessarily a big, big role. But we knew Memphis was coming out of Conference USA to go to the Big East, and that was a plus. We could have gone to the ACC or anywhere, but everyone was saying Memphis is going to the Big East.

"Someone needs to get a grip on this situation. Enough is enough. I'm a little bent out of shape. I'm not happy about it. It irritates me that these young kids make a decision and are bound by it, and then these big schools are jumping wherever they want to go."
No. 101 ranked Rashawn Powell's AAU coach, Diane Neal, on the fact that conference alignment had nothing to do with his decision. Powell is part of the No. 4-ranked Memphis recruiting class.

"His decision was based on the coaches and him being able to play right away. And he also wanted players around him."
No. 118-ranked Demetrius Henry, who is being recruited by Cincinnati. His AAU coach's take on the effect of the Big East break-up on Henry's recruitment.

"It doesn't affect it that much," Kenny Gillion said. "His recruitment is based more off his relationship with the coach, development and playing time."

Gillion did add, though: "He will be looking to see what happens with the Big East."
No. 126-ranked Josh Hart on Villanova breaking away with other schools from the Big East. Hart is committed to the Wildcats.

"I think it is for the best for us. I think creating this league will definitely shake things up, but it will be a great league nonetheless. The league will be something special."
No. 119 Terrence Samuel, who is headed to Connecticut, on his feelings about schools abandoning the Big East.

"I mean I'm not really focused on that stuff. I'm just happy to be a Husky."

Samuel discussed what made him want to be a Husky.

"Definitely the coaching staff and the atmosphere during a game."
No. 47-ranked Jajuan Johnson, who is headed to Marquette, on the changes to the Big East.

"I'm just finding out about it right now. The Big East was one of the reasons I went to Marquette, but not really why I'm going there. I like the players I'm coming in with and want to be on a good team. It doesn't really matter what conference we are in."
Was there contact? 'Everybody saw it,' UK coach John Calipari said

After losing its second game this week, a deep NCAA Tournament run looks far-fetched for U...

Coach K shows he is on on top of his game by landing the best three prospects in the Class...
The Buckeyes and Boilermakers continue to assert their dominance in the Big Ten

The 5-star phenom was thought to be headed to Clemson, but was swayed to the Blue Devils

The nation's No. 3 player will commit Saturday and here's his impact on each of his finali...