Report: Second rental ties UNC's P.J. Hairston to convicted felon
A new report has UNC star forward P.J. Hairston getting a speeding ticket in mid-May. The renter of the car has ties to the renter of the other car in Hairston's June 5 arrest.
• 1 min read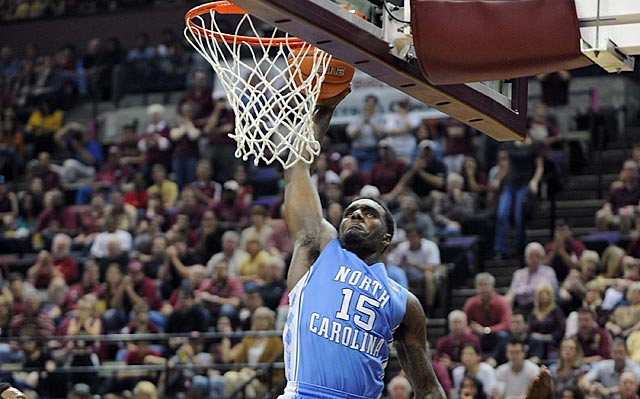 The P.J. Hairston car case has taken another turn.
USA Today reports Hairston was the driver of another rental car less than a month before he and two others were arrested on possession of marijuana at a traffic checkpoint.
The evidence comes from a May 13 speeding ticket Hairston got while driving a car rented from Hertz. The renter of that car, Catinia Farrington, reportedly lives at the same address as Haydn "Fats" Thomas, the convicted felon who rented the 2013 GMC Yukon Hairston was pulled over in on his June 5 arrest, which also included a citation for driving without a license and included a 9mm gun and ammunition found outside the vehicle that none of the men in the car claimed to own.
The information was corroborated by rental-car receipts obtained by USA Today.
Hairston was cited for speeding while driving a 2012 Chevrolet Camaro SS with Virginia license plates, a Durham County District Court clerk said. ... The license plates on the Camaro that Hairston was driving match the ones on the rental receipt for Farrington, as does the make and model of the vehicle. And the address Farrington lists on the rental receipt matches the address Thomas lists on his voter registration.
This information calls into question Thomas' previous assertions to media that he did know "know" Hairston. Thomas has also told reporters that, as of July 3, he was not contacted by officials from the University of North Carolina nor the NCAA. He also maintains he is not a booster to the university and has no ties to sports agents.
The Camaro reportedly rented by Farrington and driven by Hairston was rented for 54 days, April 25-June 17. The receipt for that transaction came out to $3,249.00, according to the story. Both the Camaro and the Yukon were rented from Hertz.
Hairston has an Aug. 2 court date for the speeding ticket obtained while driving the Camaro.
Auriemma looks to capture his 1,000th win at the helm of UConn's program

Oklahoma joins the Top 25 and is No. 17 after taking down Wichita State on the road

The Tar Heels, No. 4 in the CBS Sports Top 25 (and one), are 10-1 after beating Tennessee.
Oklahoma and Arkansas are new additions to Sunday's Top 25 (and one)

Gary Parrish and Matt Norlander discuss a wild Saturday of college basketball

Ball left the program earlier this month and has since signed with a Lithuania professional...