Report: SMU frosh Keith Frazier had failing grade changed as HS senior
SMU guard Keith Frazier reportedly had at least one grade changed as a high school senior, enabling him to be eligible for the Mustangs this fall.
• 1 min read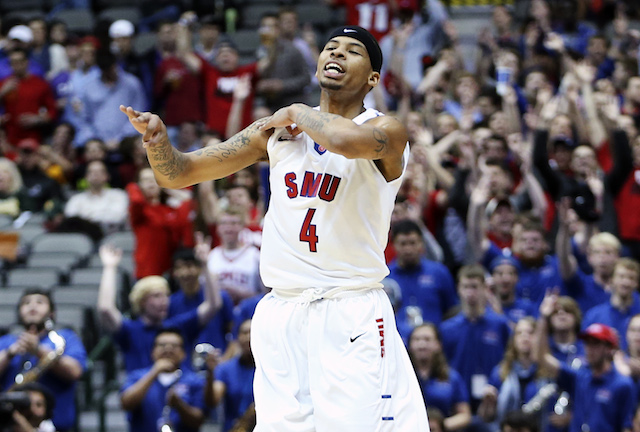 When Keith Frazier committed to SMU as a high school senior, it was considered a huge coup for the Mustangs. Frazier was a top-50 recruit, and had five-star ability as a scorer. According to a report, though, there is some question whether Frazier should have been able to graduate from Kimball High School in Texas.
Frazier had at least one failing grade changed to passing, according to an internal investigation by the Dallas Independent School District. WFAA, an ABC affiliate in Texas, is reporting the news.
According to a DISD audit report obtained by WFAA, Frazier was behind in, or failing, at least three classes in the final days of school in 2013. The report also found that Frazier did not have the necessary class hours to graduate.

His NCAA eligibility was in jeopardy, investigators said.

On May 29, a week after the final days of class for seniors, Frazier's "failing" grade in physics was mysteriously changed to "passing," the report states.

According to the report, Kimball soccer coach and teacher's assistant Demarco King improperly pressured Frazier's physics teacher to change Frazier's grade. When the teacher refused, King admitted to investigators that he changed the grade himself.
That brings into question what SMU knew about Frazier's academic issues and whether they knew about his grade change. The school hasn't released a statement on the allegations.  
Frazier, a 6-foot-5 guard, was ranked No. 27 in the 247Sports Composite for the class of 2013. He is averaging 5.6 points for SMU this season.  
Marvin Bagley, if eligible at Duke this season, projects as the country's top power forwar...

The Big Ten Tournament is a week earlier than usual, so the regular-season schedule may look...

Arizona, Grand Canyon and Tulane are also in Barcelona and have reported to be accounted for...
The Kansas forward is no longer accused of walking out on an $88 tab

Cavaliers basketball coach tapes statement on behalf of his university and his city

Gary Parrish and Matt Norlander discuss all things Marvin Bagley and his immediate future