Report: Syracuse's Michael Carter-Williams caught shoplifting
Syracuse sophomore guard and likely future NBA draft pick Michael Carter-Williams was caught shoplifting this past Sunday at a local mall, according to a report in the The Post-Standard.
• 1 min read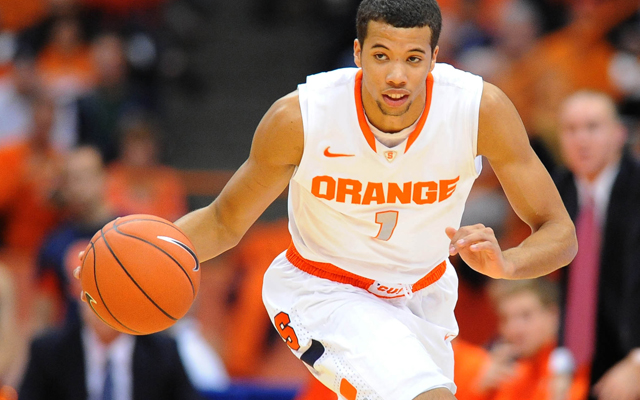 Carter-Williams has been a standout player this season but reportedly attempted to steal from a Lord & Taylor. (US Presswire)
The Post-Standard is reporting that Syracuse sophomore guard and likely future NBA Draft pick Michael Carter-Williams was witnessed shoplifting this past Sunday at a local mall.
Carter-Williams paid Lord & Taylor a $500 fine to settle the dispute, the Post-Standard said, citing two sources.
Carter-Williams put a bathrobe and gloves into a backpack while in a fitting room, both sources said.

According to one of the sources, store security saw Carter-Williams go into a fitting room with merchandise and a backpack and then leave the fitting room without the merchandise visible. The activity was captured on the store's security video, the source said.
Carter-Williams was apprehended by store security as he prepared to leave, according to the report. The action found life on Twitter as a rumor earlier this week. According to the Post-Standard story, Carter-Williams admitted his guilt in writing and then paid his fine with a credit card.
He avoided arrest and no charges were levied against him, according to the report.
As of now, Syracuse has not released a statement on the matter; Carter-Williams and Orange coach Jim Boeheim did not expound on the incident when confronted by local media earlier this week.
The 8-0 Orange, ranked No. 4 in the country, play at home Saturday against Canisius.
'If you want it, you're world champs,' A-Rod told the Spartans, which isn't exactly correc...

The players have the right to appeal the decision within three business days

Young is coming off his worst game as a Sooner and will try and bounce back vs. the Cowboy...
The Wildcats face a surging Stanford team that has risen as a potential Pac-12 contender

The reeling Mountaineers look to get back on track against Texas at home

The first-ranked Wildcats travel to UConn to face a middling Huskies team that is 3-3 in league...