Report: Texas state officials seek to shut down Prime Prep
A tri-campus school organization in Texas, in part run by Deion Sanders, could be facing extinction.
• 3 min read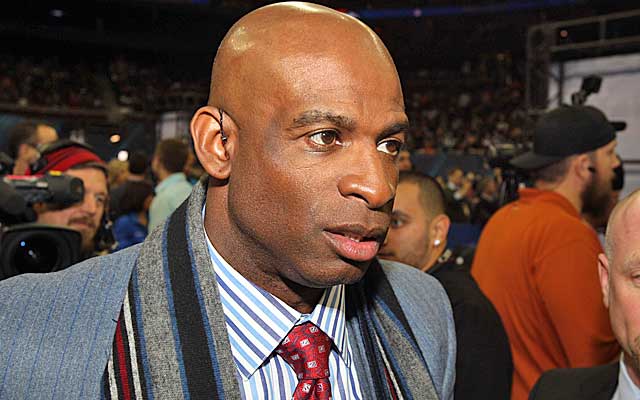 KDFW in Dallas-Fort Worth reported late Tuesday that Prime Prep Academy faces an uncertain and perhaps doomed future.
Texas education officials have sought to remove Prime Prep's charter, which would in effect eliminate its status as an educational institution. In the past two years the school has been home to some four- and five-star basketball recruits. It has three campuses in the greater Dallas area: Fort-Worth, Oak Cliff and Dallas proper.
The school, which bears the nickname of NFL legend Deion "Primetime" Sanders, has run into some issues with its basketball players over the years. Eligibility concerns have been consistent since Prime Prep began in earnest, in August 2012. Sanders is a co-founder of the school.
But that's the not the reason behind the current -- and possibly permanent -- shutdown. Prime Prep has also faced challenges from officials over how students were fed and how records have not been kept. Some funds have not been accounted for, and the combination of this has led to Prime Prep's possible discontinuation. At one point, Sanders was removed from any association with the school -- though that was soon reneged -- and allegations of aggressive behavior from him against former employees have been made.
Most recently, Prep alumnus and elite 2014 point guard Emmanuel Mudiay announced he was bypassing attending SMU in order to play pro overseas immediately and provide for his family. He and SMU claimed academic eligibility weren't behind the seemingly abrupt decision, but reports are the NCAA was looking into Mudiay's eligibility status from an amateurism standpoint.
From Fox 4:
The state says the charter holder has failed to satisfy accepted standards of fiscal management and failed to comply with the Texas education code and its rules. Prime Prep has until July 31 to appeal the decision to revoke the charter and can remain open during its appeal.

...

Sanders told FOX 4 on Tuesday that he is not going to let the school be shut down.

"It's not education, not how we are treating kids or how we are blessing kids," said Sanders. "It's about the food program."

He was emphatic that Prime Prep would start the new school year, saying that he'd be happy to pay from his own pocket the money that's owed to the state.

"$45,000?" said Sanders. "We talking about $45,000. I give you that right now. Let's get rid of this."
D.L. Wallace, who is helping lead the effort to close down Prime Prep, initially helped start the program with Sanders. The two's relationship soon dissolved, and Wallace resigned last November. Sanders has taken to Twitter to defend himself and his institution.
My former Co-Founder DL Wallace was a Crook and Heartless and we are still suffering from his Devilish ways. TEA informed PrimePrep.

— DeionSanders (@DeionSanders) July 15, 2014
They would revoke the charter pending appeal for the Food Program that Wallace hustled the state out of 45,000 $. We will appeal immediately

— DeionSanders (@DeionSanders) July 15, 2014
I feel bad for this nonsense of yesterday affecting today and the potential of tomorrow for our students and NEW administration. We will

— DeionSanders (@DeionSanders) July 15, 2014
Fight this like we have all the other battles that we've faced. 100% graduation rate 2 years straight and 15 scholarships awarded In only 2

— DeionSanders (@DeionSanders) July 15, 2014
Years of existence. In no form or fashion has me or my administration done any wrong regarding feeding or educating our students. TRUTH

— DeionSanders (@DeionSanders) July 15, 2014
I will pay the 45,000 myself to right DL Wallace wrong to the state if they will accept it. Don't punish our kids for this Fool. Truth

— DeionSanders (@DeionSanders) July 15, 2014
The BC fan has a ton of apparel and gear headed his way after this putt

Durant's made a habit of making sure his alma mater is set with the latest customized gear

Ball says UCLA told him to thank Trump for getting him back to the states after shoplifting...
SportsLine's advanced computer model simulated Wednesday's Villanova vs. Temple game 10,000...

Will any of these six teams make it to 2018 without their first loss?

Temple could be a big problem for undefeated Villanova, the No. 1 team in the Top 25 (and...