Return of point guard Seagears key as Jordan, Rutgers move forward
After deciding to leave Rutgers for greener pastures at Auburn, point guard Jerome Seagars reconsidered. And the Scarlet Knights are glad he did.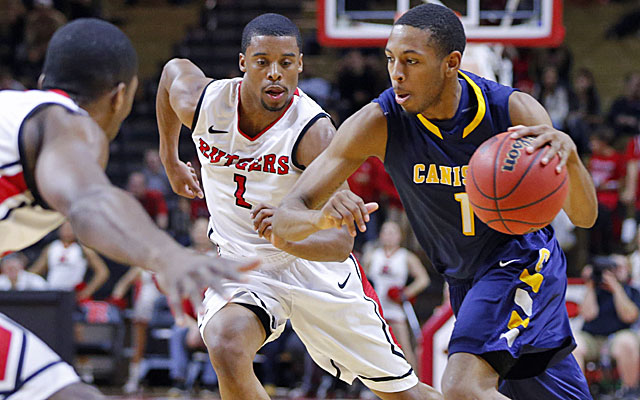 PISCATAWAY, N.J. -- Jerome Seagears was gone.
Rutgers' current starting point guard had made up his mind to transfer after last season and was committed to playing under Tony Barbee at Auburn.
Seagears' decision to transfer occurred before everything exploded at New Jersey's state university last spring.
Before Mike Rice was fired for verbal and physical abuse of his players.
Before Tim Pernetti was forced to resign as athletic director.
And most of all, before Eddie Jordan was hired as the Scarlet Knights head coach.
Seagears then all of a sudden had a change of heart.
After not feeling comfortable in his surroundings at Auburn, the floor general relished the chance to return to New Jersey to be the Scarlet Knights' starting point guard as a junior.
And after performances like last night, Jordan and Rutgers are beyond happy that he changed his mind.
Playing his most complete game of the season, Seagears scored 15 points, handed out nine assists, grabbed five rebounds and committed two turnovers in 35 minutes as the Scarlet Knights beat Canisius 66-51 to advance in the Preseason NIT.
Rutgers will play Drexel on Tuesday night at the RAC for the right to advance to Madison Square Garden next week.
"He was the story of the night," Jordan said. "Jerome was really focused. He was locked in defensively and that gave him confidence and attitude on offense. He was the catalyst for our team."
After trailing by two points at halftime, Seagears started setting the table for teammates and initiating the Scarlet Knights' offense on the break. His presence single-handedly augmented the play of each and every one of his teammates.
"I know it's my job to get everybody involved so that's why I tried to do," Seagears said. "That's my responsibility as a point guard."
For the first 20 minutes on Monday night, Rutgers looked a mercurial team that lacked an edge. The Scarlet Knights were stagnant on offense and displayed minimal killer instinct.
That all changed after halftime.
Rutgers outscored Canisius 40-23 during the second half and looked like a team that could be an awfully tough out despite being 10th in the American Athletic Conference's preseason poll.
"There were stretches that were really good," Jordan said. "It's coming. This is a new team and we're being patient with it."
Kadeem Jack and Wally Judge combined for 24 points and 25 rebounds while backup guard D'Von Campbell added 10 points and three assists. Those three along with Seagears, Myles Mack and senior forward J.J. Moore give Rutgers a core of six that will be able to match up with most opponents they'll face.
And the next one on the list is a Drexel team that took UCLA to the wire a few weeks ago at Pauley Pavilion.
The key for the Scarlet Knights on Tuesday against the Dragons?
You guessed it.
Seagears.
Just like we've seen throughout the past two seasons, when Rutgers gets consistent point guard play from Seagears, they have a chance of being competitive each time they take the floor.
"This is what I envisioned when I came back from Auburn," Seagears said. "To be the starting point guard and to be playing like this for Eddie Jordan. He's a cool cat. He doesn't ever seem to get rattled."
On Monday night against Canisius, neither did Seagears.
The subpoenas are related with the FBI's ongoing investigation into corruption within the...

College basketball's recruiting scandal rocks Louisville again

Pitino was fired from his post as Louisville coach for helping funnel money to players
The seats of the winners who cut corners are hotter than the losers who do it right.

Good news for Huskies, Bonnies, Aggies, Tigers, Sooners and more.

Get caught up on the FBI's investigation into corruption in college basketball