Rick Barnes facing uphill battle heading into crucial year at Texas
The Texas coach is losing his luster -- and he needs to get it back soon. Unfortunately, he's off to a rough start during the offseason.
• 3 min read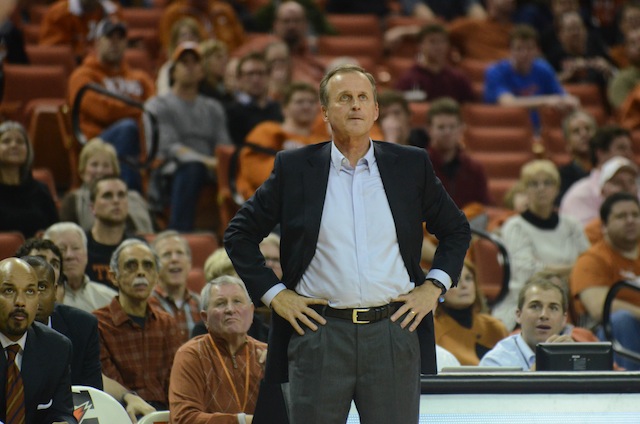 When Rick Barnes took over at Texas in 1998, he was one of the hottest coaches in the country. Finishing in the top three of the Big 12 in nine of his first 10 seasons in Austin didn't quiet his reputation, as the Longhorns reached a Final Four, two Elite Eights and two Sweet 16s in that span.
More important, Barnes was getting stud recruits to Texas. T.J. Ford led the Longhorns to a Final Four, and Barnes was bringing in a steady stream of five-star recruits. There was Kevin Durant, LaMarcus Aldridge, Daniel Gibson, C.J. Miles, Damion James, Brad Buckman -- and that was just in a five-year span, from 2002 through 2006.
The biggest aspect of those classes? All of those five-stars were from Texas except for Durant. Barnes was locking down the best talent in the Lone Star State, and it was paying off.
Since that time, he's nabbed several five-star players: Jordan Hamilton, Avery Bradley, Tristan Thompson, Cory Joseph, Myck Kabongo and Cameron Ridley. Three are from Canada, one is from California, one is from Washington -- and only one is from Texas (Ridley).
Since 2009, the state of Texas has produced 11 five-star prospects. Texas has received a commitment from exactly one of them (again, Ridley).
Barnes' record in that five-year span isn't bad (111-62), but the Longhorns haven't gotten past the Round of 32 since 2008. During that stretch, Barnes is 2-4 in the NCAA tournament -- before going 16-18 this past season and getting bounced in the first round of the CBI. Texas has finished better than fourth in the Big 12 just one time since 2008.
The pressure is on Barnes for the upcoming season, and nothing has been going his way this offseason.
Kabongo decided to go pro instead of returning to Texas, while fellow double-figures scorers Sheldon McClellan and Julien Lewis both decided to transfer. Lewis' decision came on Tuesday afternoon.
Sophomore forward Jaylen Bond decided earlier this offseason to leave the school and look elsewhere. When you combine all these decisions with Sterling Gibbs' choice to transfer to Seton Hall last year, only one of the six-man 2011 recruiting class is still in the program.
Junior forward Jonathan Holmes will be the elder statesman next season, along with six sophomores and four incoming freshmen.
There certainly isn't the same level of talent at Texas as there was during the mid-to-late 2000s. Barnes has struggled in two aspects of recruiting: keeping the best in-state players at home, and consistently getting elite players to commit. He could get away with not getting all the five-star players from Texas when he was getting five-star players from other parts of the country (or other countries). Now, he's letting the best Texas players leave the state -- while also failing to lock down elite players from other areas.
Within the state, SMU and Baylor are doing a better job on the recruiting trail. Shoot, Houston had more hype with its 2012 class. Kentucky is coming into the state and getting five-star players left and right. Oklahoma State has dipped in and nabbed Marcus Smart and Le'Bryan Nash. Duke got Rasheed Sulaimon and Matt Jones.
As Barnes enters a crucial season, both on the court and on the recruiting trail, he's already facing an uphill battle. Texas doesn't look like much of a threat in the Big 12, and the top high school prospects in Texas have their eyes looking away from Austin.
For what could be a make-or-break year, Barnes is not off to a good start. 
The university also maintains that Pitino was appropriately fired

Price only made it nine games into his third season

The Wildcats won't play another currently ranked team until Jan. 10
The BC fan has a ton of apparel and gear headed his way after this putt

Durant's made a habit of making sure his alma mater is set with the latest customized gear

Ball says UCLA told him to thank Trump for getting him back to the states after shoplifting...