Rick Barnes on Roy Williams' wait with NCAA: 'Not a lot of fun'
The Texas coach had to endure this last year, remember, and with Texas set to play UNC Wednesday, he's talking about the process.
• 2 min read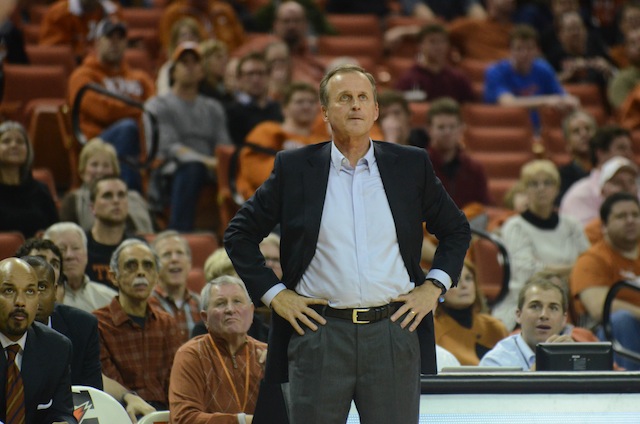 Two of the more respected men in college basketball coaching have something in common: they've been left twisting in the wind by the NCAA in consecutive years. That twisting relates to the eligibility of impact players, affecting possible NCAA tournament showings in the process.
And on Wednesday night, their teams will play each other.
Texas' Rick Barnes had to endure an investigation from the NCAA last season that kept Longhorns point guard Myck Kabongo -- who declared for the draft following last season, after playing only 11 games -- out for two-thirds of the season. His Horns travel to Chapel Hill to play Roy Williams' Tar Heels, and of course Williams' club has been winning big in spite of the absences from Leslie McDonald and P.J. Hairston.
The NCAA is investigating whether Hairston received impermissible benefits for driving rental cars last offseason, cars connected to an ex-convict. McDonald's likeness was used to sell mouthguards; it's not publicly known whether he became an icon for the product knowingly.
Barnes, via SportingNews.com, said on a conference call Monday that he knows just how Williams feels, and it's probably about time UNC learned its fate with the two players. Last year Barnes was alerted on Kabongo's eligibility just prior to Christmas.
"I imagine what Roy is going through," Barnes said Monday. "And it's not a lot of fun."
Barnes expressed even stronger feelings for McDonald and Hairston based on his experiences dealing with Kabongo, who returned following his suspension to average 14.6 points for the Horns.
"I don't think any of us really can understand the emotional stress," Barnes said. "We are dealing with kids. This is what they love to do. It's a big part of their lives. When it's taken away from them, the emotional stress – it weighed on him very heavily."
...
"I haven't talked to Roy about this, but I'm sure he feels like he's got two different teams," Barnes said.
Absolutely. The interesting part of this has been how UNC's beaten Louisville, Michigan State and Kentucky despite not having two players that combined to score nearly 22 points per game last season. That will be a boon for the Heels come Selection Sunday.
Barnes added that the waiting was the hardest part. Just get to the announcement already, basically. And UNC is due. Today is Day 40 since the season began. In terms of games played, we're already more than one-third of the way through the regular season. The Heels are owed an answer ASAP.
Huggins wasn't fined but was reprimanded after pointing out the disparity in free throws in...

UCLA travels to fellow bubbler Utah and Washington also hits the road in Pac-12 bubble act...

Bagley's knee problem is worth worrying about, but Allen has suddenly found his All-American...
The university blasted the MEAC for 'vindictive sanctions' in a lengthy news release

Our advanced computer model simulated Thursday's San Diego vs. Gonzaga game 10,000 times

Zack Cimini has his finger on the pulse of the Bearcats and just locked in a play for Thur...