Rising junior Ivan Rabb gunning for the No. 1 spot in 2015
Ivan Rabb is No. 2 in the composite 2015 rankings, but he isn't satisfied with that standing.
• 2 min read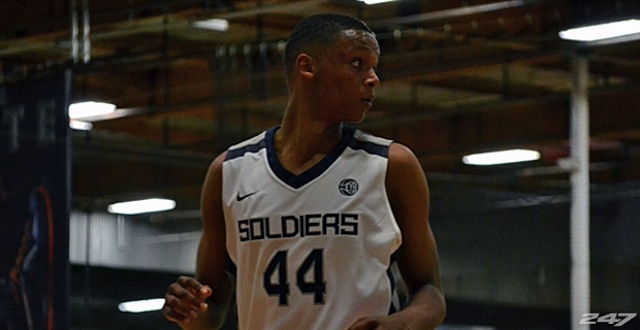 Many high school players go into the July live recruiting period with goals of earning scholarship offers or perhaps breaking into the top 100 of the rankings. When you're the No. 2 junior in the 247Sports Composite rankings, though, things are a little different.
Ivan Rabb is aiming a little bit higher than the normal 2015 prospect.
"I want to show everybody that I am the best player in the country," Rabb said. "Just go out there and play every game, and play my game. Rebound the basketball, defend, score inside.
"I just think I am. It's just confidence. I just put up numbers every game."
The 6-foot-10 power forward from Bishop O'Dowd (Calif.) averaged 12.9 points and 11.2 rebounds during the EYBL regular season, with the latter number good enough to rank in the top 10 on the circuit. Aside from one game at the Peach Jam in which Rabb only played five minutes, he averaged 11.5 points and 11.5 rebounds.
"When I get going, I can get a shot over anybody," Rabb said. "I just have to be focused on scoring and not worry about what anyone else is saying. Just play."
Rabb has offers from California, Arizona, UNLV, Kansas, North Carolina, NC State, Texas, Oregon, Washington, Washington State, USC and UCLA, while Louisville, Duke and Georgetown are beginning to enter the picture.
He said Cal, Arizona, North Carolina and NC State are coming at him the most.
"Those four schools, I just like that they're recruiting me hard," Rabb said. "I've seen all of them play. They all like to get out and run. They all have shooters, and they all have bigs."
He hasn't taken too many trips yet, but he did go unofficially to California and Stanford because of their proximity to his home.
"I like them because they're both real big academic schools," Rabb said. "They have nice campuses, and they both have pretty good basketball programs."
The next big thing from the vaunted Oakland Soldiers AAU program isn't anywhere close to making a decision, and he doesn't even have plans to trim his list anytime soon. It's understandable, of course, as Rabb is only a rising junior and can only see his recruitment grow.
With that said, he does have an idea of what he's looking for in a school.
"Academics have to be good because not everybody is going to go to the NBA. I want to make sure I get a good degree, in business most likely," Rabb said. "Basketball-wise, I just want to have a school that can run and gun but also has a potent half-court offense that can score most of the time down the floor."
Rabb is expected to play for the USA West team at the Nike Global Challenge this weekend.
These teams went to The Big Dance in March, but could take a step back this season

The success of Chris Chiozza and KeVaughn Allen have the Gators ready to compete for SEC t...

FBI investigation suggests Quinerly received improper benefits from a Wildcats assistant c...
Meet the mid-major coach who refused to vote for the teams involved in the recruiting scan...

The player, now at the University of Portland, says he was injured during a workout which broke...