Robert Hubbs caps great four-month run with tremendous July
Robert Hubbs went from unranked before the spring to pushing for five-star status -- in the span of four months. He could be a McDonald's All-American when it's all said and done.
• 1 min read
LAS VEGAS – Before his junior year, Robert Hubbs wasn't even on the map. He was just another player looking to get his name out there and hopefully earn a high-major scholarship.
After a monster spring and summer, Hubbs is making a case for five-star status and a potential McDonald's All-American nod.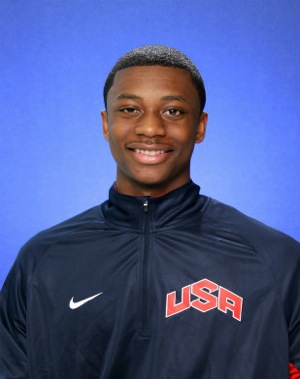 Robert Hubbs had arguably the biggest rise of anyone over the past four months. (USA Basketball)
"A couple of years ago, I was a nobody," Hubbs said. "I started putting more effort in the gym, just playing basketball."
Hubbs, a 6-foot-4 shooting guard from Dyer County (Tenn.), is currently ranked No. 36 in the class of 2013 – but that will likely go up after impressing in July. He has supreme confidence and range on his jumper, and he's flat-out one of the better scorers in the class.
Because he hasn't gone up against many of the best kids from California and other Pac-12-area schools, Hubbs felt he had to send a message.
"I definitely want to do that and get some of the West coast schools to look at me," he said.
Hubbs has seen his recruitment increase in a major way over the past few months, with offers from Duke, Oklahoma State and Gonzaga, along with everyone in the SEC besides Kentucky and South Carolina. He has also taken unofficial visits to Mississippi State, Auburn, Missouri, Vanderbilt and Memphis.
Hubbs said Tennessee is coming at him the hardest.
One interesting school on his list is Auburn, which is in the process of hiring assistant coach Ryan Miller from Missouri. The twist is that Miller is the cousin of Ernie Kupyer, Hubbs' AAU coach with M33M.
"Auburn's a good school, but I don't have a list," Hubbs said.
He's not ready to make a decision, but the big-time scorer has some criteria in his search.
"I'm looking for a program that is a championship contender, fast-paced, gets up and down and wins ballgames," Hubbs said.
Given his rise over the past few months, Hubbs deserves to be picky. 
The Wildcats were No. 2 two days ago, but a two-game losing streak keeps them out of our r...

No. 2 Arizona and No. 18 Purdue are each 0-2 in the Battle 4 Atlantis, and they'll play each...

It's rare to see two incredibly gifted big men going head to head this early in a college hoops...
The Wildcats are no longer undefeated after losing to NC State

Brey's team overcame a 16-point deficit to top Wichita State in the Maui finale

No. 13 Irish led for only 22 seconds, but a pair of clutch free throws lifted them to a Maui...