Roy Williams: Timeline for Hairston suspension will come within 2 weeks
It's been a very long offseason for UNC and its saga with P.J. Hairston. The coach said over the weekend that a verdict is coming by Nov. 8.
• 2 min read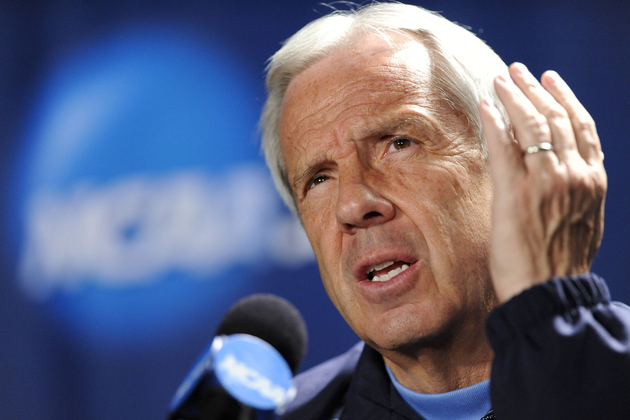 We're now at 11 days until college basketball season begins and we still don't know for how many games/weeks/months Roy Williams will sit P.J. Hairston.
If by some chance you took a long trip to a far-off locale that was without access to the Internet, this was one of the biggest sagas of the sport over the summer. The background, as quickly as I can put it, is this. Hairston had three run-ins with law enforcement in a near three-month period. The first two, in May and June, involved him driving rental cars that were connected to an ex-convict. The third came at the end of July, when Hairston was cited for driving more than 90 miles per hour in a 65 MPH zone. That third citation immediately prompted Roy Williams to indefinitely suspend Hairston, who eventually plead guilty to reckless driving and had his charge retroactively reduced.
Williams, on Sept. 26, announced Hairston would still be suspended regular-seasons games but was practicing with the team in conjunction with the start of the preseason. The Heels junior led the team in scoring last season and is currently projected as a mid-second-round pick in next year's NBA Draft.
So that's where we're at, and where we've been at for quite some time now. Over the weekend, UNC held its "Late Night with Roy" Midnight Madness event. Hairston participated and scored 20 points in the team scrimmage, per reports. The AP reported, "Hairston received a loud cheer from Smith Center fans when players were introduced."
Eventually and inevitably Williams was asked about Hairston. Per the Associated Press, here's the latest.
Williams has said Hairston will sit "games" and the decision will come before the Nov. 8 opener against Oakland.

"Well crap, the NCAA made a decision on (Texas A&M quarterback) Johnny Manziel in frickin' two days," Williams said. "It's not all my choice kind of thing. I really don't believe I'll suspend him for half a game either."

...

Sophomore point guard Marcus Paige said Hairston's situation hasn't been a distraction.

"We're pretty much moving past it," Paige said. "We're not even thinking about it anymore. He's with us, he's practicing with us, he's hanging with us, we're there for him."
Hairston's suspension length will come under heavy attention due to UNC's non-conference schedule, which shapes up in part like this: vs. Belmont on Nov. 17; probable game vs. Louisville on Nov. 24; at Michigan State Dec. 4; vs. Kentucky Dec. 14. We've ranked North Carolina as the No. 10 in the nation to start the season, factoring in Hairston's eventual contributions.
Many want to know what's taken the school so long to decide on how many games Hairston will miss. At this point, plenty of others are ready for a set number of games to be announced so everyone can end the speculation and look toward the season's start.
Marvin Bagley, if eligible at Duke this season, projects as the country's top power forwar...

The Big Ten Tournament is a week earlier than usual, so the regular-season schedule may look...

Arizona, Grand Canyon and Tulane are also in Barcelona and have reported to be accounted for...
The Kansas forward is no longer accused of walking out on an $88 tab

Cavaliers basketball coach tapes statement on behalf of his university and his city

Gary Parrish and Matt Norlander discuss all things Marvin Bagley and his immediate future