Russ Smith cracks top five of National Player of Year list
Russ Smith is shooting it better from the field, and from 3-point range, than ever. He's the main reason why the Cardinals could make a third consecutive Final Four.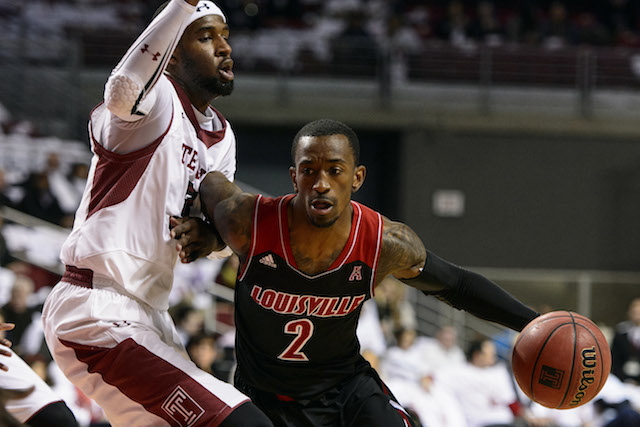 Russ Smith was a first-team All-American in the preseason based off of how he played last season. It's reasonable to suggest he's actually playing better this season. The Louisville guard is averaging 17.5 points for a team ranked fourth in the coaches poll, and his field goal percentage, 3-point percentage, rebound numbers and assists numbers are all up.
If the Cards make a third straight Final Four, Smith will be the reason, and he's right there with Creighton's Doug McDermott on the list of seniors who have not disappointed. Consequently, Smith, who hit the game-winner last weekend at Cincinnati, is now third on the CBSSports.com List of National Player of the Year Candidates. He'll never catch McDermott, if only because nobody will. But the New York native really has been fabulous.
(Note: This list of candidates will update every other Thursday this season.)
1. Doug McDermott (Creighton)
Why he's here: Everybody else is playing for second in the National Player of the Year race, and it's not even close, really. McDermott is averaging 26.0 points and 6.9 rebounds while shooting 52.1 percent from the field and 44.3 percent from 3-point range for a top-10 team that's tied atop the Big East standings. Isn't it funny how folks used to wonder if he could post these kind of numbers outside of the Missouri Valley Conference?
2. Jabari Parker (Duke)
Why he's here: Whatever small slump Parker experienced in January is now clearly behind him. The 6-foot-8 forward has posted four straight double-doubles and is averaging 18.8 points and 8.9 rebounds for the Blue Devils, who are ranked sixth nationally thanks to six wins in their past seven games.
3. Russ Smith (Louisville)
Why he's here: Look at where Smith is on this list, then remember that he was just a two-star recruit coming out of high school who only played 5.6 minutes per game as a freshman. He has developed nicely, huh?
4. Sean Kilpatrick (Cincinnati)
Why he's here: The emergence of Cincinnati as a national threat is largely due to the emergence of Kilpatrick as a great college basketball player. He's averaging a career-high 20.5 points, and he has scored at least 22 in five straight games.
5. Shabazz Napier (Connecticut)
Why he's here: How good are the guards in the American Athletic Conference if Napier can reasonably be ranked as the third best from the league? The senior is shooting a career-high 41.5 percent from 3-point range while averaging 17.8 points, 5.9 rebounds and 5.5 assists.
6. Nick Johnson (Arizona)
Why he's here: Johnson has been the best player on arguably the nation's best team all season. He's averaging a career-high 16.2 points and 3.9 rebounds for the Wildcats, who are just one win away from clinching a Pac-12 title.
7. Tyler Ennis (Syracuse)
Why he's here: Ennis is merely the fourth-leading scorer for the Orange, but he's clearly Jim Boeheim's most important player. The freshman point guard is averaging 12.0 points, 5.6 assists and 3.5 rebounds for a Syracuse team that has only lost twice.
8. Andrew Wiggins (Kansas)
Why he's here: Those who tried to label Wiggins as a product of little more than hype roughly a week into his college career have mostly gone quiet. He's averaging a team-best 16.3 points and 5.8 rebounds for the Jayhawks, which means the freshman wing is the leading scorer and best perimeter defender for a team that just clinched the Big 12 and is among the favorites to win the national title.
9. Kyle Anderson (UCLA)
Why he's here: Anderson has done a little bit of everything for the Bruins -- proof being that he's averaging 14.9 points, 8.6 rebounds and 6.9 assists as a sophomore. Those numbers rank second, first and first on the team.
10. Julius Randle (Kentucky)
Why he's here: Randle is still averaging a double-double -- 15.7 points and 10.3 rebounds. He's the main reason the Wildcats have won six of their past seven heading into Thursday's rematch with Arkansas.
Fifteen other worthy candidates (listed in alphabetical order): Cameron Bairstow (New Mexico), Jabari Brown (Missouri), Sam Dekker (Wisconsin), Cleanthony Early (Wichita State), Melvin Ejim (Iowa State), C.J. Fair (Syracuse), Rodney Hood (Duke), Jordair Jett (Saint Louis), DeAndre Kane (Iowa State), Marcus Paige (North Carolina), Nik Stauskas (Michigan), Xavier Thames (San Diego State), Fred VanVleet (Wichita State), Scottie Wilbekin (Florida), Chaz Williams UMass)
Gary Parrish and Matt Norlander discuss Louisville's punishment from every angle

Those Cardinals were fun to watch, but those memories are forever tainted

Josh Nagel is a Reno-based handicapper who has his finger on the pulse of Nevada basketbal...
Zack Cimini is a contrarian thinker who's tailed throughout the handicapping industry

The Seahawks could be back in the NCAA Tournament next year if Cacok returns for his senior...

Kenny White used to set lines for the biggest casinos. Now, he's locked in a Syracuse vs. UNC...