Russ Smith's balancing act has been a constant work in progress
Without Russ Smith's maturation, Louisville wouldn't be here. And without his unhinged enthusiasm and energy, Louisville wouldn't be here.
• 5 min read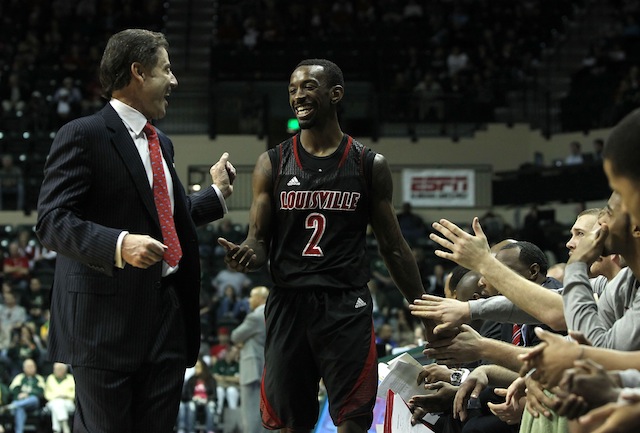 ATLANTA -- Russ Smith has changed drastically in the last five years, but in many ways, Russ Smith is also exactly the same person.
The 6-foot-1 Louisville guard was actually the first player I ever interviewed after an AAU game. It was in 2008 at Fordham University, and the New York Gauchos had just finished up a surprisingly close two-point win over the New Jersey Panthers during the Rumble in the Bronx.  
Smith had scored 18 points on a variety of shots, mostly in the lane or in transition.
Here's an excerpt from my scouting report on "Russell" Smith that Friday evening:
"Smith can get into the lane with ease and has the athletic ability to finish in traffic. He is a skilled penetrator who is shifty with the ball and loves to utilize his jump-stop once he gets inside the arc. Defensively, he has quick hands and racks up steals. His biggest problem is that he tries to do too much; he tries to finish every time he gets into the lane. He loves to shoot the ball whenever he gets it."
If I had to write a scouting report on Smith today, how different would it be? He's still a tremendous off-the-dribble driver, capable of finishing at the rim over bigger players or after jump-stopping in the lane. He is still an aggressive defender who has a nose for the ball and actively looks for steals. And he still has a tendency to get out-of-control sometimes or shoot too much.
But the last part is where Smith went from impact sub to third-team All-American. He no longer feels the need to do everything at full-speed; he understands changing speeds and playing under control.
"I had to learn how to be smarter," Smith said on Friday. "It was more of the IQ and the mental part with me. Instead of going 100 miles per hour, now on a fast break, I'll go, go, go 90 -- stop. Go 30 miles. Switch gears. Then go 100. That shift of pace is really necessary at this level."
Before he learned that aspect of his game, Smith seemed better-suited to be a mid-major player. Undersized scoring guards thrive in the MAAC and CAA -- not the Big East.
As a result, when I first spoke with Smith back in 2008, his school list seemed unrealistic. He rattled off about 19 schools, including the likes of Arkansas, Louisville, Rutgers, St. John's, South Carolina, Virginia, Minnesota, George Mason, Hofstra, Iona, Jacksonville -- and he also mentioned Arkansas-Little Rock and other seemingly random schools.
Keep in mind, this was before Smith went to South Kent Prep (Conn.). He was at Archbishop Molloy (N.Y.) -- where he played for the legendary Jack Curran, who died last month -- and had little buzz outside the city. He shared an AAU backcourt with Durand Scott and Doron Lamb. There was zero thought of Smith being the next Kemba Walker or Truck Bryant or Jordan Theodore.
Some people didn't even believe he was a high-major player. During the first weekend of the NCAA tournament, Louisville coach Rick Pitino recalled one conversation with Smith during his recruitment.
"He's not being recruited by one Big East school," Pitino said. "Don't you think all these other schools would recruit him from Archbishop Molloy? Russ, I'm going to call you tonight. He lied to me. He named all these schools that were recruiting him, made up schools. He made up Baylor and somebody else. I said, now tell me the truth: you don't have a scholarship, do you? 'Oh, kind of, not really, coach. But the schools are really interested in me.'"
Smith clearly wanted to play at the highest level coming out of high school. He went to South Kent and played alongside future Pittsburgh-signee J.J. Moore, which is where former assistant coach Ralph Willard and Louisville found him.
Pitino didn't seem set on the idea of Smith being an impact player in the Big East, but Willard convinced Pitino to take him.
For a while, Pitino's initial evaluation seemed to be correct. Smith was a non-factor for the first two months of his freshman season, playing a total of 68 minutes in the first 19 games of his career.
Smith was ready to transfer. His bags were packed. He didn't even want to go to the Jan. 26 home game against West Virginia.
If not for Rakeem Buckles, his roommate at the time, Smith would have stayed home -- and likely would have left school.
"He came to my room and kind of grabbed me like, 'Yo, what you doing?' Smith said. "'Don't end it like this. Just go to the game, just go to the game.'"
Smith ended up going to the game -- and despite being untaped, without compression shorts, and only wearing one pair of socks, Smith played nine minutes and attempted a season-high seven shots.
That wasn't the end of Smith's transfer thoughts, as he also wanted to leave after his freshman season. Louisville assistant Steve Masiello had just accepted the head coaching job at Manhattan, and Smith was planning to follow him back home.
This time, it was Smith's father who convinced him to stick around in Louisville and play for Pitino.
"My dad was like, 'You're not gonna go out like that. We're from Brooklyn, we don't tap out. If there's a problem, we're gonna deal with it. You're gonna work hard, you're gonna go to the lab and you're gonna get better. You're going to earn your minutes,'" Smith said. "And that's what I did."
It's obviously worked out for all parties. Smith was a super-sub last year during Louisville's Final Four run, and now he's a third-team All-American for the No. 1 team in the country.
He's also the frontrunner for the NCAA tournament's Most Outstanding Player award, averaging 26.0 points through four games.
It's a different Russ Smith from 2008, but it's also the same Russ Smith.
"[Pitino] allowed Russ to be Russ," said Chad Babel, who coached Smith with the Gauchos. "He's still the same fun, joking guy. But he's learned to reign it in."
The maturation of Smith is one of the main reasons Louisville is the favorite to cut down the nets on Monday. But without Smith's nonstop energy and fearlessness that borders on out-of-control, Louisville probably wouldn't be here either.
That balancing act was on display five years ago during a summer AAU game -- and it will be on display this weekend in Atlanta.
A constant five-year battle that could result in a national championship. 
Dates, start times and streams of LaVar Ball's interview with CNN

Wichita State and Notre Dame could meet in the final of the Maui Jim Maui Invitational

The Wildcats are 3-2 with two losses to unranked teams
Trump again says he should have left LiAngelo Ball in China

Cincinnati and Iowa highlight an impressive inaugural field for the Cayman lslands Classic

The president didn't take kindly to not getting a thank-you from LaVar