Rysheed Jordan's pledge could mean NCAAs for Red Storm next year
St. John's stumbled down the stretch this season, but the commitment of Rysheed Jordan on Thursday could put the Red Storm over the hump and into the NCAA tournament.
• 1 min read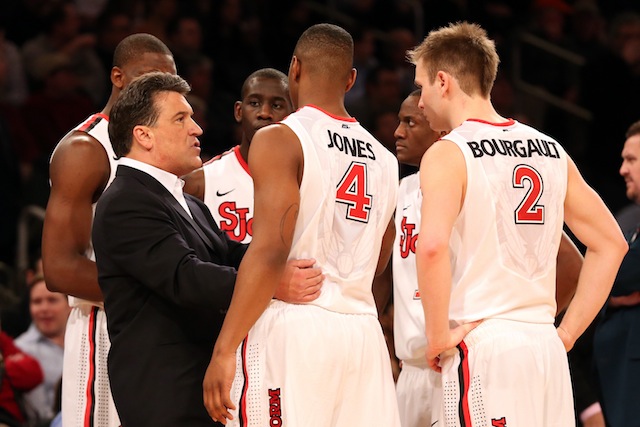 Steve Lavin has been a prolific recruiter during his first two years at St. John's, getting commitments from eight players in the class of 2011 and seven guys in the class of 2012. Not everyone made it to campus, of course, with Norvel Pelle not making it academically and Darrick Wood going to junior college.
Which is why his class of 2013 seemed like an anomaly. Heading into the week, Lavin and the Red Storm didn't have a single pledge in the senior class. Scholarships played a role in that, but it was still noteworthy.
That all changed Thursday morning, when top-40 guard Rysheed Jordan selected St. John's over Temple and UCLA.
This is a terrific pickup for St. John's. Jordan is one of the most explosive guards in the country, with good size and great athleticism. He can get to the rim against most defenders, and knows how to finish in the lane. His outside shot can be inconsistent at times, but he dominates in transition. Defensively, his length and strong body make him a factor.
Outside of Andrew Wiggins, Jordan was the best player still on the board. He will make an immediate impact for the Red Storm, and will likely flourish in Lavin's free-wheeling system. The 6-foot-3 guard from Vaux (Pa.) was ranked No. 39 in 247 Sports' Composite rankings. 
St. John's stumbled down the stretch, going 2-7 to finish the regular season and then losing to Villanova in the Big East tournament. Prior to that, though, the Red Storm were squarely in the mix for an at-large bid.
With Jordan in the mix, they could certainly get back -- and possibly take the next step into the NCAA tournament. JaKarr Sampson decided to pass on the NBA, and leading scorer D'Angelo Harrison is on track to return to St. John's after being suspended toward the end of the season. Overall, nine of the Red Storm's top 10 scorers are back -- and that doesn't include redshirt big man God's Gift Achiuwa or talented Dominic Republic native Orlando Sanchez.
It's only one recruit, but St. John's needed it. 
Once again, AP voters are punishing teams for losing games to higher-ranked teams

Villanova is No. 1 followed by Michigan State and Duke, while Wichita State falls to No. 1...

Auriemma looks to capture his 1,000th win at the helm of UConn's program
Oklahoma joins the Top 25 and is No. 17 after taking down Wichita State on the road

The Tar Heels, No. 4 in the CBS Sports Top 25 (and one), are 10-1 after beating Tennessee.

Oklahoma and Arkansas are new additions to Sunday's Top 25 (and one)