Sam Dekker spending offseason building off loss -- and getting taller
Sam Dekker has gotten better -- and taller -- during the offseason, which can only help Wisconsin build off its national semifinal exit.
• 4 min read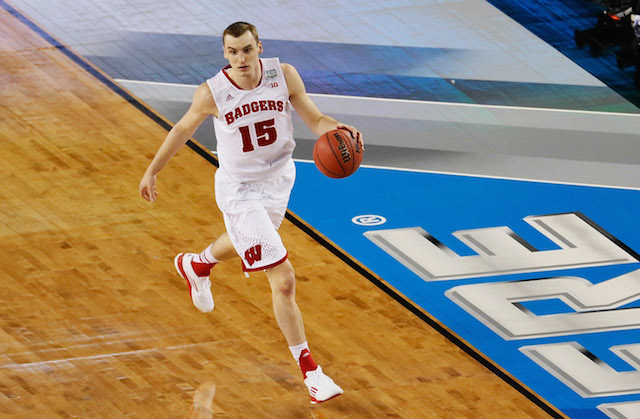 Latest in hoops: Latest News | Coaching Changes | Recruiting
LAS VEGAS – After a difficult loss in a big game, some players are unable to ever watch tape of it again.
That's not the case with Sam Dekker, whose Wisconsin team was bounced in the Final Four by Kentucky on an Aaron Harrison 3-pointer with 5.7 seconds left.
"It still sucks," Dekker said at the LeBron James Skills Academy. "I've watched that game probably nine or 10 times now. Going over what could have been. Not just the last shot Harrison hit, but little things over the course of the game. That type of stuff is what players need, to learn. Everyone says you learn more from the losses than you do from the wins.
"It took a while to get over," he added. "That's a good thing for our team growing up."
While the Badgers were devastated after the loss, Dekker said the loss enabled his team to focus in one thing in the offseason: to get back to the Final Four and win a national championship this time around.
"We don't want to feel that again," he said.
And the pieces are there for Bo Ryan. The only major rotation guy gone is Ben Brust, the most prolific 3-point shooter on Wisconsin last season. When the clock hit zero against Kentucky, there was some initial thought that Frank Kaminsky – whose performance in the NCAA Tournament really put him on the map – and Dekker would consider their NBA draft options.
While Kaminsky wouldn't announce his intentions until the end of April, Dekker knew what he wanted to do as soon as the game ended.
"I wasn't necessarily happy with how things ended up for me as a player," he said. "I don't think I lived up to my expectations of myself. I want to get better, get better for my team. I didn't really have much thought of leaving."
After watching Dekker last week at LeBron's camp, it's clear the Badgers are going to be thankful the rising junior forward decided to return to Madison.
He was clearly the most impressive performer in Las Vegas, showing off his all-around skillset – and some improvements. He's still a quality passer, a decent athlete and someone who can score in different was. But Dekker entered the offseason hoping to improve a couple of things, and it looks like he is well on his way.
Dekker, who shot 32.6 percent from 3-point range last season, was more consistent from the perimeter, a shot he will need to knock down to be a more dangerous offensive player – and to boost his NBA stock. He moved well without the ball, and played with constant energy. With Brust gone, Dekker had mentioned how someone needed to step up and do the little things Brust brought to the table.
While Dekker entered the offseason looking to get better, there's one thing he probably didn't expect: getting taller.
Dekker, listed at 6-foot-7 last season, measured in at 6-foot-9 at the Kevin Durant Skills Academy in June – and that was confirmed once he returned to Wisconsin.
"The two inches feel good," Dekker said. "I'm comfortable at this height too."
It certainly seemed that way in Las Vegas, especially when the camp's namesake showed up to get a little run. After going against Utah's Delon Wright for a possession or two, James switched over to Dekker. And it didn't go that poorly for Dekker, although James wasn't exactly going 100 percent.
Dekker beat LeBron twice for layups, cutting backdoor both teams to get open and finish at the rim. The newfound height also helped him on the defensive end of the floor.
"It's cool, man," Dekker said of playing against King James. "I just wanted to match up with him. Tried to play hard against him. He's the best player in the world and to get better, have to go against the best."
After the game, James went up to Dekker.
"He was just saying, 'Keep working, what you're doing is working right now. Stay hungry and stay humble.' Getting wise words from the best players in the world," Dekker said. "KD said similar things last week. Come home and put it to work, get you a little more excited to play ball."
And after Dekker's performance in Vegas, Wisconsin fans should be a lot more excited about the upcoming season.
The game will be finished on Thursday at noon at Providence's on-campus basketball gym

The five-star forward put on a dunking and blocking clinic in high school's state quarterfinal...

Pitino dug in and maintained he ran a 'clean program' after the NCAA stripped UL of its 2013...
Bagley is still recovering from a knee injury he suffered during the Blue Devils' loss to...

Izzo was emotional as he coached the seniors on their final home game in East Lansing

The Shockers look to build on their four game winning streak as they return home to face T...