Scorer Rashawn Powell puts on a show in Vegas
Despite his size, Rashawn Powell is one of the best scorers in his region for 2013. In Las Vegas, he narrowly missed out on scoring 50 points in a game.
• 1 min read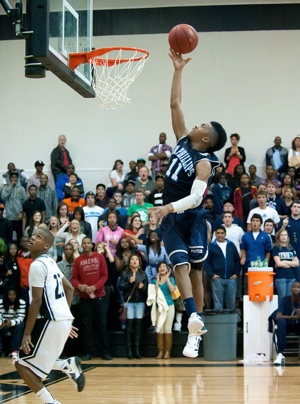 Rashawn Powell's scoring exploits have numerous suitors on his trail. (Dr. Phillips High School)
LAS VEGAS – With his Florida Assault Showtime AAU team down by nearly 20 in the final minutes, Rashawn Powell continued to foul and send DC Assault to the free-throw stripe.
From the sidelines, it was sort of confusing – until one looked at the stat sheet. Powell finished with 47 points, and was making an effort to get to 50 before the end of the game.
Powell did fall just short of 50, but his confidence and extremely deep range from behind the arc were on display throughout the weekend.
"The team I'm on now, it's hard to pass, so I have to score a lot," Powell said. "I'm improving on a lot of stuff. I'm leading my team, being a leader on the floor."
Powell, a 6-foot scorer from Dr. Phillips High School (Fla.), has all the tools to put up points at the next level. He can get to the rim and knows how to finish through contact. With that said, his size could hinder him if he's solely a scorer.
Teams are recruiting him as a scoring guard who can also run the show.
"In college, I'll be a point guard," Powell said.
Memphis, Kansas State, Alabama, UCF, Oklahoma State and Murray State have all offered Powell, but there are no favorites right now.
He will likely wait until the spring to decide.
"I'm looking for a coach that will let me play my game and be the ball-handler," Powell said.
The Wildcats are 3-2 with two losses to two unranked teams

Trump again says he should have left LiAngelo Ball in China

Cincinnati and Iowa highlight an impressive inaugural field for the Cayman lslands Classic
The president didn't take kindly to not getting a thank-you from LaVar

Southern California, ranked No. 8 in Sunday's Top 25 (and one), travels to face Vanderbilt...

Simons, 18, is a former Louisville pledge who is suddenly eligible for the upcoming draft