Scottie Wilbekin's defense has Florida poised for deeper run
Florida's defense is the No. 1-ranked unit according to KenPom.com -- and Scottie Wilbekin is the primary reason for the improvement.
• 4 min read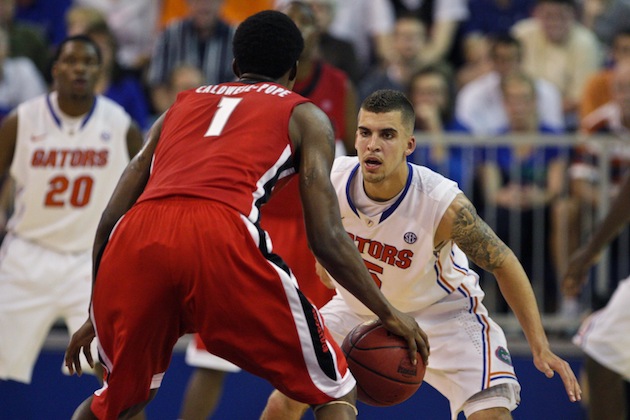 Scottie Wilbekin's ability to shut down opponents has taken the Gators' defense to new heights this season. (US Presswire)
Over the past few weeks, Florida has leaped to the forefront of the national title discussion, joining season-long powers Indiana, Michigan, Kansas and others as favorites to make a run to Atlanta.
The Gators have played six SEC games so far, beating their opponents by an average of 26.5 points. They haven't allowed a single league opponent to score more than 52 points. Florida is the No. 1-ranked team at KenPom.com. There are a lot of things going for Billy Donovan's club right now.
There has been a sense of wariness with the Gators, though. They had some trouble closing out games earlier this season, which brought to mind their Elite Eight losses the past two seasons to Butler and Louisville. Moreover, many of the pieces are similar to a year ago.
Except one: Scottie Wilbekin.
The 6-foot-2 junior from Gainesville, Fla., started only one game in each of his first two seasons with the Gators. He was a solid role player off the bench, taking care of the ball and knocking down 3-pointers when open. With Erving Walker (and Bradley Beal) departing after last season, though, Donovan needed a point guard to step up. Kenny Boynton can handle the ball if necessary, but he's more of a scorer than a pure point guard.
After missing three games to start the season with a suspension, Wilbekin has taken the starting point guard job and run with it. He won SEC Player of the Week honors last week, and is averaging 14.3 points and 7.3 assists in his last three games. Wilbekin has obviously come on strong on the offensive end, taking care of the ball more effectively than Walker and forcing fewer shots in the lane. He is more patient with the ball, and doesn't prematurely leave his feet or get swallowed up like Walker did.
What makes Florida so dangerous come March, though, is its defense. KenPom.com ranks the Gators No. 1 in the country on that end of the floor, a major improvement over the No. 71-ranked outfit the Gators put out last season.  And Wilbekin is the primary reason for that improvement.
While Walker was 5-foot-8, Wilbekin's 6-foot-2 size and decent length makes him an upgrade when defending multiple positions on the perimeter. Just take a look at a sampling of the players Wilbekin has guarded this season.
Phil Pressey, Missouri (11.9 ppg): 1-for-7, two points, 10 turnovers
Elston Turner, Texas A&M (15.7): 1-for-10, four points
Kentavious Caldwell-Pope, Georgia (17.3): 9-for-21, 27 points in two games
Michael Lyons, Air Force (18.2): 3-for-12, 11 points
Isaiah Sykes, UCF (15.7 ppg): 12 points, eight turnovers
Michael Snaer, Florida State (13.9): 3-for-8, 10 points
What stands out the most on that list -- aside from the lockdown defense he played on six excellent perimeter players -- is the varying physical attributes among the players. Pressey is quick and creates off the dribble, while Sykes is more of a strong guard. Turner and Caldwell-Pope use screens to get open, and Lyons has good size and can score in different ways. Snaer has strength and can hit shots.
Wilbekin slowed all of them down, both off the ball and on the ball.
Wilbekin's length enables him to play passing lanes effectively, turning errant passes into easy baskets at the other end. He is also a smart defender, getting steals without reaching and fouling. He has great lateral quickness, covering ground easily, which helps him extend the man-to-man defense 94 feet on certain possessions.
When guarding pick-and-rolls -- which Pressey utilized constantly -- Wilbekin fought over the screen, but also forced Pressey into another Florida defender. Pressey was forced to try to split the double-teams, which resulted in turnovers. Wilbekin wasn't overly aggressive to the point of fouling, instead recovering quickly if beat or screened.
Against shooters like Turner and Caldwell-Pope, Wilbekin's length made every shot contested. Both players settled for longer-range jump shots, and the only shot Turner knocked down was a step-back mid-range shot when Wilbekin stumbled.
Florida didn't have this sort of player in the lineup last season. Walker was too small to guard anyone but the opposing point guard, and he didn't have the size or length to make life difficult for bigger players. Wilbekin even had some possessions against Georgia when he guarded 6-foot-7 Brandon Morris, and Morris wasn't able to utilize his height advantage. Simply put, Wilbekin's ability to lockdown opposing perimeter stars is the main reason Florida's defense has excelled this season.
While many of the characters are the same as a year ago, it's a newcomer to the starting lineup that has Florida poised for a deeper run in March.
For more college basketball news, rumors and analysis, follow @EyeOnCBB on Twitter, subscribe to our RSS Feed and subscribe to our College Basketball Newsletter. You can follow Jeff Borzello on Twitter here: @jeffborzello
Creighton AD Bruce Rasmussen answers questions about some of the committee's grouping metr...

Guy, the leading scorer for the No. 1 Cavaliers, had a big weekend even though UVA didn't...

The stigma of being the first men's Division I team to vacate a title will be difficult to...
The Quicken Loans Confidence Builder focuses on Syracuse, Butler and Florida

Rhode Island can clinch a share of the A-10 regular season title with a win on Tuesday

20 programs have had their national championships taken away by the NCAA