Scouting Cinderella: Which mid-majors can pull upsets?
Which teams are most likely to pull off Round of 64 upsets? We ask opposing coaches to get the lowdown on some potential Cinderellas.
• 17 min read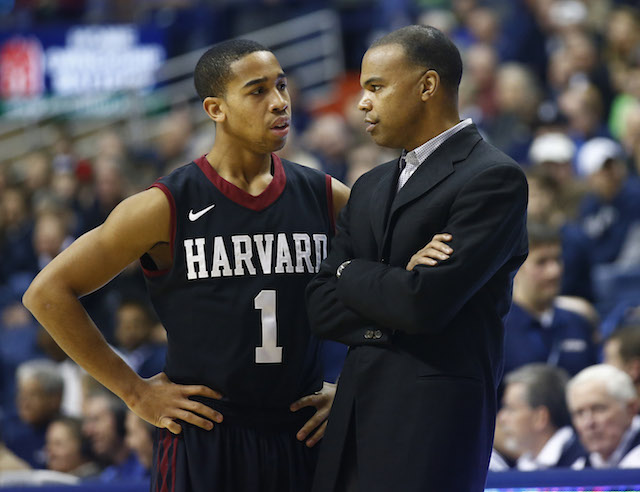 More NCAA hoops: Tournament bracket | Complete coverage of NCAAs | Latest news
Aside from asking about the Final Four the most popular question leading up to the first Thursday of the NCAA Tournament is, "Who's your sleeper?" Or, "Who's this year's Florida Gulf Coast?" Everyone wants to know the mid-major teams that are going to pull off the Round of 64 upsets and perhaps get to the second weekend of the big dance. 
Well, who better to ask than the coaches that played against these potential Cinderella teams throughout the season? During the regular season, we talked to opposing coaches for our Scouting Title Contenders series -- this time, we're looking at the mid-major sleepers. We spoke to a couple of opposing coaches for each of the most popular (or most interesting) upset picks. 
Harvard (vs. No. 5 Cincinnati)
What they do well: "Their best attributes are their balance and depth. They know who they are. They're extremely unselfish. They have five guys averaging double-figures and the sixth is at 9.3 It's hard to key in on any one guy, even though [Wesley] Saunders is the Player of the Year in the league. Their unity, the way they share the ball are all strengths. They've become a really, really good defensive team too. In our league, they're the most athletic and can pressure you. They take you out of your offense. They're pretty basic. They just guard you really well. Their big guys are very, very good at helping and covering up for mistakes, protecting the rim. And Saunders is one of the best perimeter defenders in the league.
"They don't make a lot of mistakes. Siyani Chambers is a gamer. He rises to the challenge in their biggest games. He doesn't have to score 20 points a night for them to be good. He's more than willing and able to take and make big shots, and make big plays for them. He's their leader, which is a significant thing for a sophomore with such an experienced group. Without question, they're better than they were last year. They're deeper, they can comfortably play nine guys and Zena [Edosomwan] is their 10th guy. There are way more options offensively. They have six all-league players. They don't lack confidence. They won a game in the tournament last year. They have three seniors, two juniors and Chambers in their top six."
What they don't do well: "At the highest level, they're a little bit undersized. They've struggled at times to score the basketball against teams at the highest level. They're not an outstanding rebounding team. They're a good rebounding team, but they're not an outstanding, relentless offensive rebounding team. If you do a good job guarding them and keeping them out in transition, they've shown they can struggle to score a little bit."
The matchup: "I would predict it's going to be a low-scoring team. I would think that rebounding would be one area that's key for them. They have to limit Cincinnati's second-chance points because of how good they are on the glass. If Harvard can rebound the ball, I think they've got a great chance. They can guard Cincinnati. I think it's going to be a one or two possession game down the stretch. [Sean] Kilpatrick is phenomenal, but I think Saunders matches up physically with almost any perimeter player in the country. He's 6-5, athletic and strong, he's got good length. If there's anyone in the Ivy who would be able to guard a guy like Kilpatrick, it's Saunders. Their schemes defensively are really sound. They've got a good plan defensively."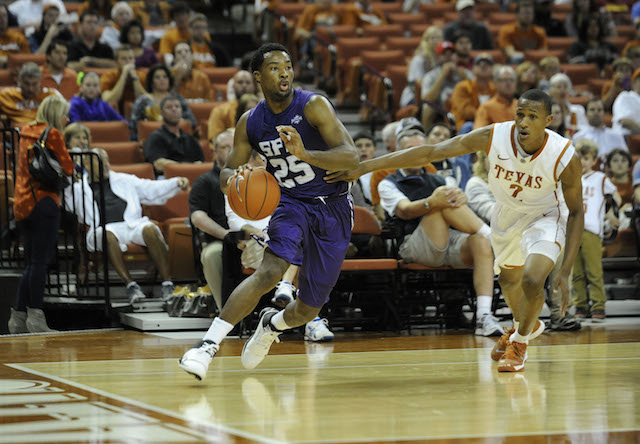 Stephen F. Austin (vs. No. 5 VCU)
What they do well: "They play so hard and basically tease you into taking shots much earlier than you should. You think you are getting good shots, then don't get a second chance because they board their butts off. It's hard to explain. They just get after it and are the model of how to play hard. Obviously, nobody in the Southland figured them out this year. It starts with [Trey] Pinkney out front. He's about as good an on-ball guy at the top of the defense as you can find on our level. He's all on you. Really gets in your grill, so by the time you get past him and get a shot, it's a really crappy one. [Thomas] Walkup is about as hard-nosed a guy as you will find and just does all the dirty work. [Jacob] Parker does what he does and never steps outside his limits. [Desmond] Haymon and [Deshuant] Walker are the closest thing they have to traditional 'hoopers.' Then they fill in with a plethora of role guys.
All these guys were conditioned to play like they do under Danny Kaspar, who was all about defense and grit. Haymon is most well-rounded offensive guy. Parker can go in and out and passes extremely well. He was Player of the Year because he does what he does and he does it very well. He never steps outside himself and plays at his and SFA's pace. Walkup is a trash, glue guy who can knock down open shot. [Nikola] Gajic is undersized Euro 3-4 who can shoot it.
"They could be trouble for someone. You can't get a feel for how hard they play watching film. I really think they can play with anyone. If they catch what would be considered an undisciplined team or a team that doesn't stay within themselves, look out."
What they don't do well: "Teams with height can and will try to pound them inside. Their lack of height and depth on front line hurts in that scenario.  There's very slim pickings on bench, but it doesn't matter because starters are all in such good condition and never get in foul trouble. The key word is length. That's the only thing that worries me at all about how they will play. Length. You have to be able to knock down outside shots vs. SFA. They don't let you get to hole, great pressure and great helpers. They are a bunch of strong kids who aren't tremendously athletic."
The matchup: "Very interesting with the slow vs. fast. Houston Baptist presses and Northwestern State presses, but my concern would be that VCU is obviously a bit longer, stronger, more athletic and better than both of them. I worry about someone like Haymon, whom they count on to get to the hole as much as shoot from the perimeter, to be able to get past the quickness and length of a VCU team. Stephen F. Austin won't get rattled, just wonder if they can keep up pace for 40 minutes. I'll be interested to see how VCU defends in half court. But they will have to make shots. Can they do that? I'd be very surprised if they got run out of the gym. That isn't their makeup. They can handle the press because they always have four guys in the game that can handle the ball."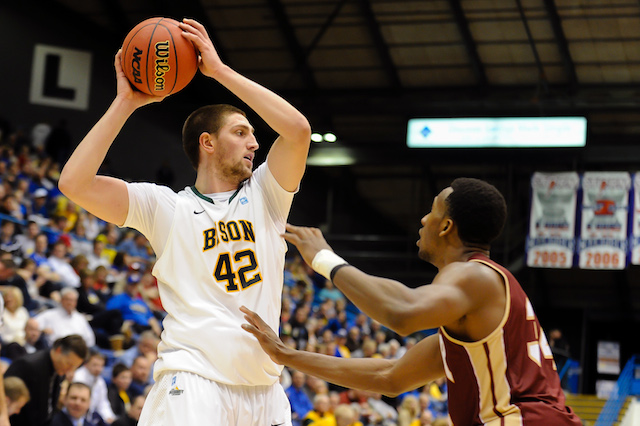 North Dakota State (vs. No. 5 Oklahoma)
What they do well: "They're very good defensively. They come from the pack-line defense, and they have Bo Ryan's son on staff. They know who they are, they have good chemistry. They're very unselfish, they can beat you inside and outside. [Marshall] Bjorklund on the inside, leads in the country in field goal percentage. When you have a presence like that, you have to pick your poison. He takes good shots, doesn't force it. Taylor Braun was the Player of the Year, he's just a tough-ass player. He can beat you with the bounce, beat you on the perimeter. TrayVonn Wright is athletic, a jack-of-all-trades guy for them. Kory Brown is an around-the-basket, junkyard dog for them. He's their best perimeter defender. They just have great chemistry and a really good nucleus.
"They run a little of a swing offense, but it's flex-cut-perimeter guy pops out. They don't run a lot of complex stuff, but they do their three or four main things very well. And when you have a guy down low, it's tough. It's a little bit like Virginia. They're not going to beat themselves on the offensive end or the defensive end. They're very fundamentally sound. They'll pick their spots. They're poised, deliberate, skilled at multiple levels."
What they don't do well: "They're athletic, but maybe not at all positions. We missed a lot of jump shots against them. If you have a team that gets hot from the perimeter, you can give them trouble. It's a mentally taxing 40 minutes playing against them. The kid [Lawrence] Alexander has had a good year. He's a good, solid presence and he has a feel for running the team. But he can get a little loose and out of control at times. Defensively, you have to double team Bjorklund to get the ball out of his hands. If a team sits in zone and they're not making shots, you can neutralize Bjorklund. Limit his touches. Braun was our main focus, because he was their leading scorer. But we didn't do a good enough job on Bjorklund. Double him, zone him, clamp him. And you can go at him defensively."
The matchup: "Oklahoma's guards could be an issue. When you play against a pack-line defense, you have to make perimeter jump-shots to beat them. They'll build a wall, but they'll live with you shooting contested shots. You can beat them by doing it. And Oklahoma's transition can play an issue; they like to get up and down. North Dakota State prefers it to be a little more methodical. They want to take some time off the clock.. We got good looks, we just didn't make them. So Oklahoma has to make shots. And with their athleticism, they can cause problems on the offensive backboards. And who's going to control the tempo? That's the biggest thing."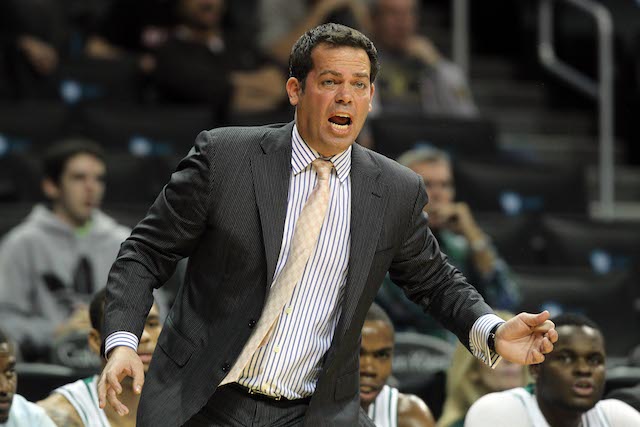 Manhattan (vs. No. 4 Louisville)
What they do well: "They're a very good defensive team. They play their zone, they do a great job pressing. They do a great job forcing turnovers from their opponents. They're a mini-Louisville. Defensively, playing their zone. I didn't feel like they were as good defensively as they were last year, but it's good. The zone is good. You have to make shots, you have to space them out. [George] Beamon is good. He's a scorer. He's not a great jump shooter, but he can make them. Always in attack mode. [Michael] Alvarado is good. In the half-court, they're good once they get their transition baskets. They're trying to grind it out. Alvarado is good. Shane Richards makes shots. They're running their offense in the half-court, they run motion. It's a lot of back screening and ball-screening.
"Rhamel Brown is the best shot blocker in our league's history. They want you to drive into him. Everything they do is filtering you to him. They're a big-time, rah-rah team. Lots of yelling and screaming and all that shit. They try to get in their opponent's heads."
What they don't do well: "They're not a great perimeter shooting team. And they struggle offensively in the half-court from time to time. Some of it is making shots, and they don't really have anyone to just throw it to. Brown can score, but he's going to struggle offensively in this game. Shane Richards is their guy, but besides him, they only have a couple guys who can make shots. If you look at their losses, they struggle in the half-court. They want points in transition, they want to make you nervous. They're not incredibly long in their zone. They're active. At the wings, they're not really long and once you get to the free-throw line, that's where the zone breaks down, like a lot of zones. I really like their team, but everyone has flaws."
The matchup: "They play against it everyday. I can't foresee their pressure being an issue for Louisville. Louisville does the same stuff but they have more talent. In some ways, though, Manhattan has gone against the same stuff all year. They know what to expect. It's just going to come down to, who breaks. Louisville has a lot of talent, so Manhattan has to play really well. There's something reassuring about knowing what's coming, though. Russ Smith and Chris Jones have a certain level of intimidating and pressure, but Manhattan is a pretty mentally tough group. Will George Beamon be as aggressive? Can they make shots after breaking the pressure? Manhattan is experienced and is older, so they've seen a lot. It won't be as easy for Rhamel Brown as it is against the teams in our league, but he's up to the task [against Montrezl Harrell]. You can pressure Manhattan. They're not the most comfortable against the press. And that's what it's going to come down to."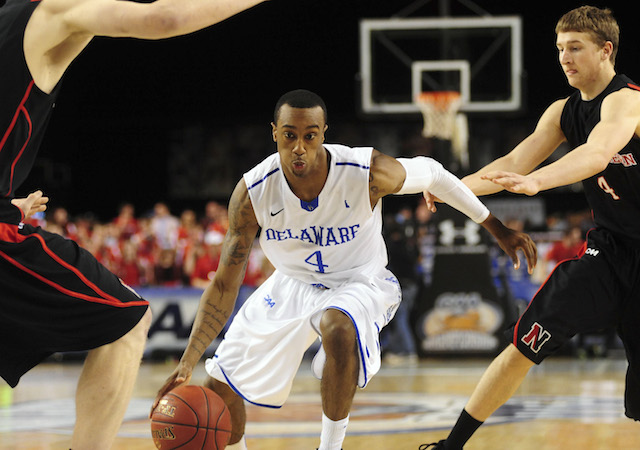 Delaware (vs. No. 4 Michigan State)
What they do well: "They have three guys that can score. Two of the guys can score at all three levels. [Devon] Saddler and [Jarvis] Threatt aren't tremendous 3-point shooters, but they're shot-makers. Threatt gets to the line, he shoots a ton of free throws. He's really hard to stay in front of. The defense collapses, and you have to account for Kyle Anderson, the shooter. He's struggled this year, but he can make shots. And that's not including [Carl] Baptiste, probably the best big man in the league (besides Jerrelle Benimon). They've got five guys that were as good as anyone in our league at any position. And you've got [Davon] Usher on the perimeter who can stretch the defense.
"Especially when playing man-to-man defense, you have to account for all five guys, and it opens up driving lanes. I'm a firm believer that players beat plays, and they have players. They run ball-screen stuff, and it makes them really hard to go those guys. They don't run anything that's complicated, but it's ball screen and isolation. It's not like you're seeing pindowns and double-staggers. It's nothing ground-breaking. Those guys get a ton of steals. Saddler can guard one through four. He can bang with those guys even though he's undersized. They get their hands on a ton of balls."
What they don't do well: "One of their biggest weaknesses is they're not deep. If you can get to the bench, you'll have a great opportunity to beat them. And another weakness is their perimeter shooting isn't outstanding. We zoned those guys quite a bit. The two guys that take the most shots aren't the best shooters. Usher is streaky. If those guys are missing shots and you can keep them out of the lane. You have to pick your poison at the mid-major level. You're not going to shut those three guys then. They don't get a ton of movement around the perimeter. They throw the ball around a little bit and stand around, and you force them to take shots they don't want to take."
The matchup: "If they had a better draw, I think they would have a chance to win. It's an awful draw. They're playing one of the toughest teams in the country. Michigan State is known to be a tough, smash-mouth, half-court team. They make things tough offensively, they take you out of your stuff. And they're big. Delaware isn't very big. They have four guards on the court at one time. For me, looking at that matchup, they can't match up with those guys. They can score with Michigan State and can hang around if they don't get into the bench. But Michigan State's transition and shooting makes it even more difficult. Delaware can play a fast-paced game, but Michigan State has guys who can make shots and they can run with anybody. It's a really bad matchup."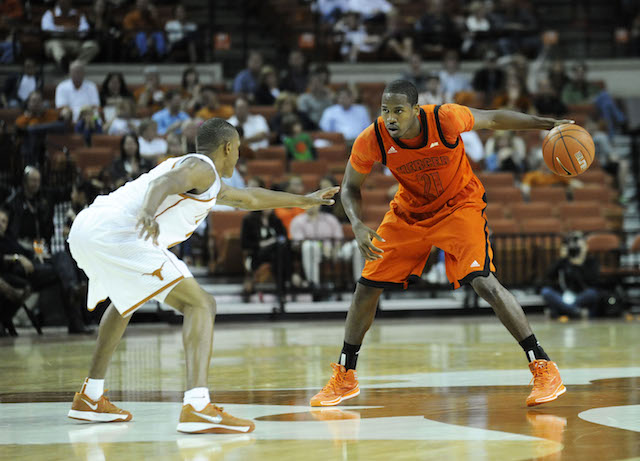 Mercer (vs. No. 3 Duke)
What they do well: "The biggest thing is they play together. They play together offensively. They have a good offensive game-plan. They want to play half-court basketball, they have shooters on the wing, they have a point guard who guides the offense, and a big guy who can finish inside. They're efficient. Langston Hall has great poise, a great understanding of the game. He's been running the system for four years. He's a true leader, he doesn't get rattled. He plays the same way in every game. He can make shots, end of shot clock, end of the half, end of the game.
"They share the basketball. They don't have just one guy that goes one on one and score. That's what makes them really good. They average more than 15 assists a game. If they get defenses to rotate, it can be a problem. Their experience is unbelievable. It's like driving a car. They've been driving the same car for four years. They're not going to miss a beat. They're going to be ready. They've been waiting to get here. That hunger is pay dividends, especially early in the game."
What they don't do well: "Transition defense is one of their weaknesses. And one-on-one defense. They do a good job of sitting in gaps and forcing teams to make the extra pass, but if you can spread them out and make them play one-on-one defense, that can be a problem. If they have to extend, I don't know if they can guard one-on-one. [Daniel] Coursey isn't fast. It's not a fast team. They don't sprint the floor very hard. We've been able to beat them with our pace. If a team can make them miss shots, and get the ball out, I don't think they can get out and back in transition defense. They always have a 6-foot-10 or 6-foot-11 guy in the game, and he struggles to get back." 
The matchup: "I think it's a bad draw for Mercer. Duke isn't going to take these guys lightly. Duke is going to be fundamentally sound in what they do, just like Mercer. And there's not two post players on the floor. Mercer's four-man is going to have to guard someone who is going to put it on the floor. Their big guys are going to have trouble guarding one-on-one. It will cause foul trouble too. Duke is going to spread them out. I think Langston Hall can hold his own and not force anything; he's going to give them a chance to work the offense. Mercer isn't going to be surprised; they'll be confident. They believe they can win, and they and the league have proven we can beat high-major teams. They're not going to be scared."
An incredibly fun idea has been put on the table for next year

College coaches give the edge to Michael Porter -- just barely over Miles Bridges

CBS Sports' college basketball experts polled more than 100 coaches to get their pick to win...
Marvin Bagley, if eligible at Duke this season, projects as the country's top power forwar...

The Big Ten Tournament is a week earlier than usual, so the regular-season schedule may look...

Arizona, Grand Canyon and Tulane are also in Barcelona and have reported to be accounted for...