Scouting Title Contenders: Arizona Wildcats
Arizona is No. 1 in the country right now and is one of the main contenders for a national title. So how do you beat them? Let's find out.
• 13 min read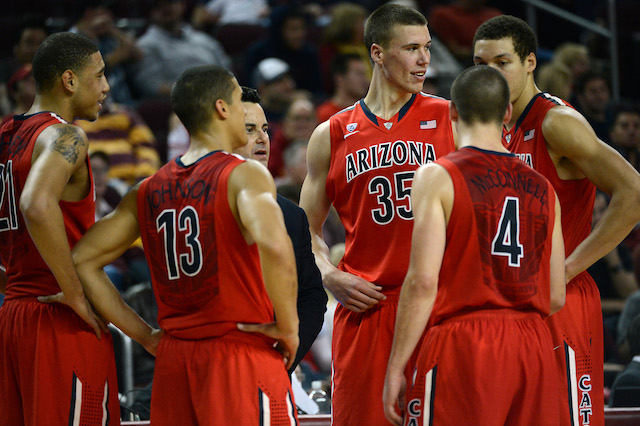 When watching a game or looking at statistical trends, we might figure out one or two ways to slow down Wisconsin's half-court offense or score against Florida's multiple defenses. But that's obviously not the whole story. But what about the guys who get paid to break down that stuff; what are they thinking? 
Over the next eight weeks, I will go through each of the national championship contenders and attempt to address the key preparation points when facing each team. I will talk to four or five coaches who played those teams this season, and get in-depth insight into each team. How do you score on Arizona? How can you stop Syracuse in transition? What's Michigan State's biggest weakness? We'll find answers to each of those questions, and much more.
Up first is Arizona, ranked No. 1 nationally and one of three unbeatens still remaining.
Style of play
"Offensively, off made shots, they get into a series of three or four secondary actions. They're going to take it out and call three or four things, usually involving a dribble hand-off or a flare screen to get the defense moving. They like throwing the ball inside off the secondary break. On missed shots, three or four guys are allowed to push the ball, one guy rim-runs, one guy sets a drag ball-screen. It's hard to make a play because the guy's defender is running with him. They don't like to run set plays off misses; they want to play in a basic structural movement. Outside of that, they run a lot of what they call "passing game" – back-screen motion offense. It's inverted; you'll see the forwards up top. It's hard to prepare for it, scouting-wise; it's based on reads."
"They don't run a ton of sets; they'll throw the ball inside, to get [Kaleb] Tarczewski or [Brandon] Ashley in the post. Or they'll try to post a bigger wing player, Rondae [Hollis-Jefferson] or Aaron [Gordon], to get a mismatch and post smaller players. You'll also see a lot of flat ball-screens. They space the ball really well. Kaleb or Brandon will take their man away, then set a really high flat ball-screen. T.J. [McConnell] and Nick [Johnson] are good at it, especially late in shot clocks. They've seen a lot of zone; they have a couple of different lob plays that are really dangerous. They do a good job of flashing cutters around the logo of the paint. Rondae is really good in there. Once he catches it at 10-12 feet, someone has to step up and play him, and it's like he's playing three-on-two. They also screen the back of the zone to get open jump shots. It's disheartening because they make one or two passes and get an open shot or a lob. Defensively, they play pack-line defense, around 18-feet. They'll put pressure on the basketball, out to 24 feet. They never give up paint or allow dribble-penetration. They hard hedge every ball-screen, except for maybe Tarczewski, make the ball-handler take two dribbles away from the rim."
"They try to out-physical and out-tough you. They beat you up on the glass, they grind you out offensively, they wear you down."
"They are a very tough, half-court defensive team. Offensively, they execute in the half-court. You think Arizona, you think up and down. But where they win games is in the half-court."
Offensive strength
"For them, the thing that's most impressive is they do a really good job of getting the ball inside and offensive rebounding. They're so good at all those frontcourt positions; they mangle teams inside. They don't take fast, wild shots. They don't get sped up. They're very structured in their understanding of shot selection. They get themselves to the foul line. I'm not sure they have dynamic players at every position, but if they go a possession or two without a good shot, they'll go inside and get something. They exploit mismatches very well. And they make tough shots. They're tough. And they'll see primarily zone the rest of the way, but they're not bad shooters."
"It's offensive rebounding. They do a great job running their stuff, but the toughest time to guard them is once the shot goes up. When Tarczewski and Ashley and Gordon are going to the glass, they're absolutely overwhelming to box out."
"One of the best offensive rebounding teams in the country. When they do miss a shot, their team is so adept at getting offensive rebounds. Two or three possessions within one offensive possession." 
Key player
"I think it's probably T.J. He's going to have play with that confidence. There are going to be games where teams dare him to make shots, and he has to make them. Collectively, he has to keep this team together. It's important for him to keep everyone focused."
"Nick Johnson. He keeps them under control on the floor, he can knock down shots, he can get to the basket. He's the best defensive guard that we've seen this year. He does an exceptional job getting into the ball-handler on the dribble, causing you to start your offense further out, extended. Length and athleticism, gets deflections, anticipates passing lanes."
"T.J. McConnell. He gets them going, he's tough as nails. And offensively, he gets them in what Sean [Miller] wants them to do. Defensively, he's a bulldog, much better than what people understand. He's one of the bigget steal threats. He's a highly-intellingent player, and he makes everyone on the court better."
Primary weakness
"There could be a game or two where they could get tight. Two, the fact that Gabe [York] is their best shooter but he's a poor defender, and he's a questionable decision-maker, and at times, they might not want to have him out on the floor. Someone else has to make shots. If it's one of those games where T.J. is gun-shy, they need to be on high alert for seeing a lot of zone. The biggest concern could be in the tournament and being forced to make perimeter jumpshots in a tight game. They have no backup point guard. They're getting a little thin. They're not playing [Jordin] Mayes at all, they're not playing [Matt] Korcheck at all. Depth and foul trouble could become issues. They have to take care of the basketball, and Nick has to be a secondary ball-handler."
"Shooting the ball from the perimeter. Zoning them sounds good, but then offensive rebounding becomes more of a factor. When they came down in transition or coming off a post-up, we made sure guys closed out. If they wanted to shoot contested jump shots, we were fine with that. We didn't want to get beat in the paint."
"If they have one, it's point guard depth. After T.J., if you use Nick Johnson, you're taking away what he does well. Jordin Mayes isn't the high-caliber point guard. So depth in the backcourt is their only weakness. Foul trouble or God forbid an injury could be a problem."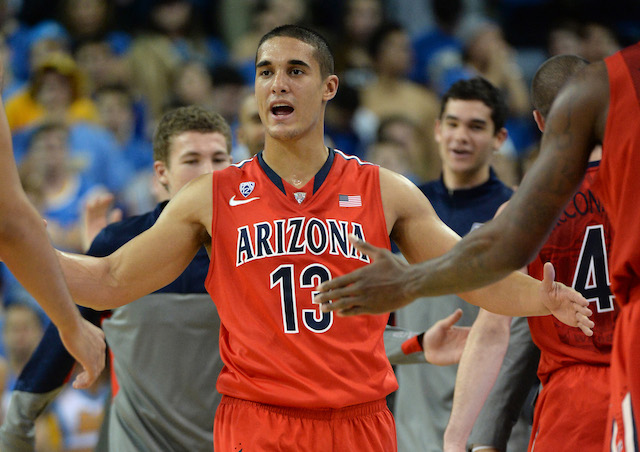 How to stop them
"If teams pressure them full-court and then fall back into a zone. It questions their decision-makers and lineups. If you could take T.J. out of it a little bit, force Nick to handle for an extended period of time against pressure, that could give them trouble. And mix up zone defenses, give them a couple different looks. Force them to make jump shots. Man-to-man, I don't think teams have a chance of stopping them because they're so versatile."
"Don't get stretched out, whether it's zone, whether you pack in a man, no free runs. Shot selection, quick bad shot, you get a turnover, they're the one team in this league – if you play on their floor, they're getting a basket. They have athletes all over the place. They get momentum; crowd is going crazy. Quick shots that are not the best look, or turnovers, will turn into two points at the other end."
"You have to make them a jump-shooting team, have to make Aaron Gordon and Rondae Jefferson jump shooters. Box out and get boards, limit them to one shot. You can't give htem easy post-ups around the paint, have to make them shoot jumpers. A lot of times it's ball pressure, because you make it difficult for them to get in their actions and post-ups. Some teams will double the post when Kaleb gets it. UNLV did as a good a job as anybody, making them make jumpshots. But you have to have a frontline that can match their frontline, not many teams have that of Arizona and UNLV." 
Best way to score on them
"You can get them in the open court a little bit. They have a tendency to lumber a little bit late in games, if they have the big lineup on the court. They dare you to make 3s. They're willing to allow you to make shots; they're not going to change what they do defensively. They're not going to extend. You have to make 3s to beat them. You cannot post them up, and you won't consistently get into the lane off the bounce. Invert your offense a little bit, bring those bigger guys away from the basket."
"Get their bigs away from the basket. It sounds crazy, but the only chance you have against them is to play smaller. To get the bigs away from the rim. Maybe you have a skilled big guy who can shoot, or you go to a four-guard lineup. Their defense is ridiculous. Beating them up the court can be beneficial, but you have to pick your spots. Getting stuff before they're set. But you don't want to get in a track meet with them, because their length and athleticism is as good as anyone in the country."
"Early on. If you try to wear the shot clock down, they get settled in the half-court. And there aren't many chinks in the armor. Then there's transition. No one is beating them that's not as talented as them anyway. So if you're a team like UNLV or UCLA, you don't mind getting in a track meet."
Ultimate concern
"Scoring. How are you going to score? Nick and T.J. might be two of the best on-ball defenders in the conference, and they have so much length and athleticism along the backline. Where and how are we going to score? The floor seems so crowded, and you don't know where you're going to go. You have to scheme ways to not have to score against a set defense. Beating them in transition, scoring off turnovers, those are your best chances. Scoring against their set defense is basically impossible."
"Most teams are man-to-man teams. How is it possible to have five guys that can guard these five guys? And then rebounding out of a zone."
"Offensive rebounding. We felt that was number one, transition was number two, how we defended them in the post was number three. We were lucky that Kaleb missed a few, but the best way to play them is to move their bigs out of the paint, and be physical and move them out. Then pick your battles on the perimeter."
"The ultimate thing is rebounding. Can't give them second opportunities. And you have to try to find ways to score, as crazy as that sounds. It's the only game I can remember where you're like, how do we score against them? Usually 80 percent of it is how you stop teams. We played them a little bit of zone, and some teams will have success zoning them. But they run their stuff really well, T.J. and Johnson are good shooters, and York is a good sooter. And they're a good passing team, and that can eat zones up." 
Go-to-guy late in games
"It's Nick. He's their heart and soul. I think he's their guy. When the chips are down, he's the one they want to make the play."
"Nick. He's battle-tested, he's making big shots, he's got the athleticism and quickness to get to the basket. A lot of guards can get to the rim, but he can finish. He's a unique weapon that way."
"Nick Johnson. His ability to shoot the ball and get to the rim."
Aaron Gordon
"I think he's been really good. It's probably unfair to classify him with the dynamic offensive skillset of those other freshmen. He and Nick are probably the two best competitors we've seen this year. He's able to put the last play behind him and focus on the next. He plays with zero ego. There's no selfishness. He plays with unbridled energy. The tenacity and energy he gives on both ends of the floor, to me he's like a Kawhi Leonard (but a better athlete). He's about winning."
"He's as good of an energy guy as you can be. People can knock him, but his game translates so well because he can guard multiple positions. He rebounds at a high level, finishes well around the rim. Not a shooter like [Jabari] Parker, not a perimeter player, but on any NBA team, he can carve out a niche. He can run the floor, gives you so much versatility."
"Defensively, on the wing, he has the ability to lock down other great wings defensively. He did an outstanding job on Jabari Parker earlier this season, and he's got that type of ability to be a lockdown defender. Plus he plays into the blueprint of their team. He flourishes, both up-tempo and in the half-court."
Leftovers
"They all like each other. They pass up good shots for great shots."
"Nick is wildly underrated. I think he's an All-American. He makes big shots for them, he makes big plays, he's an unbelievable defender and competitor."
"I think the one thing can say about Aaron is that he'll be consistent throughout."
"Gabe York is important because he's such a good shooter; his defense has gotten better. Coming off the bench, he's important."
"Jefferson is similar to Gordon in some ways. He is a terrific perimeter defender and can guard the four. Slasher and drive. I was in awe of him when we played them. One of the most underrated players in the country. Anywhere else, you would be hearing about him, as part of the 'big five' freshmen." 
Andrew Jones is Texas' second leading scorer

Oklahoma's star freshman has a father who has been there and done that

Kentucky now is at risk of slipping out of the Top 25 (and one)
Cherry's commitment gives ASU a top-20 recruiting class and its highest rated pledge since...

Matt Norlander is on a 11-7 run in college basketball picks and shares his best bets for W...

Kentucky losing this game probably cost it a shot at earning a high NCAA Tournament seed