Scouting Title Contenders: Duke Blue Devils
Duke went through some bumps in the middle of the season, but now the Blue Devils are playing like a title contender. Opposing coaches give an in-depth scouting report.
• 16 min read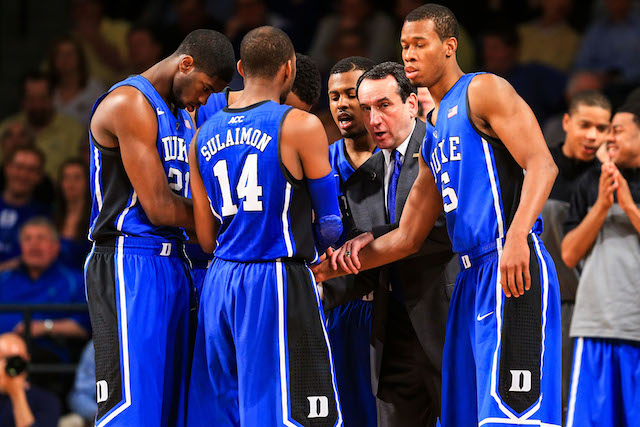 When watching a game or looking at statistical trends, we might figure out one or two ways to slow down Wisconsin's half-court offense or score against Florida's multiple defenses. But that's obviously not the whole story. But what about the guys who get paid to break down that stuff; what are they thinking?
Over the next eight weeks, I will go through each of the national championship contenders and attempt to address the key preparation points when facing each team. I will talk to four or five coaches who played those teams this season, and get in-depth insight into each team. How do you score on Arizona? How can you stop Syracuse in transition? What's Michigan State's biggest weakness? We'll find answers to each of those questions, and much more.
Previous scouting reports:
Up next is Duke, a team that has had its hiccups this season but could be hitting its stride at the right time.
Style of play
"Offensively, they are a tremendous 3-point shooting team. They're seventh in the country in 3-point percentage, they're second in the country in points per possession. Essentially, they're leading our league in every one of the key statistical categories. Their size actually works for them offensively; they sometimes play small at the five, although [Marshall] Plumlee has been playing more lately. He and Jefferson are more dirty work guys. When you can play Jabari [Parker] at the four, it makes you skillful. They're a such a potent offensive team. While it's a great strength, they're not a team that's getting fouled a ton, they're not putting a ton of pressure on the rim, in the post. They're a jump-shooting team. They can go stretches where they don't score, like in the North Carolina game. I thought going into the season, you would see the Duke teams of 10 years ago, when you really couldn't throw an entry pass, you couldn't run offense. That's not the case right now. They're not soft defensively, but they're not getting after you and forcing turnovers."
"I think the first thing you think about with Duke is how you're going to score. They can overwhelm you with their pressure, and they can take you out of whatever you're running. There's certain years when they can't do that, but this year's team, they can really put some pressure on you with as many guards as they have. At times, you just have to play, you can't run your stuff. They don't have as many dynamic scorers as they've had in the past, they've got Rodney Hood and Jabari Parker, who are unbelievable, but they need to get those guys shots. They need to get them in position to score and make plays. Quinn Cook, [Tyler] Thornton and [Rasheed] Sulaimon get open shots."
"Up-tempo, free-flowing, highly-skilled basketball players that play well off of each other. Quick-hitting NBA sets to get guys touches in areas where they're successful. They have so many weapons that you almost have to pick your poison in terms of what you want to take away. It's not complex, but it's a set to get Jabari a touch at the elbow or Hood a driving lane. They're not hard to scout, but you have to pick your poison. The biggest thing with Hood and Parker is jam the lane and make the guys from the perimeter beat you. They want to get up and down, but you almost have to outscore them."
Offensive strength
"Their ability to spread you out. Coach K is a master at spreading the pieces properly, you know, simplicity. They're not overly complicated. They're really putting you in positions where you have to make decisions on who to close out. And both guys can usually shoot. It's simple but hard to guard because of their shooting ability. Spreading the floor out. Jabari is the catalyst, the game-changer. He's very effective near the basket, he's the one guy that can do both. They have a guy like him, who can really, really score. Rebound, get stuff at the rim. They have a number of guys who can shoot the ball. Rodney Hood is also a matchup issue. They bring guy after guy that can make plays. There's no weak link. Even [Amile] Jefferson, who's not a shooter, he's a guy who has been tremendously effective on the offensive glass, strong with the ball."
"They're so versatile. They really spread you out. They start setting ball-screens. If Parker is at the five or the four, and they're running ball-screens and they're really spread, they're hard to guard because they have so many guys who can do different things. Most teams, you can help and leave somebody for a second, but it's so hard with Duke because they have so many weapons. You can't leave Parker, because he's charging to the rim. Right now, he's a top-two or three player in the country."
"Shooting the basketball. I think they're tops in our league. They're very efficient, they have a high basketball IQ. They all make good decisions. They feed off whoever is playing well on a given night. They're going to go to that guy. They're pretty balanced, when they can get that third or fourth guy to step up, it's really hard to guard them. Who's that next guy? If they can get that consistent third weapon, and maybe it's someone different every night, they're really hard to beat. They attack you at all three levels."
Key player
"I think when Jabari is at his best. I think Rodney Hood has had a tremendously consistent season, he's a 180 guy, but I think Jabari is the guy. When he decides he's going to be multi-faceted, play around the basket, then step out. Not many people have a player who can do that."
"I think it's Jabari now. It's evolved into him. I thought it was Sulaimon early on, they kind of went to him, then they sat him out. It's Parker. They're playing at a higher level. When he plays well, and he gets 10 rebounds and 16 points, they're tough to beat."
"I would have to say Parker. When they've struggled, he hasn't played well. So much of their emphasis is to get him touches and get him to score. He has to be efficient. They have enough scoring weapons on the perimeter, but they need balance on the inside."
Primary weakness
"I don't think they're the defensive team they've been in the past at the rim. They don't have the size."  
"They struggle guarding the post. Jefferson is playing his ass off, but if you have a big guy who can really score the ball, they're going to struggle. That's why they pressure and take you out of stuff. If we can just throw the ball to the post, we would be in the game. But they don't allow you to do that, to catch it in the post. If you have some guards who can handle that pressure, it will be hard for them."
"I think two things. They've improved because they're better defensively than they were to start the season. They have better chemistry on the defensive end. Plumlee has helped them because he provides size and energy. They need to continue to lock in on the defensive end, because that was a weakness. They were trying to find out who they were defensively. At one point Sulaimon was their best defender, then he wasn't guarding because he wasn't scoring. They have to consistently keep guys in front. On the offensive end, who's going to consistently be that third guy? Parker will score, Hood will score, but they're not going to play all those guys in the tournament. Who can step up in tournament play? [Andre] Dawkins isn't scoring it as well lately."
How to stop them
"You have to take away their 3s somehow. They made every 3 against us. We zoned them, and they did a very good job of attacking it. But that's a good plan."
"I think you have to make them take a lot of jumpshots. You have to take care of the ball, you can't let them overwhelm you. You have to get good shots, and that's what it starts with. Your offense. They score on their pressure and their turnovers, and you taking bad shots and you getting breaks. They're very hard to beat when you do that. If you can shrink the court and make them take tough shots on the perimeter, I think you can beat them. But you have to make them play your style of play a little bit. They try to create shots for each other so much; you have to keep the ball out of the lane. They penetrate and kick. Keep the ball on the perimeter. They don't throw post passes a ton. They barely throw the ball into those guys. But they're driving and kicking so much, you have to keep in front of them so they can't get open looks. Once you help, it's over. I think you can zone them. They played well vs. Syracuse's zone, but they didn't light it up offensively against them."
"We really tried to jam in on Parker and make him take jumpshots. He was the focal point leading into our game, we were really crowding him and making him take tough ones. Know who's in the game in terms of what you want to do, hugging them and crowding them. Chasing players off 3-point line. Transition is always important, limit their opportunities when they get a defensive rebound or a turnover. So much of their focus is on Hood and Parker, make them uncomfortable, make those other guys beat you. When Parker had the ball, make sure he sees two or three jerseys. Parker isn't forcing as much. Taking away two guys, and limiting them in transition, especially on 3s."
Best way to score on them
"Beat them off the dribble. Try and put pressure on them that way. Put a lot of pressure on them, put them in pick-and-rolls, attack them in the 2-point area. Try to get them to foul. A guy like Plumlee, you want to put him in some pick and rolls. I don't think Dawkins is a great defender. Sulaimon, those guys are susceptible."
"You really have to attack. Play north and south. They make you play east and west, they make you play sideline to sideline. If you don't have an attack mentality, trying to get downhill and trying to get to the rim, you're really going to have a tough time. What teams in our league do is, you've gotta get the ball in the paint. Whether by pass or by the dribble, you really have to attack them in the paint. They don't really have help defense. They stay out on you."
"You spread them out and drive them. One thing we tried to do was get Parker in ball-screen situations. He's not as interested as the other guys defensively. They're not great getting back defensively in transition. Make those guards chase off staggers. You can't beat yourself. Lull them with some poised possessions, halfcourt sets. Make them defend for long periods of time. Attacking Parker or Jefferson on the block, if you have a good big. Thornton is a good defender, Cook at times, Sulaimon has been better lately, but those guys, you can beat them off the dribble. And controlling tempo, if you can get into a half-court game."
Ultimate concern
"They have too many good 3-point shooters. You can't just let them tee it up."
"Taking care of the basketball, I think. Leading every pass, taking care of the ball, making crisp decisions, I think that's the key to them. Everybody thinks about how you're going to stop them, but you have to score too. You have to play an unconventional game versus them. They try to get up in you and take you out of what you do."
"When we played them, it was limiting Parker's opportunities and crowding him. And then guarding the 3-point line. We talked to our perimeter about that. We'll live with contested 2-point baskets and drives to the basket, but we can't let them get confident from the 3-point line. They have a number of guys who can knock down shots. They come at you with a lot of weapons. If they make enough 2s to beat you, fine, but they're such a rhythm team from the 3-point line. When a Cook or a Thornton drives, I would rather give up a layup than help and recover on a shooter. Don't overcommit on penetration. I would rather not even help on penetration. Some teams are like, we're going to help and recover on every drive, but let's be smart. Zone was good for us. It's a different rhythm for them, puts Parker and Hood in different areas. Just be there on the jumpshots."
Inside play good enough?
"I think so. When you think about those guys and the way they play their roles, and then you think Jabari going in and around there, I think they're capable. When they're not making shots like against Carolina, who has so many guys at the rim, you certainly think that they could run into some trouble."
"I'm not sure they're inside play is good enough, but I don't know if they'll need that to make the Final Four. If they have a good matchup, they don't need that. They can make the Final Four with who they have, without those guys doing a ton. If those guys are really playing well, they get to the point where they're unbeatable. They're wild cards for them. You need some type of weakness in their system, and usually one of their guys aren't great scorers, or you can score against them. But if those guys play well, where do you attack them at?"
"I don't know. Offensively, they can play with anybody. I worry about them defensively. Parker is going to have guard some bigger skilled bodies. He can't afford to get himself into foul trouble. Jefferson has provided them some boost defensively, they have more confidence in him. [Josh] Hairston wasn't giving them much, Plumlee can help. That's absolutely a concern, how they mask that and disguise that against a team like Arizona, that has size."
Jabari Parker
"He's a difficult matchup for most frontcourt players. He's mobile, he can put the ball on the ground. Jabari Parker could be one of those guys to decide he's going to be the best player in the country, and it could happen. Use Carmelo Anthony as an example."
"From the first time we played him until the second, there's been an unbelievable change. There was a four-week span where they struggled with him, and he was settling for jump shots and really pressing to score. And now he just attacks the rim. You can't stay in front of him. He just charges the rim. He's a bull."
"As any freshman, you're going to have ebbs and flows. Maybe he hit a wall and maybe he was tired, they were asking him to do a lot. Every time you look on ESPN, you see who's the top freshman. He got a second wind. They helped him get into areas where he can be successful. Shot selection has improved, not forcing as many tough shots as he did previously. Good balance on the offensive end. He knows he doesn't have to get 25 every night. I think he's been more efficient with his play on the offensive end, how he's scoring."
Leftovers
On Rodney Hood: "He's another efficient scorer, a guy who can get you 20 on any given night. He can beat you inside the arc from the 3-point line; he's a consistent 3-point threat. He's another go-to-guy who can take pressure off Parker, so he doesn't have to be the guy all the time."
On Quinn Cook: "I'm a fan of him. He's a good defender, he gets steals, he takes care of the ball. He shoots a good enough percentage from 3, tough kid. I think he's capable."
On Rasheed Sulaimon: "He gives them another guy who can really make 3s. He's shooting over 44 percent, I just think he's a guy who gives them another option. Make plays in the open court. Skillful guy with some size."
On experience: "Having [Krzyzewski] as a coach. It's not the experience, it might be more the fact we're talking about a guy who knows how to motivate players properly. He's been doing it for so long. What their biggest thing is that they went to the Elite Eight last year. It's an advantage to have Coach K, but having those guys go through the experience of last year, that's a benefit."
On Mike Krzyzewski: "I think he's the best in the country. He has a feel for his team this time of year, and that's the biggest thing. He knows what buttons to push at what times with his team. Everybody is going to play a certain way this time of year, and he knows a few adjustments game-to-game better than anyone in the country."
The Spartans finished the regular season with 12 consecutive wins

The Wildcats could look like a completely different team come Selection Sunday

Southern California also helped its NCAA Tournament selection hopes
The Cornhuskers, UCLA and NC State all look to improve their NCAA Tournament resumes

Our advanced computer model simulated Sunday's Wisconsin vs. Michigan State game 10,000 ti...

Knox dropped 21 points to lead the Wildcats to a win over Missouri