Scouting title contenders: Gonzaga
Gonzaga has been rolling through the West Coast Conference, but are the Bulldogs a legitimate national title contender? We find out.
by

Eye on Col Basket staff

• 13 min read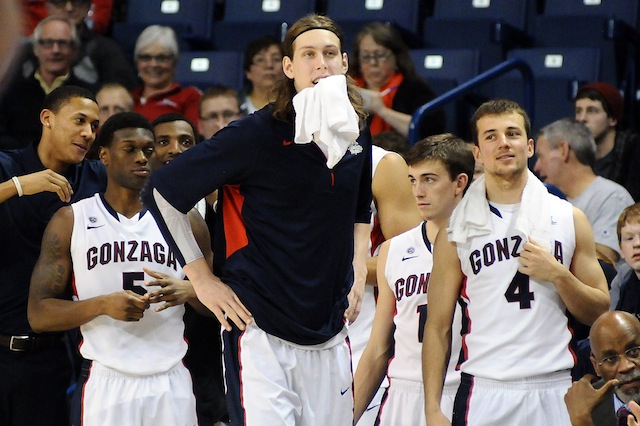 By Jeff Borzello and Jeff Goodman
Watching a game, we all think we know the best way to score on Louisville or a couple of strategies to slow down Michigan. But what about the guys who get paid to figure out that stuff -- what do they think?
Over the next few weeks, CBSSports.com college basketball writers Jeff Goodman and Jeff Borzello will go through the national championship contenders and attempt to answer that question. For each team, we will talk to four or five coaches who played those contenders this season, and get in-depth insight into each title threat. How should you attack Duke? What's Kansas' weakness? What concerns you about Indiana? We'll find answers to that, and much more.
This week, we take a look at Gonzaga. (Past scouting reports - Duke | Louisville | Michigan | Kansas | Indiana | Florida)
Style of play
"Their players beat you, not their plays. And they're different at home and on the road. When you think about Gonzaga over the years, you've got three or four tough road games and then you win the league again. At home, they have a lot of freedom. On the road, they run a lot of sets, play a little bit more zone. But at the end of the day, they don't do anything you've never seen before, but their players beat you." 
"They're super physical. They've always been that way, but this particular group is off the charts in that aspect. Everyone wants to talk about [Kelly] Olynyk, but the guy who establishes that is Mike Hart. He's probably one of the most underrated players in the country. He doesn't turn it over. He is relentless, competitive, crashes the offensive glass at every opportunity. You've gotta account for him. He impacts the game in a lot of different ways. I think he's what makes them a title contender." 
"However they need to. They can play really fast if they want, but they can also grind you out in the halfcourt and execute. They are an inside-out team and are able to play different ways due to their versatility." 
"They like to play fast -- and are very, very physical. They are way more physical than people think." 
Offensive strength
"They have four stars. They just have a lot of weapons. You can try to take away Pangos, but he can affect you just as much passing and scoring. Just him having the ball in his hands will bother you. If he's touching it, he's making some sort of play. And then Olynyk dominated if you take [Kevin] Pangos away. Throw the ball down to Olynyk or [Elias] Harris and you double them, Pangos and [Gary] Bell will kill you. Sam Dower would be the best big man on any other team in our league outside of BYU. They have a lot of ways to hurt you."
"They've got crazy depth and they can come at you in so many different ways. They can pound it inside at you, they can get out on the break, they can score from the perimeter. The one thing they don't have is the guy who can create off the dribble." 
"Balance in that they have two really good guards and also two really good guys inside. It's tough because you have to pick your poison with them." 
"Last year it was their guards -- Pangos and Bell. But now their bigs have become their strength. It's flipped. Those two dudes -- Olynyk and Harris -- are the focal point now and the guards have taken a back seat. Those big guys are just crushing guys though." 
Key player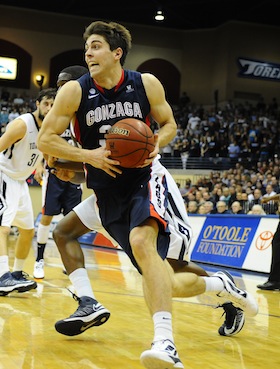 Hart brings key intangibles to the Zags. (USATSI)
"I think it's Mike Hart. He's a no-stats all-star. Gonzaga has had more talented teams than this one – but those teams did not have a guy who could care less about scoring. Hart wears dirty work like a badge of honor. His weaknesses are obvious, but his strengths are invisible. There's no stats that chart what he does. We showed 15 clips of Mike Hart, and not one was him scoring."
"Harris is a four-year starter, a double-double guy in our league. And you forget about him, because there's not much you can do to stop him. He'll get 12 and eight or 20 and 12. He's lost a little bit of his luster because he's not the lottery pick everyone thought he was after his first year, but he's still a terrific basketball player."
"Kevin Pangos. Olynyk and Harris are probably the focal point for most teams and are both having monster years, but Pangos does it all for them. He can make the big shot and score in bunches, but he's also become really comfortable just running the team." 
"Olynyk. He's just better than everyone else, so much better. He gets great shots and is so physical. He's not explosive, but he's like a freight train. He goes through everyone -- and is a major issue. He never has to do anything hard -- it's always easy." 
Primary weakness
"If anything, it's perimeter depth. You've got Pangos and Bell, and then you've got [David] Stockton. Outside of that, there's not a lot. Those are three really good players. They've got a lot of depth in the bigs, but there's not a lot at the 1-2 spots. They need Pangos and Bell on the floor. If Olynyk gets in foul trouble, they don't miss a beat with Dower."
"From a defensive standpoint, guarding the point of the attack on the perimeter. Elite-level guards are going to challenge them. Gary Bell isn't a bad defender, but neither him or Stockton or Pangos are lockdown on-ball defenders. They've got so many arrows in their quiver, they zone when they need to zone, they've got length."
"Scoring at the three-spot. Mike Hart brings so many good things to the table in terms of defense, but he can't really score. When they play [Drew] Barnham at the 3, it gives them another shooter -- but it hurts them defensively." 
"The backcourt defensively. I worry about them come tournament team going up against really athletic guards or a big, rugged backcourt. It could get tricky for them." 
How to stop them
"Play six guys. I've been racking my brain about it. You have to keep them out of rhythm offensively. They're so good when they get into a rhythm. Teams have tried to zone them, but they're going to figure it out and get into rhythm. Against man, they get into a rhythm. You also have to score, because they're going to keep scoring. And I think you always have to get your defense set, and change defenses on misses and makes. You're not going to grind them out all game."
"I've had the school President make a few phone calls to the man above. You have to play a great game and hope they're off. We can play our best game of the year and if they play theirs, I don't think we win. How do you make them not win? You have to match their competitiveness. Can't turn it over because that leads to easy baskets, and need to stay even on the boards. And then you've gotta make shots."
"Pressure them. I think you have to do that. You can't double their bigs because they can both pass the ball. You have to make them catch it in front of you -- and pressure their guards." 
"You've got to take your chances with their perimeter guys. Their bigs are going to get their shots -- and good ones. They are such a good duck-in team, with all their bigs. They run a million ball-screens." 
Best way to score on them
"They make you take tough shots. And their defense doesn't get enough credit. If you have a dynamic player who can really go off against them, and you're constantly putting pressure on their defense, you have a chance to beat them. If they have a weakness in their defense, it's defending ball-screens. They might defend the first one well, but they don't defend the second and third one well. You can get by Pangos and Stockton, but once you get into the lane, there's nowhere to go. You're running into Olynyk or Dower or Harris."
"You've gotta have good spacing. Keep the big guys spread out as much as possible. They're committed to hedging ball screens and getting their big guys out there. If you don't have good spacing, it's easy for them to just guard the paint. Against their zone, you have to have great ball movement. They have great length, which allows them to challenge in the zone."
"Try to get stuff in transition. They are really good in halfcourt defense. They are going to guard you -- really guard you. This might be his best defensive team. Everyone talks about their offense, but one of the things that makes this team so good is that it's so much better defensively." 
"I don't think they're a great defensive team. They have become aggressive on ball-screens. If you have the personnel to do it, get Olynyk to show and go after him. Get the bigs away from the basket and attack them." 
Ultimate concern
"It's their transition offense. They absolutely are the best team at punishing you for your mistakes. If you take a bad shot or turn it over, they are scoring every time. It's two points, chalk it up. They constantly put pressure on your offense to be good. You're constantly going down on the offensive end trying to get the best shot. And you're telling your team, if we take a bad shot, they're going to blow it up. It's hard to get into a half-court game with them. There's just so much pressure on your defense."
"The physicality. We were doing as many smashmouth drills as we can create because they play that way. They come at you in waves with that physicality up front, they're aggressive at the rim, they're aggressive on the glass. You have to match their physicality. When their three-man is the leading offensive rebounder in the country, that's a problem. I think the other thing you have to do is prepare to weather the storm. They're going to go on runs, so it's how you respond."
"Their big men. They have two big-time guys up front and then they have two coming off the bench in Dower and the big freshman (Karnowski) who would start for every other team in the league. They have tremendous depth so it won't hurt them if a big man gets into foul trouble. They have guys that can score and rebound the ball." 
"Keeping them out of transition and easy buskets and layups. Olynyk is a layup machine and no one has been able to handle him so far." 
What makes them different than in the past?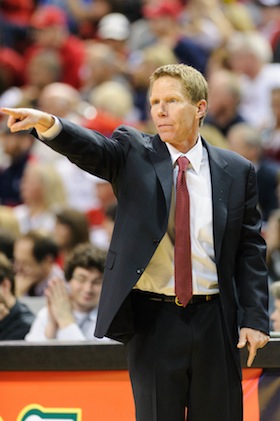 Few has done a great job with chemistry. (USATSI)
"This is an older team. Olynyk and Stockton are redshirts, Elias Harris is a senior that's played since he was a freshman. Pangos and Bell started as freshman, Mike Hart is a senior. Barham is an older guy. Guy Landry is a senior. They've got an older team. And it's hard to see it on film, but they have phenomenal chemistry. They like each other. They're not caught up in getting their piece, and getting to the NBA. I don't feel that from this team. This is the best team they've had. They have had more talented teams, but I don't know if they've had a better team."
"I think it's their depth and versatility is unlike any other team they've had. They don't have an Adam Morrison where it changes the way they play if he's struggling. They can pound it inside in a smashmouth game, or they can shoot from the perimeter if you zone them, and they can run. That's the biggest thing to me. They can play against any different style. Also, what separates them from other Gonzaga teams is that they play every game like it's a national championship game. At times, it's hard to play with that level of intensity, gotta give their coaching staff and players a lot of credit."
"I do think it is because of their depth and the quality of the talent. They have a bunch of really good big men and a couple of guards who have played together for two years now. They have balance, experience and can play different lineups and different ways. However, right or wrong, this team will probably be defined by what it does in March." 
"When you have a guy like Olynyk, and Gonzaga has never had a guy like him, they have a chance. I think that's why this is their best team. They've had great guards and wings, but never a guy like Olynyk." 
On their toughness
"I think they have the togetherness, but I don't know if they have the toughness. They haven't been put a lot of adverse situations this year. No one's really gotten hurt, no one's missed any games, they haven't had any crazy comeback wins. They've led their games and they've won. I tend to say no, but I just haven't seen a situation."
"I think they are. They've lost a couple of tough games, but so have Indiana and Duke. It's hard to go undefeated in any league. And in our league, to their credit, the blowouts are a testament to their toughness. They have that bulls-eye on their back every night, and they're hungry. If they don't throw that ball away against Butler, we're having a different conversation."
"They have a lot of quality road wins -- and I think they are both physically and mentally tough enough. You can see it with guys like Pangos and Gary Bell. They are tough kids." 
"They aren't traditionally known as a tough team, but people will be surprised how physical they are -- and how you feel when they hit you. The thing they do better than everyone is get shots that they make every night. That's why their aren't off-nights. The shots that they get aren't ones that you have off-nights with." 
Leftovers
"I think Mark Few is part of what makes them great. He has a great pulse on his team, and he doesn't get enough credit for that. When to push button and when to back off, he knows that."
"Mark Few is quick to give credit to the players, but I think the chemistry is a big part of it from him. They're very comfortable to do whatever they have to do to win games. There's not a lot of egos on that team. On other talented teams, there were egos and guys that were playing for themselves more. And that's a huge testament to what coach Few has done."
___________________________________________________________________________
For more college basketball news, rumors and analysis, follow @EyeOnCBB on Twitter, subscribe to our RSS Feed and subscribe to our College Basketball Newsletter. You can follow Jeff Goodman on Twitter here: @GoodmanCBS and Jeff Borzello here: @jeffborzello.
CBS Sports HQ Daily Newsletter
Get the best highlights and stories - yeah, just the good stuff handpicked by our team to start your day.
Please check the opt-in box to acknowledge that you would like to subscribe.
Thanks for signing up!
Keep an eye on your inbox for the latest sports news.
Sorry!
There was an error processing your subscription.
The CBS Sports Classic and Champions Classic are among the best events in 2018

The Cavaliers got some good news for the upcoming season

Calipari believes only a small portion of elite HS prospects will take the G League route
No. 3 Gonzaga and No. 4 Duke are behind the Jayhawks and Wildcats to start the season

Porter returned for a sophomore season with hopes of developing into a lottery pick for the...

Class of 2019 standout picked the Mountaineers over a slew of other high-major offers