Scouting Title Contenders: Michigan State Spartans
Michigan State could be one of the title favorites when healthy, so what are the biggest keys to beating the Spartans at full-strength?
• 14 min read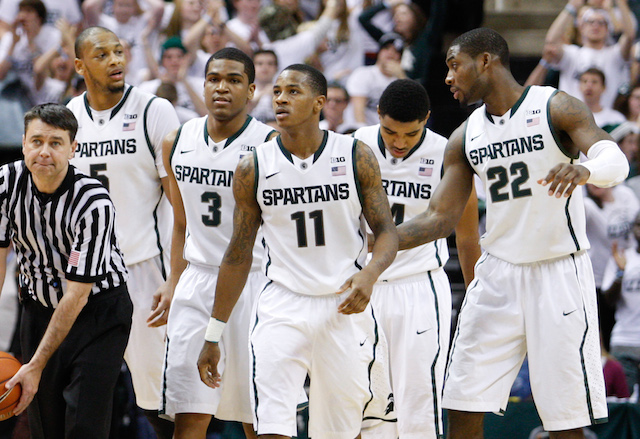 When watching a game or looking at statistical trends, we might figure out one or two ways to slow down Wisconsin's half-court offense or score against Florida's multiple defenses. But that's obviously not the whole story. But what about the guys who get paid to break down that stuff; what are they thinking?
Over the next eight weeks, I will go through each of the national championship contenders and attempt to address the key preparation points when facing each team. I will talk to four or five coaches who played those teams this season, and get in-depth insight into each team. How do you score on Arizona? How can you stop Syracuse in transition? What's Michigan State's biggest weakness? We'll find answers to each of those questions, and much more.
Previous scouting reports:
Up next is Michigan State, a team many people think could be a title favorite when healthy.
Style of play
"With who they have right now, it's very guard-dominant, with [Keith] Appling and [Gary] Harris. When [Adreian] Payne was involved, it gives them a different dynamic. You've got three veteran guys, two seniors and a sophomore who is battle-tested. They really look to transition, first and foremost. Appling is doing a great job pushing the basketball, and Harris on the wing; he's having a pretty good year. They put pressure on you initially, then run all the set plays they have. The one thing they're not doing is not rebounding the ball very well. Payne likes to float around on the perimeter. And they don't run any set plays for [Branden] Dawson."
"Really physical. Every cut you make, they're physical. In the post, they're physical. Rebounding is obviously physical. They're an excellent team in transition. That starts with their ability to rebound and get on the break. They come at you in attack mode. Multiple guys who can handle the ball, it allows them to be aggressive in attacking. And their bigs run. When they play Payne at the 5 and Dawson at the 4, they're an unbelievable running team. Not quite as good running with [Matt] Costello in there."
"As tough as it gets. They try to beat you up at both ends of the court. Everyone knows how physical they are defensively, but they're even more physical offensively. Every screen they set, every loose ball, every rebound. Everything is powerful. And they fly. Their wings run, Appling is terrific. They don't want to run a half-court offense. They try to beat you up and run."
Offensive strength
"They do a good job of running plays for their main guys. They set a lot of ball-screens for Appling, let him create. Bring Harris off of screen actions. If you look at them at full-strength, you have to worry about those three guys (Payne). And when the shot goes up, Dawson is doing his deal and Costello can rebound the ball. And [Kenny] Kaminski is giving them good minutes off the bench."
"They get out and run. They really run and attack in transition. Whether it's Appling or Harris or [Denzel] Valentine, they come at you. In the half-court, they keep it simple and execute. They call a play and it's very clear what they want to do. They're all on the same page. They've got enough guys who can make their own plays and create offense, when you talk about Appling, [Travis] Trice and Harris. They're good enough to make a play when there's a breakdown. Good teams have one or two guys that can do that, they have three."
"From a personnel standpoint, they're as good as anybody at 'next man up.' Dawson gets hurt, Payne gets hurt, you see Kaminski and those guys step up. They play together. And having a senior PG in Appling and a pro in Harris helps. They know their roles. Top to bottom, they understand what makes them good. They don't do things outside their comfort level."
Key player
"Appling, with the way he's playing. He handles the ball so much, the ball-screens, the transition, then late in the shot clock. He runs the whole show. He's shooting the ball the best he's shot the ball in his four years. Around 40 percent from 3. Add that to his attacking mentality; it's a double-edged sword. When he's hitting his jumpshots, he's tough to guard. And he's making better decisions in transition, getting other guys involved. He's matured into a four-year kid."
"I think it's Appling. His experience. We felt like Payne was going to be hard to stop, Harris was going to be a problem, but Appling was hit or miss. He might be a guy we could have played off, but he shot the lights-out against us. That sort of poise and control from the point guard spot. He's improved in his understanding of game management, what they need and when. A great point guard understands the flow of the game, you know, 'I've gotta get a shot here, I've gotta get the ball to payne, I've gotta keep Harris hot.' He has a better understanding of that."
"Keith Appling. 100 percent. When Harris gets going, he's great. And Payne, when healthy. But Appling is the guy. He's a senior, takes the big shots, doesn't force things. Tough to guard, gets to the line, beats you up, scores in different ways."
Primary weakness
"Their depth. With Payne and Dawson out, that's going to get better. Initially they weren't playing very many guys. Another thing could be post play. They don't really have a guy who they can throw the ball to on the block like they did with [Derrick] Nix. Payne floats on the perimeter a lot, shoots jumpshots. He can post up, but there's no guy like Nix where they can just throw to the ball to and play inside-out."
"Lack of interior scoring threat. I think Payne is good, but he's more of an athletic runner, and he can shoot the perimeter shot. And I'm sure at the next level he'll be an NBA 3-point shooter. But they don't really have a back-to-the-basket scoring threat. Means you can play a little more out and extended. You don't have to help in the post if you have a good one-on-one post defender, you don't have to overreact."
"They're a good shooting team, not a great shooting team. You take Harris out and if Appling is having an off-night, they're not a great, great shooting team. Payne is a good player, but he started falling in love with the 3 a little bit too much before he got hurt."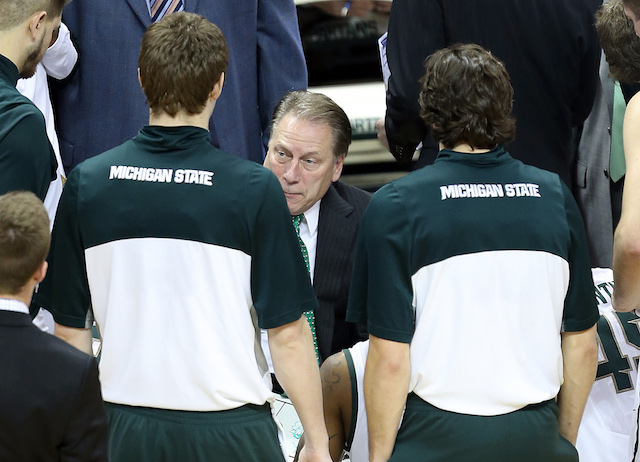 How to stop them
"Take transition points away. They do a good job of getting the ball out of the net on made shots, and then pushing on misses and turnovers. They do a good job of turnovers and turning them into points. In the half-court, you have to do a good job of not letting Gary Harris create separation. He's good enough to catch and shoot off a screen, and he's good enough to catch and drive it. Ball-screen defense is really big. Don't let Appling get downhill; he's doing a great job of finishing and shooting the basketball. When you have a guy who can make shots like that and also drive and finish, it's pick your poison."
"Sprint back and everybody get a foot in the paint. You want the ball-handler staring at 10 eyes as he's crossing halfcourt, almost at the expense of your own offensive rebounding. We usually send three and a half guys to the offensive glass, but our game plan was getting guards back. We game planned to play off Appling a little bit, because we were worried about Harris and Payne. Get up on Payne, pressure him with our bigs. We wanted to be there on the catch. And you have to get through screens, they do a good job of setting physical screens."
"You can't give them a steady dose of anything. You have to change defenses, have to change coverages. Trap the pick-and-roll, down the pick-and-roll, keep them off-balance. No single coverage on Payne, even in the post. You have to dig, you have to trap, keep them uncomfortable. Izzo has been running the same stuff for years. It's good, it's efficient, it's their package. They try to go through Payne, and they're a little bit more perimeter-oriented without him. Kaminski is a stretch four who spaces the floor. Brandon Dawson is invaluable because he knows he's just going to earn it on the offensive glass. Send three guys back in transition. Harris shoots quick 3s in transition, and you have to defensive rebound."
Best way to score on them
"Half-court, they don't beat themselves. If you look at their numbers, they're very good in league play. They force jump shots, not giving you easy baskets. They'll give you perimeter shots. They're really gap-oriented on all drives. One or two guys swiping at the ball. You can beat them downcourt. They're not a great transition defensive team. If you want to score some points on them, that's the best way to do it. You have to try to manufacture points in other ways, and that's one way."
"I think we did a good job of going inside at them. Along the lines of not having a great post scorer, they're not great inside defensively. If you have a back to the basket post player, you can make them pay that way. Then you create overreactions. They do a great job of packing the paint on the perimeter, not creating room to drive. But they'll obviously react and do some things. Get post touches. If you can penetrate off the dribble, they help aggressively. With their length, they don't allow you much in terms of space and angles to penetrate. If you're not careful, you'll end up throwing the ball around the perimeter and never get within 19 feet. We also tried to run a little bit after made baskets. I think you can – and I think you have to." 
"You have to get their guards chasing a bit. I don't know if Harris and Valentine, and those guys coming off the bench, want to chase. Get them playing East-West. You're not throwing the ball in down low. And Appling, you have to wear him out. Get him in pick and roll situations. You have to establish some sort of inside-out presence. Your big, if he's not scoring, he has to be a facilitator. Keep cutting. Try to get paint touches, take good 3s. Drive and kick, not just reversals. You can beat them in transition. They're sound, they'll stop the ball early, but they all converge on the ball. Get in the lane and quick. Move them, then drive them. Can't drive the first reversal."
Ultimate concern
"I think it's transition defense. You have to get back."
"We were most concerned with their physical play. Preparing them for the war and the battle in the trenches. If you allow them to win that battle convincingly, everything goes from there. Transition defense was 1A. How hard they run, how quickly they get the ball up-court." 
"Transition defense. None of it matters if you're constantly taking the ball out of the net because you're not running back. You gotta get back in transition. You can defend them in the half-court, you'll be able to score on them if you're patient, but you can't take quick shots."
Injuries
"You have one of your best players in Payne, who was a handful on the block, and capable of shooting 3s. So you're adding a guy back into the lineup who can give offensive punch. I think they're playing a little bit better without Dawson. You're putting guys in who can score the ball better. Dawson does a good job of rebounding and blocking shots, making athletic plays. They miss him on both ends rebounding."
"In the long term, it's a blessing. You look at the way NBA teams take care of their guys. They have guys miss five games on purpose, so they can get ready for the playoffs -- and it gets guys ready and gets guys paying time. I don't think guys getting back into a groove or chemistry is going to be an issue. These guys have played together for three or four years already. It can only help them to get experience for those other guys."
"It helps. Teams that are together, and you can tell they're together. Guys know their roles now, and the Costellos and Kaminskis know it's not their time yet. They're holding the fort down until the other guys get back."
Tom Izzo
"The fact they're doing well without these two guys bodes well. It helps their bench. It's not foreign territory playing without them. And it's a luxury to have Harris and Payne, two guys that should have been in the NBA. Coach Izzo has done a great job, and I think with a short turnaround, preparation-wise, they are who they are. Defensively, they're going to be in it, even if they're having an off-night shooting the ball."
"I think it's a big edge for them. The biggest thing for them is between round one and round two – well, now round two and round three. That turnaround. It's so quick, the level of intensity and scrutiny and distraction is huge. Having someone who has been there so many times; he's got a routine that clearly works. He's maniacal about the details, and they turn the page and get to the weekend as well as anybody. You do have media and fans and boosters and parents; that can be a distraction when you're trying to prepare for a really good team."
"It's huge. He's proven in tournament time with short preparation, he's one of the best in the business. He does a great job, keeping guys sharp and also game-planning."
Leftovers 
On Harris: "Playing both sides of the ball is what stands out most to me. Everyone wants to make a deal about him scoring the ball, but he's as good a perimeter defender as there is. Going into it, I didn't give enough credit to his length. He's all of 6-4, covers a ton of ground defensively. He can guard 1, 2 and 3 at the college level. He's pretty complete." 
On Valentine: "He's a multi-dimensional guy, he can play multiple positions for them. He's their backup point guard, kind of a point-forward. He can handle the basketball, pass the basketball, and he's not shooting a great percentage, but he's capable. He's another guy you have to find in transition. Good fourth guy for them."
On Valentine: "He's as good as anybody at running the floor and getting out on the break. He comes at you. Talk about a guy who does the dirty work and knows his role. A guy with that kind of size who can rebound and defend. He knows his role. You have to have guys willing to guard and set screens and run the floor. It doesn't show up in the box score."
On Valentine: "He's their glue guy. He can play multiple positions. He's a slasher. He's a tough kid. He's everything Izzo wants in a player."
Andrew Jones is Texas' second leading scorer

Oklahoma's star freshman has a father who has been there and done that

Kentucky now is at risk of slipping out of the Top 25 (and one)
Cherry's commitment gives ASU a top-20 recruiting class and its highest rated pledge since...

Matt Norlander is on a 11-7 run in college basketball picks and shares his best bets for W...

Kentucky losing this game probably cost it a shot at earning a high NCAA Tournament seed