Scouting Title Contenders: Syracuse Orange
Syracuse is off to an 18-0 start, and has all the pieces to compete for a national championship. How do you stop the Orange? Take a look.
• 12 min read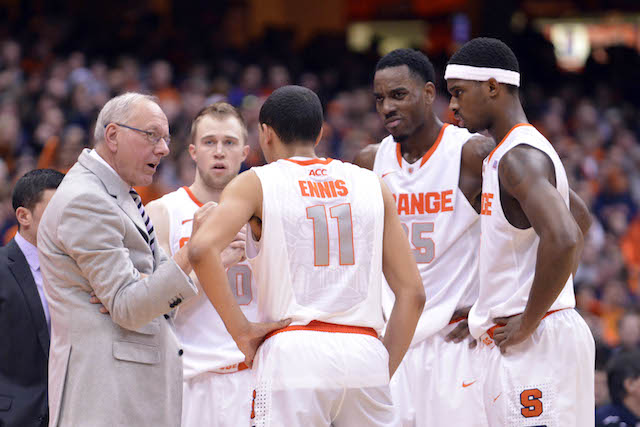 When watching a game or looking at statistical trends, we might figure out one or two ways to slow down Wisconsin's half-court offense or score against Florida's multiple defenses. But that's obviously not the whole story. But what about the guys who get paid to break down that stuff; what are they thinking?
Over the next eight weeks, I will go through each of the national championship contenders and attempt to address the key preparation points when facing each team. I will talk to four or five coaches who played those teams this season, and get in-depth insight into each team. How do you score on Arizona? How can you stop Syracuse in transition? What's Michigan State's biggest weakness? We'll find answers to each of those questions, and much more.
Last week we looked at Arizona.
Up next is Syracuse, ranked No. 2 nationally and one of three unbeatens remaining.
Style of play
"The best thing in Syracuse's mind is if a team comes out and nails shots early. You fall in love with it. They can slowly grind the game out and get back into the game, and especially up there at the Carrier Dome, they make a little run, thirty-thousand people on their feet, it's an intimidating environment. That's when you play on your heels."
"I think their style is the Syracuse style. Length in the zone. Everyone is just so long. They deflect passes and then they're gone. It's the Syracuse style. They've coined the term. Long guys in that zone. And they have guys who can make plays at the other end. [Tyler] Ennis is terrific, but they're led by a senior in C.J. Fair. They get those talented guys, you know, guys like Michael Carter-Williams, they have those guys all the times, going back even before Melo. Extremely talented guys, then they surround them with role players. And that's not in a bad way. [Trevor] Cooney is a role player, [Rakeem] Christmas is a role player. They serve a purpose in the Syracuse system. They always have guys like that. Christmas does what he does. Blocks shots, rebounds. Fair – senior leader, their best player, and they have a point guard who will play in the NBA. That's a good recipe."
"They like to slow you down on defense, and then like to put the foot on the gas pedal on offense. They do a really good job of using their length and athleticism to make you settle for jump shots, and they're long enough where they can contest every shot. When a team shoots a majority of jump shots, that means long rebounds that lead to transition buckets. They're one of the best transition teams in the country, with Tyler Ennis, a dead-eye shooter in Cooney, and the barrage of athletes. In theory, you want to make it a half-court game, but they're so good on defense, that offensively you want to get quick shots before they get the zone set up."
"They are so unique to college basketball, in terms of their zone, the way they play it, how big and athletic they are, how disruptive they are. They're number one in the league in forcing turnovers. You have to prepare for their style of play in terms of the zone. And offensively, they have three guys that complement each other well in Ennis, Fair and Cooney."
Offensive strength
"I always think of transition. They deflect passes. If you make a lazy pass, they're gone. They're really good in transition. And they let their best players make plays. C.J. Fair is always coming off a ball screen or driving someone. Ennis has become their sort of go-to-guy late, because he can take guys off the bounce. They've always been really good about getting their best players the ball."
"I think Tyler Ennis is mature beyond his years. He does a great job of not turning the ball over. They take unbelievable care of the ball, so they get shots every possession; they know where their shots are coming from. All those guys complement each other. They isolate C.J. Fair, they run Cooney off baseline staggers, and at the end of the shot clock, Ennis breaks his man down and gets into the lane. It's not that they do anything unordinary; they have four dynamic pieces that complement each other. [Jerami] Grant is always around the ball. He's long, he's athletic, he gets in transition. You have those other guys, and then he's the fourth option that's cleaning everything up. What makes Jerami Grant special is he has all those other guys and can be who he is. He doesn't have to go outside his box too much."
"Great, great point guard play. They have two guys in Fair and Cooney that are tremendously efficient in what they do. The point guard is great at finding those guys. The guard play is tremendous. And offensive rebounding, they've got those big bodies."
Key player
"Ennis makes plays that are back-breaking, but I still think it's Fair. If Fair has an off night, or goes into a prolonged slump, [they struggle]. He's a senior. Ennis has to be solid, but Fair has to shoulder the scoring load. He's their guy."
"I would have to say Ennis. He controls the game for them. If Fair doesn't play well, but Ennis still doesn't turn the ball over, Cooney makes shots, the big guys have a solid game and Jerami Grant has a good game, Syracuse can still win. If Tyler Ennis doesn't play well, if he turns the ball over, if he doesn't make good decisions, that can throw those guys off offensively. He really runs the show. He maestros the whole deal."
"It's Cooney. If he goes 1-of-13 or whatever or if he's not shooting it. Because there's not a lot coming off the bench. Cooney makes shots, both in transition and in the half-court."
Primary weakness
"Inherently in the zone, they give up offensive rebounds. Sometimes teams can stick around by hitting the offensive glass. When you play a zone, it's not as easy to rebound out of it. Other than that, maybe backup point guard. But who has a good backup point guard these days?"
"There's a fine line. You can't send five guys to the glass, or even four. If they get clean rebounds, they get out and it's back-breaking. That's when they go on the 12-0 runs they always seem to go on. You have to get back."
"Overall depth. They don't play a lot of guys. If those guys in foul trouble and they're forced to go to their bench, that can be problematic, especially in a game where they're matched up with a team with depth."
"You can certainly get on the offensive glass against them, and I don't think they have great depth. I would say that there's not a dominant scoring frontcourt player. Those guys have to play off the guards."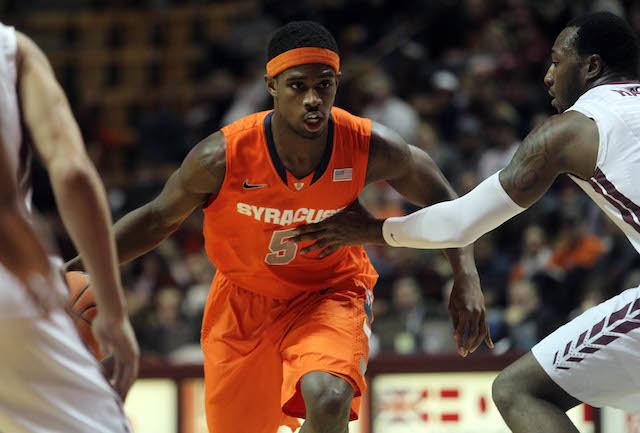 How to stop them
"In transition, you have to take good shots and take care of the ball, obviously. Take good shots, get offensive rebounds, don't make careless turnovers, you'll stay in the game. Especially if you convert second chances. In the half-court, keep guys like Fair and Ennis in front of you. Can't let them drive."
"Get back and defend in transition. In the half-court, chase Cooney off screens, you want to try to keep Ennis out of the lane, which is easier said than done. In theory, that's what you want to do. Make him a jump shooter. Crowd the floor on C.J. Fair so he doesn't see much real estate to drive baseline and draw fouls. But he's shooting the ball much better, and he's really expanded his game to the point where he can become a legitimate isolation player. We definitely wanted to make sure he was crowded."
"Give Ennis a lot of attention in pick and rolls. We tried to shave Cooney; we had to limit him. You can't lose him. He's as efficient a 3-point guy as there is in the country, and he's got size. Fair is so multi-dimensional. And up front, Grant plays inside and out, Christmas can be a dominant post player at times. His numbers aren't gaudy, but he's not a guy you want catching it on the block or crashing the glass."
Best way to score on them
"The key is to be patient and take good shots. And not turn the ball over, I can't stress that enough. Don't force things; that's the key against any zone. They're so long and so aggressive. They know what they're doing. There's no set blueprint on how to beat the zone. Just work the ball, and get some penetration whether by pass or by dribble."
"Give them a steady diet of pounding the ball inside and playing inside-out. One of the mistakes that we made, we just settled for 3s. We stopped going inside. You have to be committed to pounding the ball inside, not being afraid to miss some shots inside, knowing that it's going to open up later. Loosen up the perimeter; get your guards open shots. Mix it up. Post. Attack the zone."
"First of all, when you're in the zone, they're going to do a little bit of stuff, but you can control the ball against them. And I think you have to put bodies on the zone, whether it's back-screening or screening the center, trying to engage different guys in the zone. Most teams play their zone offense in space, with spacing the floor or trying to overload, but those guys are so good at covering those spaces."
Ultimate concern
"I think the length of their zone and getting out in transition. They turn turnovers into points. They turn long rebounds into easy baskets. A bad shot is two points the other ways. A forced shot is two points the other way. They're so good in transition."
"Transition and easy shots. They're the best transition team in the country. They rebound and get the ball up the floor fast. So you have to get guys back. We sent our guys back – we didn't even worry about hitting the offensive glass."
"Stopping them in transition. Don't let them get a flow offensively. And then find ways to manufacture points. The key is you have to attack the offensive glass from the middle of the floor. You can't try to go underneath the zone and attack the glass."
Do they need inside production?
"The loss of [DaJuan] Coleman is just another body. Jerami Grant gives them scoring inside. And between Grant, Christmas, [Baye] Keita, they get everything they need inside. They get enough scoring."
"As long as they get [10 and 7, 12 and 7], they're fine. Whatever they get from those two guys (Christmas, Keita) is a bonus. The value that they have is they change your shots, they make you a jump-shooting team, and they're all over the offensive glass."
"Their big guys are limited in terms of what they can do offensively. Balance is always best, and I think they're trying to achieve that too."
Tyler Ennis
"I just think about the way he controls the tempo. He's a very good passer, he seems to understand the game. He's much better off the dribble than people thought he would be. Drives guys, gets into offense, drives and kicks. And he's hitting some shots."
"He knows that he can play through his mistakes. He's not looking over his shoulder, worrying about his mistakes. It allows him to play with such poise and confidence, that's the one thing I liked about him in high school. He was always in control, never got sped up. He knows how to play with other good players. He's the perfect type of guard to have around really talented guys. He makes shots, finish at the rim, and he's a good free-throw shooter."
"He's the consummate point guard. He keeps you honest, and he's shown he can take over the game. The game is really slow for him. He's never out of control. The game might be moving fast to the naked eye, but his mind is moving very slowly. He's not a guy that's going to get in foul trouble, either."
Leftovers
On backup PG being an issue: "None. They play three starters 40 minutes. And if you go around any of the top leagues, how many teams go 10 deep? Is that really an issue? I don't think depth is an issue, especially for them."
On backup PG being an issue: "It's something that could hurt them down the road, because God forbid, Ennis gets in foul trouble, [Michael] Gbinije isn't a true point guard."
On their go-to-guy: "I think game-in, game-out, Fair sets the tone. I don't think Tyler Ennis carries them for 40 minutes. Fair carries them night-in, night-out. Ennis can win a game down the stretch for you, but Fair is their go-to-guy. They're not winning without Fair."
On Jerami Grant: "Grant is a really, really good player, and he's just starting to blossom now. Next year, he's their leading scorer."
Neither the Bearcats nor the Bruins have a top-60 KenPom win, but that will change Saturda...

Northern Colorado will be on probation through 2020 due to academic and recruiting violati...

You might not see a projected NCAA Tournament bracket quite like this one anytime soon
The Wildcats, once written off after a three game skid, appear poised to enter Pac-12 play...

The Ducks are riding a three game winning streak yet are slight underdogs against the Bulldogs...

The Hurricanes are one of only a handful of unbeaten teams left in college hoops