Scouting Title Contenders: Wichita State Shockers
Wichita State is one of two remaining unbeatens, but are the Shockers really a championship threat? Opposing coaches break them down.
• 16 min read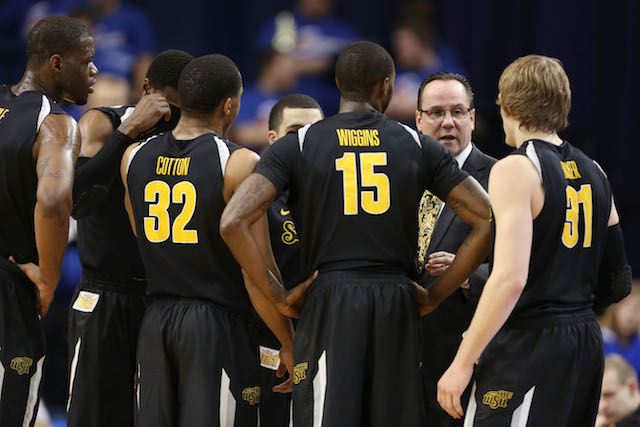 When watching a game or looking at statistical trends, we might figure out one or two ways to slow down Wisconsin's half-court offense or score against Florida's multiple defenses. But that's obviously not the whole story. But what about the guys who get paid to break down that stuff; what are they thinking?
Over the next eight weeks, I will go through each of the national championship contenders and attempt to address the key preparation points when facing each team. I will talk to four or five coaches who played those teams this season, and get in-depth insight into each team. How do you score on Arizona? How can you stop Syracuse in transition? What's Michigan State's biggest weakness? We'll find answers to each of those questions, and much more.
Previous scouting reports:
Up next is Wichita State, one of two remaining unbeatens and one of the biggest topics of debate in the sport.
Style of play
"They're very physical. They hang their hat on defending and rebounding and toughness. And they're good in all those categories. They rank in the top 20 in the country in rebounding, and defensively they're top 10 in the country. And they only give up one shot. They hold you to a low field goal percentage, they keep you in front, they're physical, and they keep you off the free-throw line. They're opportunistic on the break. They grind you. They run a lot of sets in the half-court. They score the ball at a high level. [Gregg] Marshall has always hung his hat on defense and rebounding."
"The best thing about them is that they're so disciplined, they're super solid. They don't make a lot of mistakes. They remind me of those Butler teams that made their back-to-back runs to the Final Four runs. They have a four-man who's really good, they don't turn the ball over, they challenge everything, and they don't miss assignments. They're just so solid, man. The reason no one in our league can beat them is they don't make enough mistakes."
"They're more of a team than any Wichita State team has ever been. They've always had athletes and always been talented, but this year, and maybe it's the success they had last season. But it's unbelievable how unselfish those guys are. Cleanthony Early was trying to make a name for himself last year, but there's games where he's second-fiddle to Ron Baker or Fred VanVleet this season. And those big guys inside defensively don't get enough credit either."
Offensive strength
"They got [Cleanthony] Early and [Ron] Baker, who really shoot the ball at a high clip. Both mid-to-high 30s. [Fred] Van Vleet is the key. He controls the pace, controls the tempo, pushes in transition, gets transition buckets. Heavy dose of ball-screens for him, so he's tough to keep out of the lane. He makes them go. Baker and Early are probably their best pros, but VanVleet is the key offensively. They're deep. They play about eight or nine guys. Guys like Nick Wiggins is playing really well, gives punch off the bench. Darius Carter helps them a lot. They have a lot of weapons. Early is a matchup problem; they play him at the four, especially if you play two post players. He can step out. They run a lot of good stuff, they run a ton of sets. The biggest thing is they have so many different weapons. You can say well, we're going to take away ball-screen action, but there's Baker, who shoots the piss out of the ball. [Tekele] Cotton plays at a high level. Four guys in double-figures scoring, so they're balanced."
"Here's the thing that people don't realize them about them. They probably have one of the best low shot-clock players in the country in Van Vleet. He can score in low shot-clock, assist in low shot-clock, won't turn it over in low shot-clock, puts pressure on the defense. He gets the ball in the hands of players who can score. Van Vleet, Baker, Early. Van Vleet scores in low shot clock, they don't turn it over, and they understand their roles. It's their personnel and discipline. They have some sets they run, they rely on the ball-screen a lot. Any time you've got a point guard like that who can score, pass, score in the mid-range, it's hard to guard."
"They don't get rattled. No matter what the time and possession is, whether down 20 or up 20 (and they're not down 20 very often), they stick to their guns. They don't panic. They've had several different guys step up and make shots. VanVleet isn't a killer crossover or a blow-by jet like maybe Malcolm Armstead was last year, but he steps up and makes big shots. It's Fred, it's Cleanthony, it's Ron Baker. They're a hard team to scout because the run a bunch of different plays out of the same alignment. We've heard [Marshall] scripts four or five plays at a time so they don't call out plays. But I don't how much they get out of their sets, it comes down to guys making plays at the end of the clock."
Key player
"Van Vleet. He's their engine. He makes his teammates better and he makes them go. He made big shots down the stretch against us. Early is the best pro and Baker is obviously really good, but Van Vleet is the guy. The ball is in Van Vleet's hands to make the play. Early is a killer. He's usually got the best matchup. Teams are usually guarding him with a post player."
"It's hard to pick one, they're just a damn good team. If Van Vleet went out, someone else would probably step up. One key player offensively is Early. He shoots just such a great percentage from anywhere. Score outside, back to the basket. Second-best back-to-the-basket player in the league besides the kid at Northern Iowa. And then he shoots the piss out of it. He plays with unbelievable confidence. He's gotta be their key player."
"If I had to take one guy, it would be Ron Baker. But the guy who makes them go is Fred VanVleet. He has the ability to make guys around him better. It's not necessarily scoring the ball, it's creating for others, knowing time and score, knowing situations. He keeps guys in check and makes plays for them. I think Ron Baker has the most NBA potential, but I think VanVleet is the one that runs the show for them."
Primary weakness
"Some of the things we emphasized was their transition defense at times. They didn't get back, we tried to push the ball when we had the chance. We thought we could get to the free-throw line. They're so physical, so driving the ball when we have the chance. They do miss Carl Hall a bit. They're not as physical as they've been in the past. They don't get a lot of scoring inside."
"For us, it's hard to say. You can say if Van Vleet goes out, they don't really have depth at the point guard position. It's not like they're weak at anything. Outside shooting could be it, if Early isn't making shots. Some teams that have played them close in the league, packed it in."
"I don't know if they have one. We've been trying to figure that out. They're streaky shooting the 3 sometimes. The thing I respect them for, and we try to tell our guys this a little bit, we're prone to giving up a free-throw block-out or something like that, but they don't do that. They make you earn every basket. They break down defensively, but there's always a big dude there to block your shot."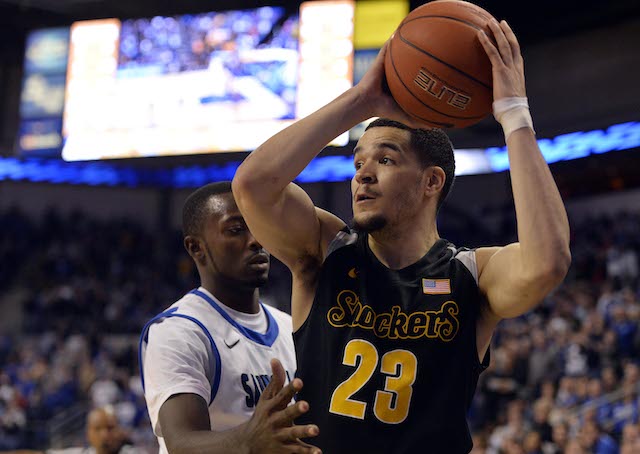 How to stop them
"Teams can zone them some. If you look at their stats, we felt there were two volume guys from 3: Baker and Early are going to take most of their 3s. VanVleet is their highest percentage guy, but he's only taken 50 or 60 3s. They have two great threats that can make shots, but they're not a great shooting team. You can be effective playing them zone. But the key to that is you have to rebound, limit them to one shot. I would give them a dose of both, with the heaviest being zone. For two reasons: they shoot 33 percent from 3 and it keeps them from running a lot of sets, where they're effective."
"I think you have to pack it in. What you gotta do is not let Early score the ball on the block consistently throughout the game. Clog up VanVleet's driving lanes, keep him outside the 3-point line. We zoned, and they struggled to score. But then Cleanthony Early 3s. I think you have to make Baker put the ball on the deck. He's not a great decision-maker, he has a tendency to over-dribble. If you let him catch and shoot and get into a rhythm, you can't guard him. He shoots it well off one or two dribbles, and he shoots so damn well on catch and shoot. Ride him, force him into finishing at the rim."
"I think it has to be a team defensive effort, and we had chances. They didn't shoot it great against us. It was a team defensive deal. You can't play them one on one and hope to beat them. We were trying to help off Tekele Cotton and a lot of teams do that, but he's stepping up and knocking down shots. I think you can have success zoning them; we try to mix that in to keep them off-balance. I don't think you can zone them the whole game. Ron Baker and Cleanthony Early will get clean looks. And they're so good on the offensive glass."
Best way to score on them
"We shoot the ball well. We put a lot of emphasis on cutting hard, driving the ball, taking great shots. If it's open and there's 23 on the shot clock, shoot it. You might not get a great shot again. Try to get to the free-throw line. Transition. We wanted to score in transition, get out and go. First 10, last 10. Push the ball, score in the first 10 seconds of the shot clock. If not, make their defense make a mistake, and that comes in the last 10 seconds of the shot clock. Attack in transition. Marshall schools them well. They do a great job as a team, team defense. There's not one guy to attack."
"It helps to have someone to throw it down to inside. They're really good defensively. If you can throw it inside, you can beat them. They want you to shoot contested 3s every possession, and they rebound so damn well, you have to make them. You have to have someone to get high-percentage looks. The chances of scoring in transition against good teams, I guess you could, but you have to have someone in the half-court that can get to the free-throw line, not allow you to shoot so many jump shots. Everybody gets one shot, they rebound the ball so well. It's going to be a contested shots, it's going to be a deep shot. If you have one guy that can really go off, like a [Doug] McDermott or a Jabari Parker, and those are the best players in the country. People don't realize how tough their guards are. These kids are tough. They stick their nose in there."
"I think you have to drive them. They're in the gaps and they're helping, but you still have to attack the rim, get those guys in foul trouble. If you can go at Cleanthony Early and get him quick fouls, you can try to do that. They're a pretty good defensive transition team. They talk about angry points, but they don't give up those. They don't give up second-chance points or transition points or points off turnovers and steals. That's the difference with them. They make you earn everything."
Ultimate concern
"Rebound, rebound, rebound. All five guys, a gang effort. Have to do it as a team. Huge, huge key. Being composed, having great poise and composure. Their place is a hostile environment; they're going to make runs. And transition was huge for us, trying to get some easy ones before the defense got set."
"Just the physicality of the game. How physical they're going to be at every position. Fred VanVleet is physical, they have the three-headed monster at the five, they rebound, and when they guard you, they just bang you. They're physical in their gaps. You have to be prepared for physical. That's why the best way to play against them is to have someone who can match that shit down low."
"It's rebounding. That's the number one deal. If you look at their wins and losses or the games they've been close, the teams that have a chance to beat them are the teams that rebound. We'll send five to the boards on the defensive board; we won't leak anyone out. I don't think VanVleet crashes a whole lot, so go block out someone and maybe double-team Darius Carter."
Level of competition
"I don't [think it hurts them]. Their strength of schedule isn't good, but they beat good teams. They beat Saint Louis on the road, they beat Tulsa, BYU, Tennessee. They've proven they can beat teams. It's a different team from last year, but they played on a big stage. These kids have been there, they've been in those moments. NCAA tournament, they'll be ready. They talk about playing angry a lot, and Marshall has a style that he believes in. "
"Absolutely [prepares them]. They're undefeated. They've beat Saint Louis, who is a second-round, Sweet 16 team. Beat them at their place. They beat Alabama at their place, which is not easy to do. And they beat Tennessee, and they're probably going to be a tournament team. And Indiana State, in a regular year, they win our league. Typically in the Valley, if you lose 3-4 games, you win the league. Wichita State dismantled them at home. In the tournament, 15 or 16 seed, it doesn't matter who they are. And in the 7-10 or 8-9, that's a Tennessee or someone like that. They can beat those teams."
"I think there's as prepared as anybody in the country. I think a lot of times you look at playing a BCS-level team, and they're bigger, stronger, and faster. And I don't think there are many teams they are going to be physically smaller than. Early is 6-8, Carter is a big JuCo guy and you have three guys inside to use some fouls and still compete."
Are they really a title contender?
"I do. They score the ball well, but more importantly, they defend and rebound. When you do those things well, you're going to give your self a chance to win. They can put themselves in a position to win, like they did last year. They're deserving a of a 1 seed, and have a chance to be right there at the end."
"Absolutely. They haven't lost. And when you haven't lost, you have a different approach to the game. Besides Syracuse and maybe Florida, they're one of the best teams in the country. When Jabari Parker is playing at a high level, maybe Duke's better. But who is head over heels better? I'm not saying Wichita can beat all those teams every time, but they're just as much a contender as those teams."
"I think anytime you make it to the Final Four and people say you're better than last year, I think you have to be in that conversation. They're playing with a lot of confidence. It's going to come down to making shots, and you can say that about anybody. If they play like a normal Wichita State team of this season, they're a national title contender."
Leftovers
On last year's run: "I think it helps them a lot. You look at the starting lineup. All these guys were a part of it. They have a confidence about them, a swagger about them. A lot of that was from their success. These guys have that, and they play with it. They believe they're going to win, and a lot of that comes from last year."
On last year's run: "It's helped them tremendously. That's what our staff talks about. Teams in our league are almost afraid of them. They have these big, bad athletes that made it to the Final Four, and you can tell the confidence they played with. There's teams that have them down, and they just lose confidence. That's just from the Final Four run, that's the confidence. When you go to play at Illinois State and at Evansville, it doesn't put any doubt in your mind when it comes to losing."
On Fred VanVleet: "I went to all of Fred VanVleet's games one summer and coached against him for two years, I've never been in attendance when he didn't win a game. The dude is a winner. If he's out there on the court, somehow someway they're going to win. I know his team is going to win and he's the reason why. As long as they have him, I'm not picking against them."
On Tekele Cotton: "He's a great glue guy. He's an all-star at his role, and his role is to be a lockdown defender on the perimeter, take care of the basketball, and make open shots. He gives the team that toughness, gives teams that edge on the perimeter, just an all-star at his role."
Who can beat them? "It's going to take a tough, athletic team. A team like Cincinnati will give them problems. A team that's similar but maybe a little more athletic."
On Cleanthony Early in the NBA: "Cleanthony Early is a difference-maker. He doesn't handle the ball well, but it depends how quickly he picks shit up. He has a chance though."
Arizona, for no good reason, doesn't have to play at USC or UCLA this season

We look at the 'Major 7' leagues and give you the best of what's to come in conference play...

Louisville's coach predicts a change is coming to the NBA's one-and-done rule by 2019
Multiple former players of Lonergan's alleged verbal abuse and inappropriate remarks

When Miller left for Indiana, there was cause for concern in Flyerland; a top-100 signee says...

The Hoyas will spend their non-league schedule playing mostly nobodies -- as will most big...