Seriously, Katin Reinhardt, how were you not happy with your role?
If Katin Reinhardt wasn't happy living in Las Vegas and shooting a million times a game for a good team, when will he ever not be looking for something else?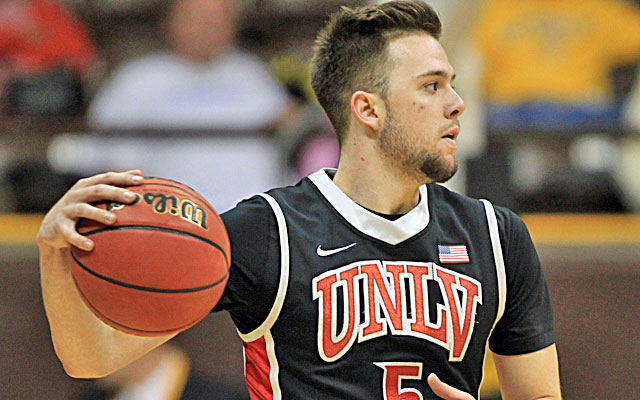 Most college kids want to party in Las Vegas. Most college basketball players want to shoot a lot. So, on the surface, it appeared Katin Reinhardt was in a perfect situation -- going to school at UNLV and shooting a whole lot, probably more than he should've, long as we're being honest with each other.
And yet he still wasn't happy with his role.
So the freshman guard is transferring from UNLV to a school-to-be-determined, possibly USC. And, though Reinhardt is certainly free to do it, it's difficult not to look at this decision and shake your head. I mean, Reinhardt was allowed to play more minutes (1,022) than everybody except senior Anthony Marshall and attempt more shots (324) than everybody except lottery pick Anthony Bennett. And he was allowed to play those minutes and shoot those shots despite the fact that he only made 35.8 percent of his attempts from the field, including 35.1 percent from 3-point range.
(Note: Reinhardt's nickname is not "Efficient.")
"Katin told me why he was leaving," UNLV coach Dave Rice told the Las Vegas Review-Journal in an article published late Sunday. "He said that he feels his best opportunity to play in the NBA is to play more minutes at the point guard position. Katin would have had an opportunity to compete for minutes at the point, but I've never guaranteed anyone that they will start or play a certain number of minutes."
Now I suppose it's fair for Reinhardt to assume his best shot at making the NBA is to play point guard considering he does, at 6-foot-5, have great size for that position. But you want to know the best way to make the NBA? Be awesome. Which is why I'll never understand why prospects don't just focus on being an awesome college basketball player and letting the NBA stuff come as it comes.
Beyond that, here's a question: What makes Reinhardt think he can play point guard in the Pac-12 if he couldn't play point guard at UNLV? He never got meaningful minutes at the position last season even though Marshall was far from a true point guard, and there's nothing left on the UNLV roster (Marshall graduated) or being added to the UNLV roster (Greg Anthony is not walking through that door) that can be reasonably described as a strong option for Rice at the point. In other words, if Reinhardt is a capable point guard, he would've almost certainly been UNLV's starting point guard next season. That Rice couldn't promise him that speaks volumes about Reinhardt's perceived ability, and that Reinhardt chose not to compete for minutes at the position against a questionable cast of candidates suggests that, deep down, he must've doubted whether he'd prove worthy.
Either way, now Reinhardt is on the market.
And I'm sure some coach somewhere will tell him everything he wants to hear about his future as a point guard because that's just kind of how recruiting works. But I hope the next coach knows what he's getting because what the next coach is getting is a player who insisted he wouldn't transfer after the season but did so anyway, even though he'll likely never again play for a man who'll give him as much freedom as Rice gave him. And all of that screams headache. Bottom line, if Reinhardt wasn't good enough to play point guard at UNLV, where is he going to be good enough to play point guard? And if Reinhardt wasn't happy living in Las Vegas and shooting a million times a game for a good team, when will he ever not be looking for something else?
Wichita State and Notre Dame could meet in the final of the Maui Jim Maui Invitational

The Wildcats are 3-2 with two losses to two unranked teams

Trump again says he should have left LiAngelo Ball in China
Cincinnati and Iowa highlight an impressive inaugural field for the Cayman lslands Classic

The president didn't take kindly to not getting a thank-you from LaVar

Southern California, ranked No. 8 in Sunday's Top 25 (and one), travels to face Vanderbilt...