Seton Hall did a package deal to get Isaiah Whitehead ... and it's smart
Kevin Willard hasn't won a significant thing in three years at Seton Hall. So he got creative and landed a five-star recruit in Isaiah Whitehead, and it just might save his job.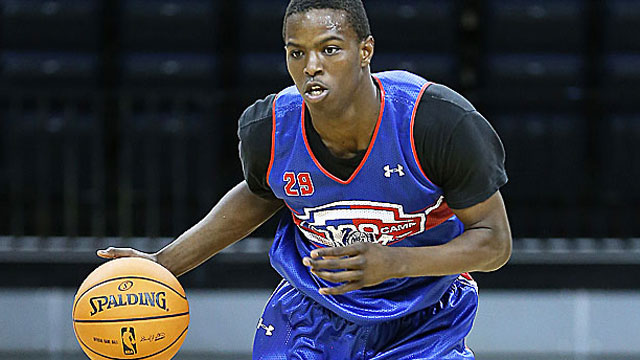 It was early Thursday morning, still hours from the scheduled announcement, when word started spreading that Kevin Willard might be on the verge of something big.
He had missed on Kyle Anderson two years ago.
He had missed on Myles Mack and other area prospects, too.
But the fourth-year Seton Hall coach was determined not to miss again.
Five-star prospect Isaiah Whitehead was the target, and he was attainable. The recruitment was down to Seton Hall and St. John's. It could've gone either way. But, ultimately, Willard reportedly decided to pull a power move and offer an eventual spot on his staff to Tiny Morton, Whitehead's high school coach.
And guess what?
It worked!
Whitehead committed to Seton Hall on Thursday afternoon. So Willard now has his first consensus top-20 recruit and momentum within his program. And some of you are seriously questioning the move?
Seriously?
First off, it's a legal move.
This is completely within NCAA guidelines.
And, really, that should be the end of the conversation unless you want to argue that Seton Hall -- freaking Seton Hall! -- shouldn't do something within the rules to land its first top-20 recruit in more than a decade. And if you want to argue that, well, you're an idiot because, again, we're talking about Seton Hall here.
And not just Seton Hall.
We're also talking about Kevin Willard, who is 18-36 through three seasons in the Big East. I can't tell you for sure that Willard would've been fired after another bad year, but it was reasonable to suggest he might've. But not anymore. This development almost certainly bought Willard a fifth season at Seton Hall no matter what happens in his fourth, and that alone means this development is worth roughly $1 million.
So this isn't just a smart basketball move.
It's also a smart business move.
And it's a move several notable coaches -- Bill Self with Mario Chalmer's father, John Calipari with Dajuan Wagner's father, Larry <span data-shortcode=" data-canon="Larry Brown" data-type="SPORTS_OBJECT_PLAYER" id="shortcode0"> with Danny Manning's father, etc., -- have made in the past, and it's a move several notable coaches will make in the future. Again, it's within NCAA rules. It's completely legal. And if you don't think it's something that Kevin Willard at Seton Hall should've done under these circumstances, honestly, you're probably too naive to understand the inner-workings of high-major hoops.
Corruption was inherent in the creation of college basketball, now it's out in the open

Gatto is accused of helping funnel approximately $100K to the family of a high school All-...

What you need to know as college basketball coaches and an Adidas executive face bribery c...
Emanuel 'Book' Richardson, Chuck Person, Lamont Evans and Tony Bland have been arrested

The UConn women's basketball coach stepped in to offer up a solution in an education budget...

Duke and North Carolina players will skip ACC Operation Basketball because of new NCAA pol...