Seton Hall trending up as Pirates descend on Brooklyn
With a couple of major recruiting successes making Seton Hall's future look rosy, Kevin Willard and the Pirates are hoping the good vibes can translate to the present.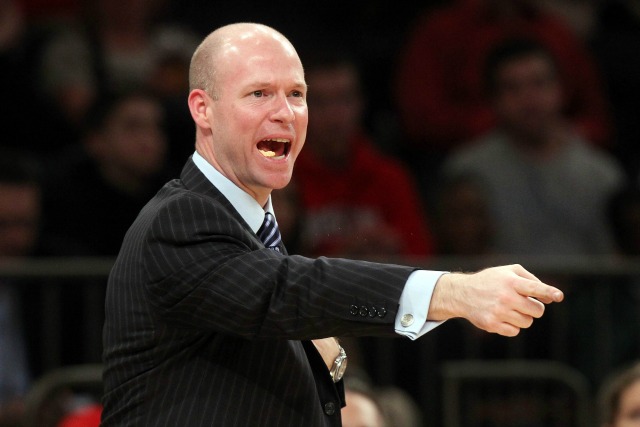 Seton Hall shocked the basketball world in 1989 when it reached the NCAA title game and lost to Michigan by a single point in overtime.
The Pirates' program had never been to college basketball's version of Camelot until that point and it created an unbelievable sense of hope and excitement for everyone associated with the New Jersey school.
It also created a false sense of reality.
Seton Hall, then led by coach P.J. Carlesimo, had a veteran team that got hot at the right time. The Pirates followed up 1989 with a few good seasons under Carlesimo before he bolted for the NBA, and then had another run to the Sweet 16 under current Harvard coach Tommy Amaker in 2000.
Fans of the South Orange school have expected Seton Hall to be a national contender every year since that magical journey to Seattle some 24 and a half years ago, and aren't satisfied unless the Pirates are in the mix with the top prep prospects in the country on a regular basis.
There is perception and then there is reality.
The reality is that Seton Hall has always faced an uphill battle in recruiting.
If you can't recruit, you don't have a chance to be one of the best teams in the Big East.
If you don't have a chance to be one of the best teams in the Big East, you have no chance of doing what Carlesimo, John Morton, Andrew Gaze, and Ramon Ramos did in 1989.
Another March like that may still be a ways off, but for the first time in a long time, Seton Hall has a real chance.
Why?
Because they just added one of the best recruiting classes in college basketball.
Last week, the Pirates received letters of intent from four different prospects, two of whom -- Isaiah Whitehead and Angel Delgado -- are ranked in the Top 60 by most recruiting services (Whitehead is No. 15 in the current 247 Sports composite rankings, while Delgado is No. 44.) Whitehead, a talented 6-4 scoring guard from Lincoln high school in Coney Island is the main cog.
"We came close a couple of times but didn't get over the hump," said Seton Hall coach Kevin Willard, who nearly landed Kyle Anderson two years ago before he committed to UCLA. "We have some guys now that can change the perception of our program. You come in like I did as a head coach from the MAAC and you think you're going to recruit and beat some of the programs that have been around for a while and the truth is you have no chance. Isaiah (Whitehead) is obviously the anchor of this class but all the guys involved are helping us push the boulder up the hill."
To Willard's credit, he knew he needed to seriously upgrade the talent in his program after last season. He added former Rutgers coach Fred Hill as an assistant, who was the point man in the recruitment of freshman point guard Jaren Sina along with former St. Raymond's (HS) head coach Oliver Antigua. Whitehead's high school coach at Lincoln, Tiny Morton is also expected to join the Pirates' staff next season as an assistant.
In order to win at a place like Seton Hall, you have to be creative.
So far, Willard has been.
But what about his team this season?
We'll find out a lot more after this week.
The Pirates will be playing Oklahoma on Friday night in the Coaches vs. Cancer Classic at the Barclays Center. Michigan State and Virginia Tech play in the other game with the winners and losers facing each other on Saturday.
"I think games this early are really important," Willard said earlier this week." "To be in a tournament with three other good teams is a good thing. It's a good gauge of where you are at this point of the season."
Seton Hall enters the tournament with a 3-1 record and appears to be a bit of an unknown with a few promising pieces.
Willard's team won three home games against Niagara, Kent State, and Monmouth but lost in double overtime last Saturday at Atlantic Sun favorite Mercer.
Senior wing Fuquan Edwin looks like a legitimate first-team All-Big East player and Texas transfer Sterling Gibbs has made an immediate impact in a number of ways.
Through four games, Gibbs is averaging 17.0 points, 5.3 rebounds, and 4.5 assists.
"He's exceeded my expectations so far," Willard said of Gibbs. "Watching him last year when he was sitting out, I got a good sense of how good he could be but I think he's a much more feisty player than people give him credit for. One of the things we eventually want to work on when we get more practice time is to eventually play a two-guard set and be able to move Sterling off the ball more. He can be very comfortable in that type of a situation."
With Gibbs and Edwin, the Pirates seem to have two capable scorers that should reach double figures on most nights. Skilled forward Patrik Auda is another emerging threat who had 27 points and 10 rebounds against Monmouth on Tuesday.
Unlike Seton Hall's team two years ago that won 21 games and just missed the NCAA Tournament, this group looks like it has more balance than the 2011-12 squad that was carried by then seniors Jordan Theodore and Herb Pope.
"The biggest difference in this team versus two years ago is we have the ability to have a different guy step up each night," Willard said. "Two years ago we had two guys and that was it. Now we have many guys who can beat you. Two of our main guys -- Eugene Teague and Brandon Mobley -- aren't playing as well as we hoped right now but that should change. We've got the ability to spread it around. I really said to myself in the spring after we went through a season with so many injuries that I didn't want to be in a position again that we would be crippled if we lost one player. That was the case a lot last year in both practices and games. We've changed that because of our depth. We're also going to get better defensively with more practice time. We'll be a much tougher team a month from now."
That should benefit the Pirates once they begin play in the Big East but a kind of dress rehearsal awaits them this weekend in Brooklyn.
Lon Kruger is one of the sport's most respected tacticians and has an Oklahoma team that again looks primed to be right in the mix for another bid to the field of 68.
Should the Pirates have enough to get by the Sooners on Friday, a big time matchup will likely await them on Saturday against number one Michigan State.
The legwork has been done for Seton Hall in recruiting.
Willard has assembled enough pieces to make the Pirates relevant in a conference that's much easier to navigate than the one they used to play in.
Now comes the hard part.
Winning games.
College basketball's recruiting scandal rocks Louisville again

Pitino was fired from his post as Louisville coach for helping funnel money to players

The seats of the winners who cut corners are hotter than the losers who do it right.
Good news for Huskies, Bonnies, Aggies, Tigers, Sooners and more.

Get caught up on the FBI's investigation into corruption in college basketball

Williams, the No. 21 prospect in the nation, had offers from Duke, Kansas, Miami and Louis...