Shabazz Napier sticks with UConn -- and is now back in the Final Four
Without Shabazz Napier, UConn wouldn't be in the Final Four. And that almost happened.
• 3 min read
More NCAA hoops: Tournament bracket | Complete coverage of NCAAs
ARLINGTON, Texas -- Shabazz Napier is the only player in Connecticut history to reach 1,700 points and 600 assists. Of all the great players the Huskies have had, from Donyell Marshall to Kemba Walker, no one ever hit that milestone.
Yet it almost ended at 761 points and 322 assists.
When Jim Calhoun stepped down as the Connecticut head coach in September 2012, the future of the Huskies' program was unclear.
And so was the future of Shabazz Napier in Storrs.
Napier wasn't sure he wanted to play for Connecticut without Calhoun at the helm.
"He was a little bit upset," said Mo Vasquez, Napier's former AAU coach with Metro Boston. "Calhoun was the guy that brought him in, that he admired and looked up to. He felt as if it was done behind closed doors, without him being brought in to what Calhoun was thinking of doing. So he felt a little slighted."
In fact, other schools had already reached out to Vasquez about the possibility of Napier leaving -- and if Kevin Ollie or someone from within the program hadn't been named as Calhoun's replacement, Napier was likely gone.
"If they would have changed with someone from outside, I think he would have [left]," Vasquez told CBSSports.com.
But Ollie being named the interim head coach kept Napier in the fold, and then he excelled under the tutelage of the former NBA guard.
His shooting percentages went up, both inside the arc and from 3-point range, while he also took on more of a scoring role and being more efficient on the offensive end.
"Ollie was great with him," Vasquez said. "A lot of people called me when that whole thing was going down. They knew if they could get him, it would elevate their program."
Napier has certainly elevated Connecticut. He has developed into of the best players in the country, carrying the Huskies to the Final Four after entering the NCAA Tournament as a No. 7 seed. Napier is averaging 23.3 points, 6.0 rebounds and 4.5 assists in the tournament, hitting big shot after big shot in all four games thus far.
The last time Napier was in the Final Four, as a freshman, he scored four points in the semifinal and four points in the championship game. If he scores even triple that on Saturday, the Huskies are in trouble.
Much like Kemba Walker was the big memory from the Huskies' 2011 title run, Napier will be the name everyone associates with this still-alive Final Four run.
The 2011 team was Kemba's team; the 2014 group is clearly Napier's team.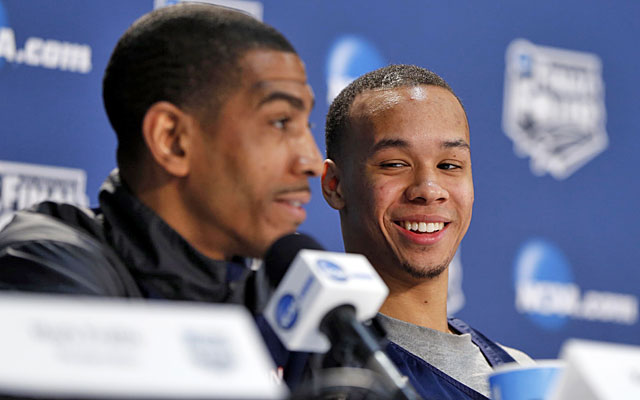 "He gets those guys together," Ollie said. "The big word that we use in our program is ownership. He's taken ownership of his team. I call him my unpaid coach, and that's for a reason, because he has a coaching mentality. Me and him think the same. I couldn't think of another point guard that I really give the keys to and let drive the bus, because he does it wonderfully for me and my program."
Through the uncertain points of the UConn program -- NCAA ban, coaching change, conference change -- Napier was the glue that kept the team together. He put up similar numbers last season, but nobody noticed because the Huskies were banned from the dance.
Now, he's doing it on a national stage -- and getting the proper recognition.
"He's been through a lot," Ollie said. "None of those guys [Walker, Jeremy Lamb] been through a ban and had the options of leaving, and nobody in this right here and blinked their eyes and said, 'Yeah, OK, I'm transferring because we're banned.' They can't play in the NCAA Tournament. He had to deal with that.
"On the basketball court, he's just a great leader. The game-altering plays, he makes those. He wants the ball."
Fortunately for the Huskies, he wanted to be that player for UConn -- and not someone else.
"Shabazz is one loyal kid. He's just dedicated," Vasquez said. "He's one of those guys, 'I started with you, I'm going to end it with you.'"
And now Napier has a chance to end his college career with another national championship. 
Thousands of fans were turned away from the LaMelo Ball-Zion Williamson showdown

"Four Sides of the Story" also takes a look at Tiger Woods' first PGA tournament and the role...

Indiana's Archie Miller and Mizzou's Cuonzo Martin have been killing it on the recruiting...
Duke's much-anticipated Allen-Duval connection is off to a hot start already

It'll be Miller vs. Miller if the Hoosiers and Wildcats can finalize the proposed series

Wisconsin's Ethan Happ has made only two jumpers in his career, but is adding a long-range...