Shabazz Napier's triple-double masks UConn's growing concerns
Shabazz Napier notched a triple-double on Monday in an easy UConn win, but the Huskies have some concerns after two games.
• 2 min read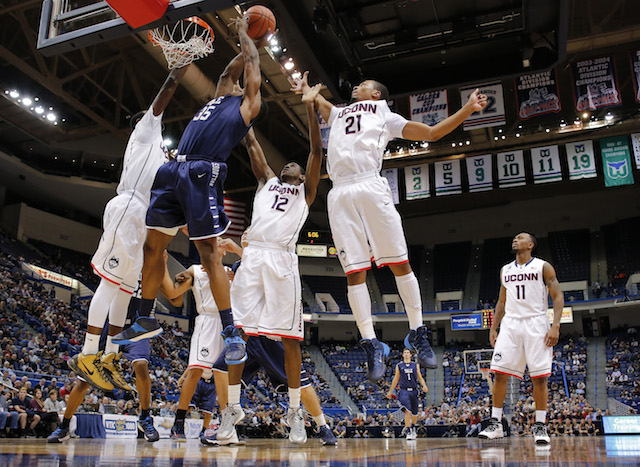 Heading into most games, Connecticut has a high-level trump card: its perimeter firepower. Only a handful of teams nationally can match the Huskies when it comes to guard play – and that's stayed true through two games.
After hanging on to beat Maryland on Friday night by one, the Huskies took care of Yale on Monday afternoon, 80-62. Shabazz Napier notched a triple-double, finishing with 14 points, 11 rebounds and 10 assists. Ryan Boatright (14 points), Omar Calhoun (18 points) and Niels Giffey (15 points) all contributed admirably in the relatively easy victory.
As a team, Connecticut shot nearly 65 percent from behind the arc, knocking down 11-for-17 from 3-point land. This comes after the Huskies knocked down better than 43 percent of their 3-pointers against Maryland. When UConn is hot from deep, it's going to be tough to guard the Huskies.
Getting production like that from the perimeter on a regular basis means UConn will be a team no one wants to play come March – or anytime until then, for that matter.
However, Napier's triple-double and the lights-out shooting from 3-point range are overshadowing some troubling trends for the Huskies.
Yale doesn't start anyone taller than 6-foot-8, yet the Bulldogs were able to outrebound Connecticut, 43-31. They grabbed 22 offensive rebounds, while the Huskies only had 27 defensive rebounds. That equals out to almost a 45 percent offensive rebounding percentage for Yale – over a full season, that would have ranked No. 1 in the country last season.
Obviously, I'm not saying that Connecticut is the worst defensive rebounding team in the country, but the Huskies need to get better in that aspect of the game. Napier led the team with eight defensive rebounds. That's great for him, but the big man rotation of Phillip Nolan, Amida Brimah, Kentan Facey, Leon Tolksdorf and Tyler Olander combined for a total of two defensive rebounds. That's pitiful.
Brimah has been a bright spot for Kevin Ollie's Huskies and his performance through two games is promising going forward. He opened with three rebounds and three blocks against Maryland, and was in there on the final defensive possession that clinched the win. Brimah then blocked seven shots and scored seven points against Yale on Monday. At 7-feet tall, though, Brimah needs to grab more than one rebound in 24 minutes.
The other major concern for Ollie has to be the effort of DeAndre Daniels through two games. He was scoreless in 18 minutes of action against Yale, looking uninvolved in most of the offense and giving minimal effort on the defensive glass. On Friday, he had eight points and two boards, but missed all three of his outside jumpers. For a guy who averaged 21.3 points and 9.0 rebounds in his final four games last season, this is a disappointing start. Getting consistent production from Daniels is a key for the Huskies; he can pose a matchup problem for opposing power forwards.
With Napier and co. on the perimeter, Connecticut is going to stay in the top 25 all season and be a tough out in the NCAA tournament. But without improvement inside and better consistency from Daniels, the Huskies might not reach their potential. 
The nation's No. 3 player will commit Saturday and here's his impact on each of his finali...

Gary Parrish and Matt Norlander also preview the weekend and Zion Williamson's announcemen...

The Sun Devils started 12-0, but since then are 2-4 after Wednesday's loss to Stanford
Andrew Jones is Texas' second leading scorer

Oklahoma's star freshman has a father who has been there and done that

Kentucky now is at risk of slipping out of the Top 25 (and one)