Situation at Charleston shows fine line between motivating and abusing
Once upon a time, a coach could yell and cuss and degrade players in the spirit of motivation. But the times have changed, and Doug Wojcik's situation at Charleston is proof of that.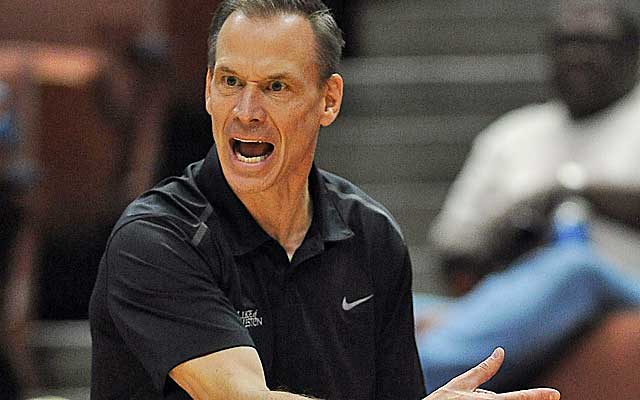 More college hoops: Wojcik could face suspension | Coaching changes
Within minutes of me posting news late Tuesday that Charleston coach Doug Wojcik is being investigated for allegations of verbal abuse against his players, folks on Twitter started commenting about the way I expected them to comment.
@GaryParrishCBS Players are so weak nowadays.

— Nicholas Richardson (@Slicknickshady) July 2, 2014
That was the first reply I saw.
Here's the second:
@GaryParrishCBS @EyeOnCBB oh he yelled at me. I'm telling. Ridiculous. #growup

— Jesse Kiestler (@JesseKiestler) July 2, 2014
And here's the third:
@GaryParrishCBS An example of the wussifacation of America ? Coach called me a bad name. Boo hoo

— robert cockerham (@memphisjacket) July 2, 2014
Again, this is about what I expected.
And, on some level, I totally get those responses.
I mean, I don't know much about the "wussification of America," or what that represents, exactly. But it's clear things have changed, and it's something coaches from one coast to the other should probably recognize, lest they be the next facing probation or worse.
Either way, honestly, I don't know how I feel about this.
Where's the line?
What one man calls "hard-coaching" another calls "verbal abuse," and these types of things are rarely as cut-and-dried as the Mike Rice situation at Rutgers. Rice, of course, was caught on video throwing basketballs at players' heads and, arguably even worse, using gay slurs, and everybody who saw those clips -- except the Rutgers administration, initially at least -- understood and agreed Rice had to go. So he was fired. And nobody really protested.
But what if it's just yelling and cussing and little more?
Is that hard-coaching or verbal abuse?
Sources told CBSSports.com that Wojcik isn't accused of throwing things at players or anything like that. Basically, he's a yeller/cusser, and some of the players he inherited two offseasons ago didn't respond well to it. So they went to the administration. Then the administration launched an investigation. And now here we are, for better or worse.
To be clear, I'm not defending Wojcik.
His reputation for treating people well isn't great.
But what I am comfortable telling you is Wojcik is far from the only yeller and cusser coaching Division I basketball these days, and there's no shortage of men who could be found guilty of verbally abusing players if their players filed formal complaints. At this point in my career, I've attended practices on campuses all over this country, and I've watched countless coaches yell and cuss and degrade players, sometimes to the point of tears. A few of the coaches I've watched operate this way have won national championships. Some are future Hall of Famers, almost certainly. Most of them, I think, are decent men, and I promise that none of them think they're verbally abusing anybody.
What they would tell you is that they're trying to motivate players. What they would tell you is they're working to get the most out of young people. What they would tell you is they're coaching the way they were coached once upon a time. And, again, I get all of that.
Problem is, the times have changed.
There was a time, not too long ago, when you could use a gay slur on television, and people laughed more than they flinched; ditto for racial slurs. But we now live in a country where doing either of those things can cost people their reputations and/or careers, and how you or I feel about that reality is mostly irrelevant. Same goes, on an admittedly lower level, for yelling and cussing at college basketball players.
You can do it, if you want.
And you can rationalize it, I guess.
But all coaches would be wise to recognize that they, too, are only an iPhone recording and/or one disgruntled player away from finding themselves at the center of an internal investigation. Because what used to be called intense instruction is now sometimes interpreted as verbal abuse, and "verbal abuse" sounds ugly even if it's no different than what was once celebrated, you know, back in the good ol' days.
The Wildcats are 3-2 with two losses to two unranked teams

Trump again says he should have left LiAngelo Ball in China

Cincinnati and Iowa highlight an impressive inaugural field for the Cayman lslands Classic
The president didn't take kindly to not getting a thank-you from LaVar

Southern California, ranked No. 8 in Sunday's Top 25 (and one), travels to face Vanderbilt...

Simons, 18, is a former Louisville pledge who is suddenly eligible for the upcoming draft