Sixteen-team Nike event in the works for 2017
We could be seeing the best non-conference event of all-time in a few years. ESPN.com is reporting that 16 Nike-sponsored schools have committed to a two-tournament event in 2017.
• 1 min read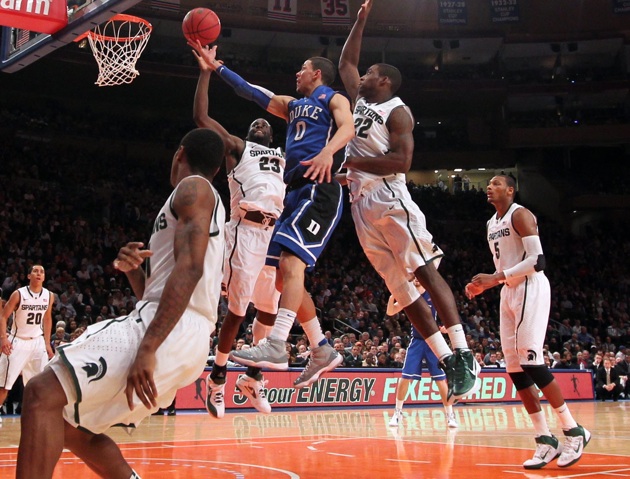 Michigan State and Duke are two of the 16 schools to commit to a blockbuster Nike event in 2017. (US Presswire)
Well, this is all sorts of awesome – even if it is five years away.
ESPN.com reported on Thursday that 16 Nike-sponsored schools have committed to a two-tournament event to honor company co-founder Phil Knight's 80th birthday.
The schools include Michigan State, Kentucky, Duke, North Carolina, Ohio State, Florida, Connecticut, Texas, Georgetown, Butler, Xavier, Gonzaga, Oklahoma, Stanford, Oregon and Portland.
Michigan State athletic director Mark Hollis – one of the main people in charge of last year's Michigan State vs. UNC game – was organized the event, which would take place in Portland, Ore. – home of Nike – in November of 2017. Knight's birthday is Feb. 24, 2018.
According to Andy Katz, there would be two eight-team tournaments because schools from the same conference cannot play in the same non-league events. Moreover, Hollis told Katz that it wasn't Nike or Knight's idea; the schools' athletic directors did it.
The logistics and details haven't been worked out yet, as there are still various ideas being thrown around.
"What we're doing is creating the greatest in-season basketball event of all-time," Hollis said.
Right now, the best events are the ones with four or five really good teams, and then maybe two solid teams. This Nike event would have potentially seven or eight top-10 teams, and perhaps 12 of the best college basketball programs in the country right now. If it took place this season, seven of the top 20 teams in CBSSports.com's Top 25 (and one) would be participating.
It's already circled on my calendar.
The Sun Devils make a big jump and the Jayhawks slide after ASU pulls the big upset

Gary Parrish and Matt Norlander spend some time on the SEC, too

Having shocked Kansas at Allen Fieldhouse, Duke legend Bobby Hurley is coaching the Sun Devils...
Jay Wright's undefeated Wildcats are now No. 1 in the Top 25 (and one)

Coach K's Blue Devils are the fourth preseason top-10 team to lose to a sub-75 KenPom team

TCU, which downed Nevada late Friday, continues to flourish under second-year coach Jamie...