Slimmed-down Young ready to have an impact for ACC-newcomer Pitt
As Pittsburgh leaps to the ACC, freshman forward Mike Young will look to step forward and make an impression for Jamie Dixon's Panthers.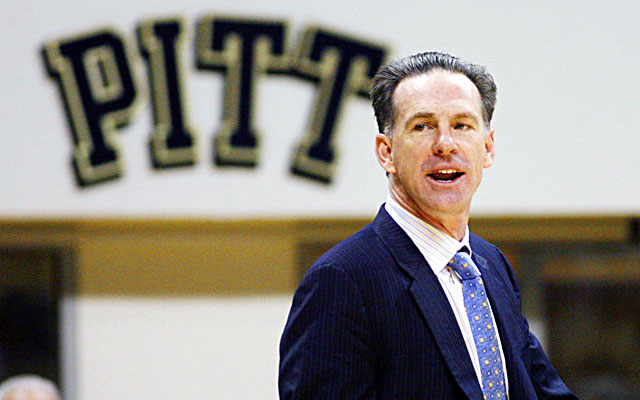 PITTSBURGH -- Two years ago, when he was a high school recruit, Mike Young was strictly an interior player.
The 6-8 power forward did most of his work in the paint and rarely showed the ability to use his skills anywhere other than around the rim.
Then right before his senior year of high school, Young reinvented himself and became comfortable facing the basket and extending defenses.
Now a freshman at Pitt, Young has changed his body and looks like he has a legitimate chance to be one of the better first-year players in the ACC.
"There was a big improvement in his game from his junior to senior year of high school," Pitt coach Jamie Dixon said of Young. "He caught some people off guard because of his improvement. I noticed his skill level was better going into his senior year but the biggest thing has been his body. He's lost about 12-13 pounds since he's got here. He's quicker. It's so hard to be skilled without being quick. I think he's going to be a guy that can play two different spots for us and can play inside and out."
After watching Young during a practice earlier this week in Pittsburgh, it's safe to say his presence has immediately made an impact on his teammates. Strong, tough, and deceptively savvy, the former St. Benedict's (NJ) star plays with a maturity beyond his years and can really open up the floor with his ability to bring opposing big men away from the basket.
"My biggest change has been my body," the chiseled Young added. "I've extremely changed my conditioning. I pretty much feel comfortable anywhere on the floor now. I can play multiple spots now. My conditioning has put me in a position to be on the court and be effective whether it's late in the game or early in the game."
And he'll be on the court in both situations.
Young will likely start up front next to Talib Zanna for the Panthers, who look like a middle of the pack ACC team on paper but have the potential to work their way into the conference's top tier.
The biggest difference between this Pitt team and others Dixon has had in the past?
They have the potential to shoot the ball more effectively from the perimeter. Sophomore point guard James Robinson, Cameron Wright, and Lamar Patterson are all outside threats, with Young filling the role of a fourth shooter on the floor as a stretch power forward.
"Our best offensive teams have had that four-man that could shoot the ball," Dixon said. "When Sam Young was in that spot, it was probably our best offensive team. Mike can do that and Jamell Artis, another freshman can do it as well. Mike's a good passer and he's a good offensive rebounder too. He has good skills for a guy his size. He's improved as an athlete too since he's been here."
Young, Artis, and jet-quick point guard Josh Newkirk are three freshmen who should all factor into the Panthers' rotation, but Dixon is also bullish on his veterans.
Robinson started last season as a freshman and Wright looks primed to take a step from role player to double-figure scorer.
"James (Robinson) gives you two things that are always going to be there," Dixon said of Robinson, who averaged 6.1 points and 3.5 assists per game last year. "He takes care of the ball and he plays defense. That's what you look for from a point guard. And Cameron (Wright) is going to that guy this year that emerges. He's been in our program but this year he's going to have a bigger role than he did prior. We've also got two great seniors in Lamar (Patterson) and Talib (Zanna)."
The names may change at Pitt, but the movie remains the same.
There's unselfishness blended with a culture of toughness, defense, and rebounding. This doesn't look like Dixon's most talented group but that has never made any difference in the past -- the coach has averaged 26.2 wins per season during his decade-long campaign in the Steel City.
"We've got a lot of versatile guys that can play a lot of different positions," Young said. "We're meshing together and blending really well as a team."
Marvin Bagley, if eligible at Duke this season, projects as the country's top power forwar...

The Big Ten Tournament is a week earlier than usual, so the regular-season schedule may look...

Arizona, Grand Canyon and Tulane are also in Barcelona and have reported to be accounted for...
The Kansas forward is no longer accused of walking out on an $88 tab

Cavaliers basketball coach tapes statement on behalf of his university and his city

Gary Parrish and Matt Norlander discuss all things Marvin Bagley and his immediate future