SMU makes statement with Emmanuel Mudiay's commitment
Emmanuel Mudiay, arguably the best guard in the country, announced his commitment to SMU on Saturday night.
• 3 min read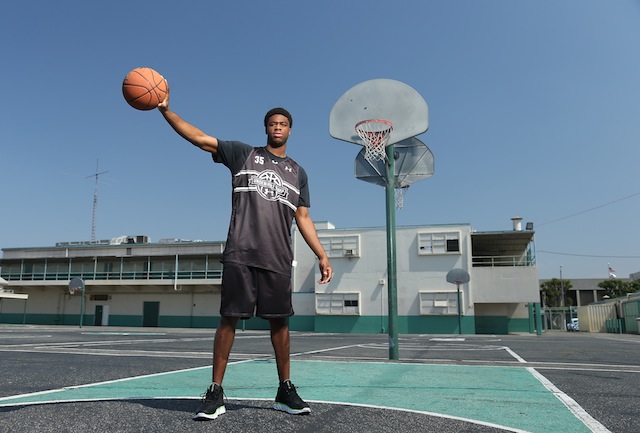 When Emmanuel Mudiay announced his commitment to SMU on Saturday night, it didn't come as too much of a surprise. Since Friday evening, the Mustangs had all the momentum in his recruitment and entered decision day as the favorite.
His official announcement just confirmed what most people had been thinking for the previous 24 hours.
But getting a commitment from arguably the best guard in the country confirmed another thing: SMU is not to be overlooked in the American Athletic Conference.
When Larry Brown took over at SMU, it was viewed with mixed opinions for the most part. After all, Brown was 71 when he was hired last spring, and hadn't coached in college since 1988. On the other hand, he was a big name who carried weight nationally -- and he hired a dynamite staff of assistants.
While Brown's first season at the helm didn't bring all that much success -- the Mustangs went 15-17 overall and 5-11 in Conference USA -- he made several few statements on the recruiting trail. SMU nabbed three transfers: Nic Moore (Illinois State), Markus Kennedy (Villanova) and Crandall Head (Illinois). Arizona guard Josiah Turner also briefly committed to SMU, before deciding to turn pro instead.
The Mustangs also received commitments from junior college big man Yanick Moreira, a top-five player in the junior college ranks last season; Keith Frazier, a consensus top-30 recruit in the class of 2013; and two prospects from Illinois, Sterling Brown and Ben Moore. 
There was optimism in Dallas heading into the 2013-14 season, as the Mustangs moved from Conference USA to the AAC. The talented newcomers were going to be welcomed into the fold -- and SMU also returned all five starters from last season. Things were on the upswing in the program.
Saturday night took that optimism to a new level -- and it's hard to overstate how big of a moment it is for the Mustangs.
Since he blew up as a high school freshman, most signs pointed to Mudiay ending up at Kentucky. He was the classic John Calipari point guard: strong, aggressive, able to get into the lane against any defender. In fact, every prediction in the 247Sports Crystal Ball had Mudiay pegged for Lexington heading into Friday.
Then everything changed.
Mudiay said on Friday evening that he wanted to make his decision during halftime of the Elite 24 game in Brooklyn on Saturday. The only official visit he had planned was to Kentucky in October -- but once Mudiay said he was ready to choose, it was clear the Wildcats weren't his likely destination.
Brown decided when he got to SMU that he wasn't going to simply let the best prospects in Texas leave without considering the Mustangs. In addition to naming Tim Jankovich the associate head coach, Brown hired ace recruiters Ulric Maligi and Jerrance Howard. Maligi has plenty of ties in the state of Texas, while Howard was big in Chicago. When Howard left this offseason for Kansas, Brown doubled down in the Southwest, going out and getting Wichita State assistant K.T. Turner -- who has spent nearly all of his coaching life in Texas, Oklahoma or Kansas.
It's not a staff that is going to get rolled over by the higher-profile and more successful schools in the AAC and in Texas.
And Mudiay's commitment proves that sentiment.
Mudiay's final five included Kansas, Kentucky, Baylor, Oklahoma State -- and SMU. If he wanted to play for a national title contender, Kansas and Kentucky were there. Close to home? Baylor. And Oklahoma State was something in between.
But the Mustangs swooped in and decided none of those options were going to happen.
Brown and Maligi made Mudiay a priority from Day 1, and they never backed off despite everyone saying he was a done deal to Kentucky.
This is a major statement for SMU. The Mustangs are clearly a player for any future five-star player that comes out of Texas, and they will also continue to be an attractive destination for high-major transfers. Brown won't be there forever, obviously, but he's already changed the entire direction of the program in just 16 months.
As the AAC nears its opening days, SMU put everyone on notice on Saturday night. The Mustangs are going to be a factor.
Louisville's coach predicts a change is coming to the NBA's one-and-done rule by 2019

Multiple former players of Lonergan's alleged verbal abuse and inappropriate remarks

When Miller left for Indiana, there was cause for concern in Flyerland; a top-100 signee says...
The Hoyas will spend their non-league schedule playing mostly nobodies -- as will most big...

An overview of what the most interesting conference will offer up this season -- beyond Duke...

The sneakers were made to commemorate the Tar Heels' six national championships