Solomon Poole shows off explosiveness at Pangos
Solomon Poole, ranked as the No. 5 point guard in the class of 2013, didn't go into the Pangos All-American Camp with the intent to fill up the scoring column. When he saw an opening, though, he had to attack.
• 1 min read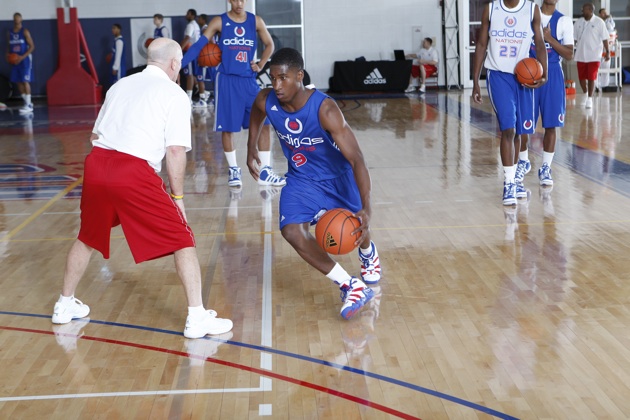 Explosive scorer Solomon Poole is one of the best point guards in the class of 2013. (Adidas)
LONG BEACH, Calif. – It was Sunday morning, the final day of the Pangos All-American Camp. The crowd at Cabrillo High School was quiet and just milling around for the most part.
Until Solomon Poole woke everyone up.
Poole, a 6-foot guard from Terry Parker (Fla.), drove coast-to-coast and threw down a thunderous one-handed dunk over 6-foot-11 Patson Siame.
"I just saw the lane open up," he said afterwards. "I think it was the best dunk, but I don't want to be biased."
Bias aside, it was certainly the best dunk of the weekend – and it demonstrated the explosiveness from Poole that he kept under wraps for much of the camp. He said he was focused on playing defense, since everyone just looks for his own shot.
With that said, Poole wasn't backing down despite being one of the few East coast players at the camp.
"It doesn't matter what I'm playing in," he said. "When I strap up, I just strap up."
Poole -- whose father played at Florida and brother recently transferred from Kentucky to Georgia Tech -- is currently ranked No. 24 in CBSSports.com's Top 100, and his scoring ability has made him an attractive prospect for colleges. He is strong off the dribble, and can finish effectively at the rim. He can also knock down 3-pointers consistently if defenders back off.
Memphis, Oklahoma State, Georgia, Georgia Tech, UCLA, Louisville, Miami (Fla.) and Syracuse are all coming at him, with Georgia Tech, UCLA and Oklahoma State recruiting him the hardest.
Poole said he wants to visit those three schools, as well as Louisville and Memphis.
"I'm looking for a coach that trusts me to put the ball in my hands," he said. "One that lives or dies with my decision-making, and one that makes me better."
The disgraced former Louisville coach really wanted those Yeezys with the zebra stripes

It's difficult to imagine an athletic director giving the Hall of Famer another chance

The recruiting scandal has cost Rick Pitino his job as coach of the Cardinals
Pitino's lawyer fought for his client's job Monday

These teams who have the potential to pull some upsets should they make it to the Big Danc...

Gary Parrish and Matt Norlander explain how and why UNC escaped penalty