Someone was on the take, but slow down before blaming Bill Self
An AAU coach named Darius Cobb says took money to influence Kansas' Ben McLemore. Should Bill Self and the Jayhawks vacate their 2013 NCAA tournament appearance, as John Calipari's schools (UMass and Memphis) had to do in 1996 and 2008? No.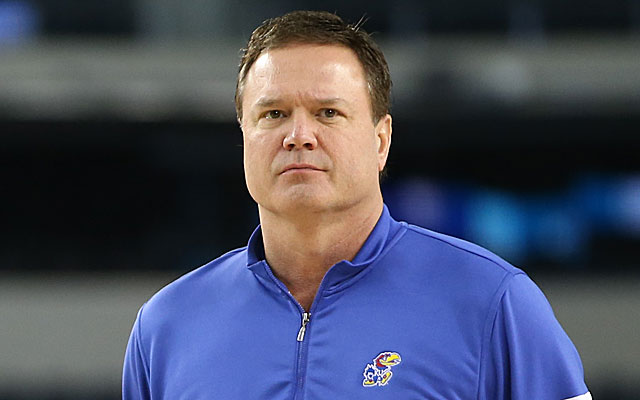 This is a case that calls for maturity, or fairness, or logic. At the very least, this is a case that calls for consistency. If you're incapable of mustering any of those qualities as it relates to this case, then maybe you should sit this one out.
This is the case of Ben McLemore and the leeches around him, a list that is long but apparently includes his former AAU coach, a runner, an agent, a marketing rep and maybe more.
Notice the parties I left out. I left out Kansas. I left out Kansas coach Bill Self. And I left out the NCAA. Unless more information comes out -- information that implicates Kansas or Self or anyone on his staff -- the NCAA should heed the final sentence of my first paragraph ... and sit this one out.
That would be a major shock, of course, for the NCAA to sit this one out even if it can't uncover anything more damning than what USA Today reported Saturday night, that AAU coach Darius Cobb was on the take. A wannabe power-broker named Rodney Blackstock reportedly plied Cobb with cash in the hopes Cobb would exert whatever influence he was believed to have on McLemore when it came time for the Kansas superstar to choose an agent, marketing rep, financial advisor, etc.
But this what I believe now, more than ever: I believe there are dirty coaches in the game, sure, but I believe the cheaters around college basketball aren't always doing their cheating at the direction, or even with the knowledge, of the college coaches involved.
I came to this belief through a personal bias, actually. A few years ago I decided I liked John Calipari. And if you're going to like Calipari, well, listen: You'd better find a way to come to grips with the two Final Four banners earned, and then vacated, by his teams -- by UMass in 1996, and by Memphis in 2008. And the way I came to terms with it was like so:
People around Calipari cheated. No question about it. Agents gave money to UMass star Marcus Camby. A leech arranged for someone to pass himself off as Derrick Rose to get a standardized test score that would make Rose eligible as a college freshman.
Those people are not John Calipari.
Same with this case at Kansas. The people who cheated, the people who gave or accepted money to capitalize on the talents of Ben McLemore, were not named Bill Self. And unless someone, anyone, can prove that the money was exchanging hands at the direction of Self -- unless someone can prove that Self or a staffer was the wizard behind the curtain, manipulating all of this -- then he's innocent. And if he's innocent, Kansas is innocent.
Just as Calipari and UMass were innocent in 1996. Just as Calipari and Memphis were innocent in 2008.
The NCAA didn't see it that way in 1996 or 2008, and it probably won't see it that way with Kansas in 2013, either. Wouldn't surprise me if the NCAA vacated Kansas' Sweet 16 appearance in the 2013 NCAA tournament, because that's what the NCAA does. (Then again, as Gary Parrish wrote today, the NCAA didn't do it to Duke.)
Someone should pay, obviously: the leeches. The people handing out the money. The people accepting the money. That's fraud of a scholarship, which could be a federal offense. Whatever it is, it should be illegal and the leeches should be punished by something as serious as the courts, not something as toothless as the NCAA.
Now, I know what (some of) you are thinking: You're thinking, of course Calipari was behind the gifts being given to Camby, and the test score given to Rose. You're thinking of course Self was behind the money given to McLemore's AAU coach. Who stands to gain more from making those leeches happy than Calipari and Self?
That's what you're thinking. And here's an answer:
The leeches have more to gain. In their own sphere, I mean. These things are relative, of course. Calipari got to the Final Four in 1996 and 2008, and Self's team won 31 games in 2012-13. On the surface, those things -- Final Four appearances, 30-win seasons -- seem bigger than a payday for a leech.
Only, not if you're the leech.
If you're the leech, that payday is everything. It's buying your car or covering your house payment for a year or allowing the leech to make his next unethical foray into college athletics by planting another chunk of change with another AAU coach or player or both.
As for Derrick Rose, specifically: Who had more to gain from his being eligible as a college freshman than the agent/marketing rep who stood to represent him one year later? Derrick Rose was a $100 million corporation waiting to happen, and everyone knew it. A piece of that pie is awfully tempting to the leeches. In 2007 Rose was going to be valuable to an agent and a marketing rep with or without college, but do me a favor and name one player -- name one -- in this one-and-done era who has turned pro after being academically ineligible as a college freshman, and then made a fortune off the court.
I'm still waiting.
That's why the leeches got Rose that test score. Calipari benefited from it, but somebody was going to benefit from it -- and until someone can prove otherwise, and nobody has in the five years since then, it's only fair to say Calipari didn't know about that.
Which means it's only fair to say Bill Self didn't know about this, either.
Whoever you root for -- Kansas, Kentucky, Memphis, UMass, even Kansas State or Missouri -- be fair about this. Show the same consideration to Kansas, now, that you would want shown to your school some day when the leeches get their hooks into one of your great players.
Because if your school is going to win big, it's going to have great players. And great players are going to have leeches.
And there's nothing the NCAA, the school or the college coach can do about it.
Arizona, for no good reason, doesn't have to play at USC or UCLA this season

We look at the 'Major 7' leagues and give you the best of what's to come in conference play...

Louisville's coach predicts a change is coming to the NBA's one-and-done rule by 2019
Multiple former players of Lonergan's alleged verbal abuse and inappropriate remarks

When Miller left for Indiana, there was cause for concern in Flyerland; a top-100 signee says...

The Hoyas will spend their non-league schedule playing mostly nobodies -- as will most big...