Stanford beats Houston, looks to makes statement against Pitt
Clinching an NCAA bid is still a long ways away, but Stanford has a chance to make a national statement when it faces Pitt in the championship game of the Legends Classic at the Barclays Center.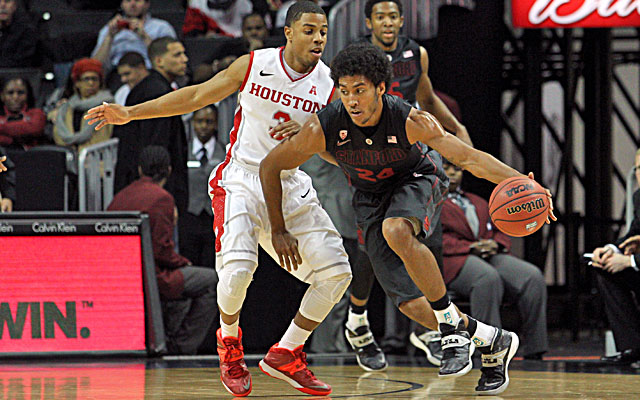 NEW YORK -- Five seasons without a trip to the NCAA tournament is an eternity at Stanford.
The Cardinal had several deep March runs under Mike Montgomery highlighted by a trip to the Final Four in 1998. They also reached the Sweet 16 with Trent Johnson 10 years later.
Since then, Johnny Dawkins has yet to lead Stanford to the field of 68.
And while clinching an NCAA bid is still a long ways away, Dawkins and the Cardinal have a chance to make a national statement when they face Pitt on Tuesday night in the championship game of the Legends Classic in Brooklyn.
Stanford beat Houston 86-76 on Monday night in the event's semifinals.
"We're going to get a lot out of a game like this," Cardinal coach Johnny Dawkins said after the game when asked about the magnitude of facing Pitt. "Jamie Dixon's teams are always so disciplined and tough to play. It's a great opportunity for us."
Preseason chatter in the Pac-12 centered around Stanford being right in the mix at the top of the league standings.
The Cardinal have three potential all-league players in Chasson Randle, Josh Huestis, and Dwight Powell along with several capable role players that were a part of last season's team that finished 19-15.
The biggest difference though between last year and now?
Six-foot-6 wing Anthony Brown.
The versatile wing missed all but four games with a hip injury last season and has made an immediate impact with his return.
In Monday night's win over Houston, Brown made back-to-back 3-point shots when the Cardinal were down by eight points in the first half and brought tremendous intangibles with his relentlessness on the glass.
"He's done that several times for us so far this season," Dawkins said of Brown, who had 20 points and nine rebounds in the win over Houston. "I was worried about how he would respond from the injury but he's come back and been better than ever."
Stanford had the forum to send a message nationally a few weeks ago against BYU and lost 112-103 at home.
Needless to say, the Cardinal will have to play at a much higher level on Tuesday to beat a Pitt team that looks like they're very much on their way to being a major factor in their first season in the ACC.
The Panthers were extremely crisp in their 76-53 decimation of Texas Tech on Monday.
"They're shooting the ball really, really well." Dawkins said of Pitt. "We're going to have our hands full."
For Dawkins, this season is all about making the NCAA tournament.
The sixth-year coach has a veteran team and a top flight recruiting class signed for next season highlighted by stud power forward Reid Travis that will keep Stanford nationally relevant for the foreseeable future.
But it's all about the field of 68.
Stanford athletic director Bernard Muir publicly stated at the end of last season that he expects nothing less for the Cardinal.
Last night, Stanford looked like a team that could accomplish just that -- especially in the second half.
The triumvirate of Brown, Powell (20 points, nine rebounds), and Huestis (13 points, 13 rebounds) physically wore down a Houston team that has a potential pro up front in big man TaShawn Thomas (22 points, 14 rebounds).
They'll need to do the exact same, and probably a little more to beat a Pitt team whose made their name as a program based on ferocious defense and rebounding.
"I think it's big for us," Brown said of facing the Panthers. "Pitt has such a great tradition and is so well respected. We're anxious for the opportunity."
Beating Pitt won't ensure that Stanford will make the 2014 NCAA tournament.
But it would be a major step in that direction.
Marvin Bagley, if eligible at Duke this season, projects as the country's top power forwar...

The Big Ten Tournament is a week earlier than usual, so the regular-season schedule may look...

Arizona, Grand Canyon and Tulane are also in Barcelona and have reported to be accounted for...
The Kansas forward is no longer accused of walking out on an $88 tab

Cavaliers basketball coach tapes statement on behalf of his university and his city

Gary Parrish and Matt Norlander discuss all things Marvin Bagley and his immediate future