Stephen Zimmerman shines in big matchup; recruitment in full swing
Top-10 prospect Stephen Zimmerman has three officials planned, and is also considering some other West Coast schools. Where will he end up?
• 2 min read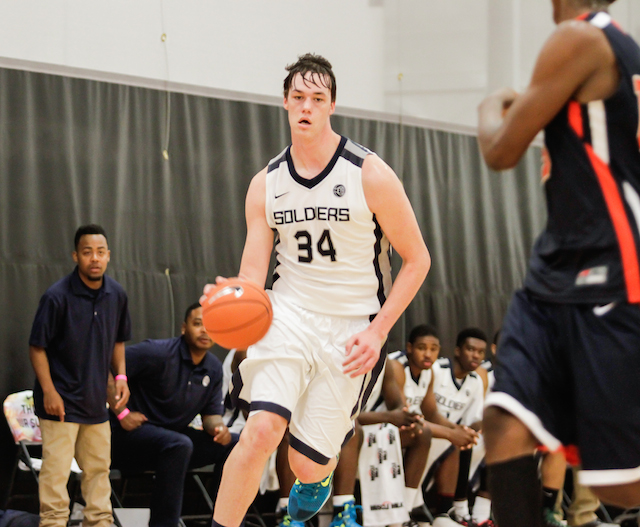 LAS VEGAS -- Steve Alford walked in. Then Roy Williams and an assistant coach entered. Georgetown sent an assistant, while John Thompson III arrived shortly after. Arizona assistant Damon Stoudamire was there. Ole Miss had an assistant in position well before tip-off. And of course, John Calipari and Josh Pastner were also in attendance, sitting next to each other.
Why all the fuss?
It was the marquee individual matchup of Thursday afternoon: Stephen Zimmerman vs. Skal Labissiere.
Two of the most highly-recruited big guys in the country, Zimmerman and Labissiere battled head-to-head throughout the game. Zimmerman finished with the edge, outscoring Labissiere, 15-12, while also getting the win for his Oakland Soldiers team.
Colleague Gary Parrish provided a complete breakdown of Labissiere's recruitment on Thursday night, but Zimmerman might be the more sought-after player in the class of 2015. Ranked No. 7 in the 247Sports Composite, the 6-foot-11 Zimmerman is extremely skilled for a player his size, and he creates matchup problems with opposing centers due to his ability to handle the ball and pass.
Not surprisingly, the best of the best are knocking on Zimmerman's door -- including many of the aforementioned programs.
"Hopefully after the officials, I'll be able to get more serious about what colleges and stuff, and maybe be able to trim my list more," Zimmerman said.
Those officials he referenced include trips to North Carolina, Kentucky and Kansas in the preseason.
All three are one right after the other, which seems like a crowded calendar -- but it will help Zimmerman make an educated decision when the time comes.
"That's the thing about having the officials planned so close together," he said. "I won't go on one and then automatically think it's the best thing ever."
Kansas is making a push for Zimmerman, and his ability to play either spot in the high-low offense is attractive to the big man. He played with similar personnel on the AAU circuit with Ivan Rabb, and it enabled him to use his wide array of skills.
"They think they can run their offense through me and play me a lot," Zimmerman said. "They're oviously a great school with big men, so that's what I look forward to."
Kentucky and North Carolina will also get a crack at him in the fall.
"Both those schools have mpowerhouse coaches and stuff, so on those officials, I want to see how they run things and how they talk to the players," Zimmerman said.
UCLA and Arizona will also get official visits, while UNLV has the local pull.
"It's literally in my backyard," Zimmerman said of the Runnin' Rebels.
Don't expect a decision anytime soon, as Zimmerman made it clear he has no timeline and could wait until the spring if necessary. There's the three official visits, plus the consideration of the Pac-12 schools and UNLV, so there is a long way to go before a decision is made.
"Whenever I feel comfortable with a school," Zimmerman said.
And plenty of schools are certainly willing to wait.
Dawn Staley was accused of promoting an atmosphere that induced racial slurs toward Mizzou...

KU can clinch at least a share of its 14th straight Big 12 title with a win Saturday over Texas...

Larry Hartstein is a perfect 5-0 picking for or against the Utes and locked in a play for...
Huggins wasn't fined but was reprimanded after pointing out the disparity in free throws in...

UCLA travels to fellow bubbler Utah and Washington also hits the road in Pac-12 bubble act...

Bagley's knee problem is worth worrying about, but Allen has suddenly found his All-American...