Steve Alford needs to make recruiting California a priority
With Steve Alford taking over as the head coach, he needs to make a concerted effort to keep the elite California players at home.
• 3 min read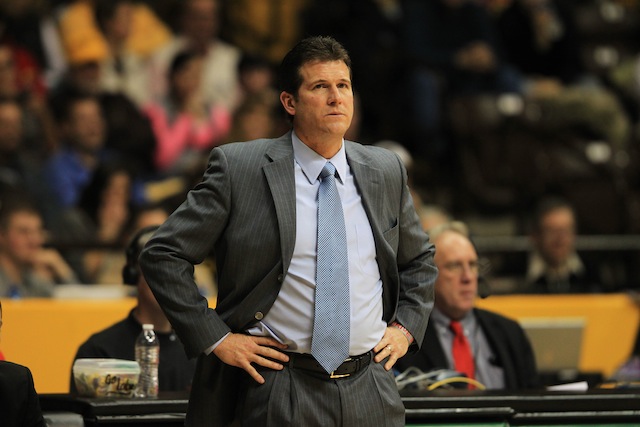 Despite Ben Howland reaching three Final Fours and winning a Pac-12 regular-season title this year, there have been major concerns in the area about his inability to consistently and effectively recruit California.
Howland picked up Noah Allen in the class of 2013, but he didn't rank among the top 20 players in the state. He didn't get anyone from California in his vaunted class of 2012. The class of 2011 had plenty of talent in the Golden State, but only Norman Powell ended up at UCLA. It was more of the same in 2010, where UCLA only picked up one of the top guys in California.
More on Alford hiring at UCLA
Related links
More college basketball coverage
Just look at the California guys who have made an impact this year -- and this isn't looking at the Kawhi Leonards and Jordan Hamiltons and Derrick Williamses whom Howland also missed on. Dominic Artis, Michael Snaer, Solomon Hill, Allen Crabbe, Jabari Brown, Spencer Dinwiddie, Tyrone Wallace -- all those guys were factors this season, and none of them were at UCLA. Don't forget Kendall Williams and Tony Snell, who both were from Southern California and ended up at New Mexico. 
In the last five classes, Howland has received commitments from eight California players: Anthony Stover, Tyler Honeycutt, Brendan Lane, Reeves Nelson, Tyler Lamb, Norman Powell, De'End Parker and Noah Allen. How many of those guys worked out? Allen hasn't arrived on campus yet, but Powell is the only other one to not transfer or be dismissed from the team.
The three California natives who started on this year's UCLA team? All three (Travis Wear, David Wear, Larry Drew II) were transfers from North Carolina. 
Howland also saw key players like Drew Gordon, Mike Moser, Chase Stanback, Matt Carlino and Josh Smith transfer -- with the first four becoming factors at other schools.
All of this needs to change. These were the biggest knocks on Howland during the last several years at UCLA. With Steve Alford taking over as the head coach, he needs to make a concerted effort to keep the elite California players at home -- and he also needs to have far less attrition in terms of transfers.
It might be too late to make an impact in the class of 2013, but Alford has to at least call top-five prospect Aaron Gordon. Gordon is down to Arizona, Washington, Kentucky and Oregon, but his older brother played for Alford at New Mexico (after transferring from UCLA) and they have a good relationship. Will it work? Probably not, but he has to at least reach out.
After that, the class of 2014 in California is loaded. There are at least 10 four- or five-star recruits, and only point guard Parker Jackson-Cartwright is committed (to Arizona). Malik Pope and Stanley Johnson both have UCLA on their lists, and Alford needs to make them a priority. Point guard Jordan McLaughlin is another player whom Alford has to make a move on. He recruited him at New Mexico and needs to continue that at UCLA.
The AAU programs in California -- Oakland Soldiers, California Supreme, Pump N Run, Belmont Shore, Compton Magic, etc. -- are providing talent to plenty of schools, but UCLA hasn't been one of them.
Lately, Arizona head coach Sean Miller has been coming into California and getting pretty much whomever he wants to go to Tucson. Oregon's Dana Altman has done a good job in northern California, and UNLV and San Diego State are also getting their fair share of players. Throw in Washington, California and the national programs, and Alford has his work cut out for him.
Alford has experience recruiting the West Coast, and he's going to need it if he wants to be successful at UCLA.  
Dates, start times and streams of LaVar Ball's interview with CNN

Wichita State and Notre Dame could meet in the final of the Maui Jim Maui Invitational

The Wildcats are 3-2 with two losses to unranked teams
Trump again says he should have left LiAngelo Ball in China

Cincinnati and Iowa highlight an impressive inaugural field for the Cayman lslands Classic

The president didn't take kindly to not getting a thank-you from LaVar