Steve Lavin looks to Villanova as blueprint for Johnnies
St. John's went 1-7 down the stretch of the season -- but there is still optimism heading into next year.
• 2 min read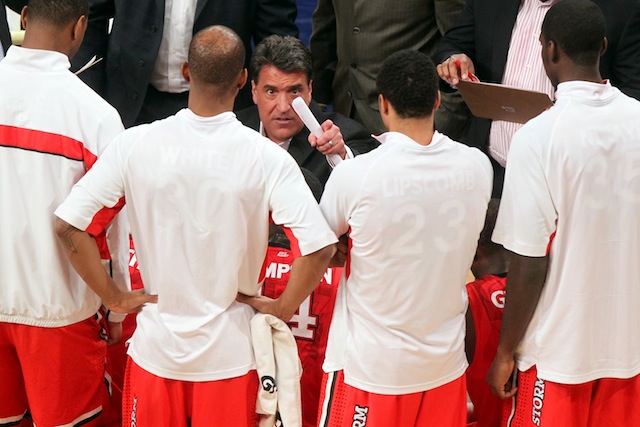 NEW YORK – There have been times in Steve Lavin's career when he has wanted to move past a loss as quickly as possible, forgetting about it shortly after the buzzer sounds.
The Red Storm's loss to Villanova in the Big East tournament won't be one of those games.
In fact, the St. John's head coach is hoping next year's version of the Red Storm is similar to this year's Villanova team.
"I told them, 'We're playing a team that [is] in the same situation we are next year,'" Lavin said. "That will be us next fall."
Villanova took a step back after the 2009-10 season, getting bounced in the round of 64 in 2011 and then missing the NCAA tournament going just 13-19 last season. However, the Wildcats are primed for a return to the big dance this season, as Wednesday's victory over the Red Storm likely clinched at an at-large bid.
Can St. John's turn a disappointing 1-7 finish to the season into a positive for next year?
"I was very open about the fact this was the most challenging season," Lavin said. "It was unprecedented, the youngest team I've ever been a part of. I'm proud, given the fact this young group had to come of age in the toughest league of America. That will pay off next year."
But it also raises the question – where does St. John's go from here?
The Red Storm don't lose anyone from this year's team, and suspended leading scorer D'Angelo Harrison has a good chance of returning next season. God's Gift Achiuwa is also returning after a redshirt season, while Orlando Sanchez will be eligible. 
On the other hand, though, they aren't bringing anyone new into the fold (unless uncommitted four-star guard Rysheed Jordan chooses St. John's over UCLA and Temple). What we saw for most of the season is going to be awfully similar to what we see from St. John's a year from now. That will have to be enough to take the Red Storm to the NCAA tournament.
"We proved we can take punches and punch back," Lavin said. "We're moving in the right direction. I definitely like the core we're moving forward and building with."
A 16-15 record doesn't look great on the surface, but this team was 15-8 after a home win over Connecticut on February 6. It was projected to make the NCAA tournament at various times throughout the Big East season, and was likely a bubble team until March.
There's still optimism within the program, as Lavin has proven he can recruit and the young players are developing. But there's also a sense that the Red Storm need to take that next step – and it needs to happen soon.
"They're going to do some special things before their careers are over," Lavin said of his team.
Being next season's version of Villanova would certainly be a start.
---
For more college basketball news, rumors and analysis, follow @EyeOnCBB on Twitter, subscribe to our RSS Feed and subscribe to our College Basketball Newsletter. You can follow Jeff Borzello on Twitter here: @jeffborzello
Nov. 10 will be here before you know it so here's what you need to know

The league would be wise to treat that series like the ACC treats Duke-North Carolina

Pacific is penalized after the NCAA found academic rules were broken
Arizona, for no good reason, doesn't have to play at USC or UCLA this season

We look at the 'Major 7' leagues and give you the best of what's to come in conference play...

Louisville's coach predicts a change is coming to the NBA's one-and-done rule by 2019