Suddenly, Kansas has the perfect team to make a tournament run
Big 12 tournament title is Jayhawks' third in four years.
by

Eye on Col Basket staff

• 5 min read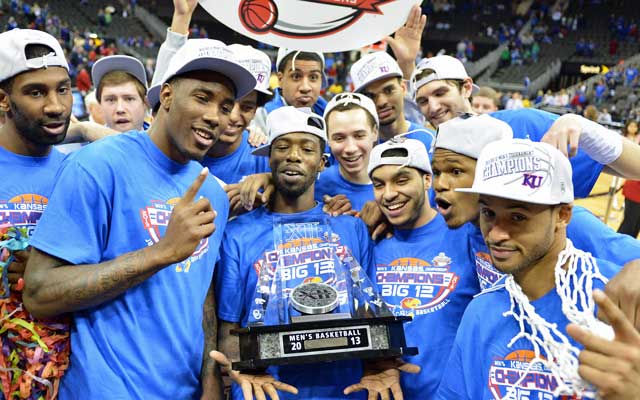 By Dennis Dodd | Senior Columnist
KANSAS CITY, Mo. -- Kansas doesn't have the perfect tournament team, but it's damn close at this point. 
Perfect because the possible No. 1 NBA draft choice (Ben McLemore) doesn't necessarily have to score. McLemore didn't for three-fourths of Saturday's Big 12 championship game. The Jayhawks' leading scorer ended with five points.
Perfect because, in Bill Self's words, "We don't have a point guard." The brutal truth hurts when you're Elijah Johnson, whose shooting percentage is down and turnovers are way up in his senior season. 
Perfect because Kansas owns possibly the worst Division I loss of the season -- to TCU on Feb. 6.
More on Kansas-Kansas State
Related links
More college basketball coverage
Perfect because the Jayhawks have accomplished all this with the reboot roster of a team that played for the national championship a year ago. No All-American Thomas Robinson, no rejuvenated Tyshawn Taylor.
Perfect because the Jayhawks look to have the field right where they want it on Selection Sunday. Of all the great teams around they aren't one of them. That's OK. There are no blow-you-away, slam-dunk favorites this season. Not one. You might have noticed.
Kansas is just as likely to have its weaknesses exploited as get to the Final Four. Its Big 12 tournament title Saturday was its third in four years, coming a week after its worst loss in seven years (at Baylor). Duke is making a case to be a No. 1 seed because of a player it didn't have. The Blue Devils were undefeated with Ryan Kelly until Friday's ACC tournament loss. Kentucky has gone from national champion to perhaps being left out.
Yeah, OK, it's easy to find legions of KenPom-induced, studio-shackled experts to like the Jayhawks. But do they really know why?
"They lost to teams that we beat," K-State guard Rodney McGruder said after Saturday's 70-54 loss to the Jayhawks.
That was after Kansas may have just played tself into a No. 1 seed a year following a run to the national championship game. Just remember that a possible No. 16 seed first-round opponent will probably be better than TCU.
That's Kansas this year.
 "The key to the tournament is going to be winning games when you don't play your best," Self said.
Kansas has had plenty of practice by Kansas standards, losing three head-scratching games in a row at one point – one of them that TCU debacle.
"I feel like there a handful of good teams out there," guard Naadir Tharpe said. "But what's good?"
Self had a better team than this one lose to Northern Iowa three years ago.
"They had Sherron Collins, they had the [Morris] twins, they had Xavier Henry," K-State's Martavious Irving said. "That team was way better. No offense to the team now. Coach Self does a great job with these kids and that's still a talented bunch, but they had loaded NBA talent."
This one? It can survive, even thrive, and advance by playing like it has all season. These Jayhawks struggle to score even with McLemore putting together a personal highlight reel for NBA scouts. Johnson, the target of Self's scathing quote 5 ½ weeks ago, has since played better but didn't think much of himself on Saturday.
"It was definitely a flashback tonight," Johnson said after a 3-for-9 shooting night that included six turnovers. "It tried to force the issue. I'm stronger than that."
Having the nation's No. 1 field goal defense is a good place to start. Kansas State went without a field goal for almost 10 ½ minutes in the first half. The Wildcats tried running the shot clock down to single digits before getting into any semblance of an offense. Kansas had one of its worst first halves of the season (24 points) and still looked dominant because it held the Wildcats to 16.
"They pack the floor," McGruder said.  "You can't curl, you have to pass it. There's a guy standing right there."
That's what makes these Jayhawks almost the perfect team going into the tournament. Their style fits March. If the Jayhawks continue to funnel everything to the middle where 7-foot Jeff Withey awaits on defense, that's a hell of a strategy. After that, well, the offense tends to become a bit easier this time of year.
Misses and blocks lead to transition baskets. Withey, the tournament's most outstanding player, produces both. He is perhaps the nation's best shot blocker, even when Kentucky's Nerlens Noel was healthy.
The tournament is about how you play in the halfcourt. Games are grittier. Points are harder to come by. Kansas was great down the stretch last year with Robinson leading and Taylor playing like the NBA guard he would become.
"I'm a big believer in, 'They love you to hate you to love you again,' said Johnson, who has heard the hope of him rebounding in the postseason like Taylor.
This KU team has no other choice but to choke you off in the halfcourt. They are No. 5 nationally in KenPom's adjusted defensive efficiency. McLemore can look like Baby Jordan. He can also defer to his elders like he did Saturday hoisting only seven shots in 36 minutes. The words "It's OK to be great" scrawled onto his backpack might be a reminder.
The Jayhawks were great -- this week. They set a Big 12 tournament record shooting 55.3 percent. In the second halves of the three games, they shot 64 percent (52 of 81) and were 15 of 22 from the arc. KU's bench – consisting basically of Tharpe and freshmen Jamari Traylor and Perry Ellis – contributed 100 points in three tournament games. In the previous six games, the bench had averaged 14 points.
"When you hear somebody tell you … 'You're not this and you're not that,' you want to show them that you are," said Tharpe, also a target of Self's guard-baiting at one time who had 12 points off that bench.
College basketball isn't great right now. Neither is Kansas. As long as we're in agreement, why can't the Jayhawks repeat with that rebooted roster?
Wouldn't that be perfect?
Marvin Bagley, if eligible at Duke this season, projects as the country's top power forwar...

The Big Ten Tournament is a week earlier than usual, so the regular-season schedule may look...

Arizona, Grand Canyon and Tulane are also in Barcelona and have reported to be accounted for...
The Kansas forward is no longer accused of walking out on an $88 tab

Cavaliers basketball coach tapes statement on behalf of his university and his city

Gary Parrish and Matt Norlander discuss all things Marvin Bagley and his immediate future