Surprised by the timing but not by Brad Stevens' jump to the NBA
Brad Stevens was never going to be at Butler forever. Gary Parrish says Stevens' jump to the NBA is a win-win for both the Celtics and the NBA's newest coach.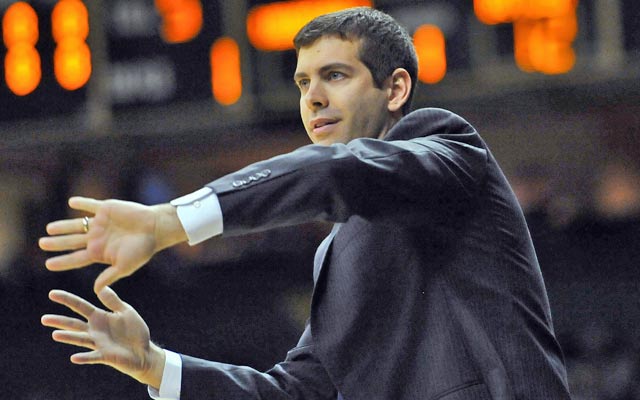 Some fans just can't help themselves, whenever a college coach reaches an unprecedented level of success with a program, from envisioning a world in which that coach stays at that school forever and always, till death do them part.
But that's a pretend world.
It's not a world that's ever actually existed.
And we were reminded of that Wednesday when Brad Stevens left Butler for Boston in a move that came as a surprise but really shouldn't be all that surprising. I mean, are we really surprised that an NBA franchise would be interested in Stevens? And are we really surprised that Stevens would be interested in coaching one of the sport's treasures?
The answers should be no and no.
Stevens is a basketball genius, a high-level tactician, somebody with a mind good enough to match wits with the best coaches at any level. I sometimes referred to him as the top "basketball coach" in college in recent years, and it was never hyperbole. I really do think he's that good. So I completely understand why the Celtics would want him.
And I also understand why Stevens would want the Celtics.
It was never realistic to expect him to remain at Butler forever because there's only so much you can reasonably expect to consistently do at a school that size. No matter how good you are and how much success you have, you still aren't going to beat Indiana for an in-state recruit like Cody Zeller, and you still aren't going to get paid like Tom Crean gets paid at IU. So unless you expected Stevens to spend the next 25 years operating at a disadvantage relative to other coaches in the new Big East while also being vastly underpaid, you had to know this day was coming. And considering Stevens has never been wild about the idea of taking a college job at a traditional high-major where dealing with shady summer coaches and ruthless agents is part of the deal, the NBA always seemed like a logical next step for Stevens.
So I'm not surprised this happened.
I'm only surprised by the timing of it.
You can blame the Clippers and Doc Rivers for that.
Either way, I love this move -- for both Boston and Brad.
Why not, if you're Celtics president Danny Ainge, hire the "next great thing" to take on your rebuilding project? It might've been less ideal with a roster featuring Paul Pierce and Kevin Garnett. But the Celtics don't have those guys anymore. Consequently, they're going to be a younger team with mostly young players, and so having a young coach who doubles as a respected teacher of the game makes a lot of sense.
And this moves makes sense for Stevens, too.
It was always going to be awkward trying to leave Butler directly for another college job, even if it made financial sense. So this eliminates that. Meantime, Stevens receives the paycheck his talents suggest he deserves, creates financial stability for his family and gets to test himself with one of basketball's historically great franchises. His six-year contract serves as an indication that Ainge will give Stevens plenty of time to be successful. If he is, he'll go down as one of the great basketball coaches in history. If he's not, he'll get fired and be the hottest college coaching candidate in a few years and thus in a position to take the best job available whenever he wants, just like Rick Pitino after his tenure with the Celtics, just like John Calipari after his tenure with the Nets.
Simply put, I don't see any significant downside here, especially when you consider it had probably already gotten about as good as it was going to get for Stevens at Butler thanks to those back-to-back national title games in 2010 and 2011. So, yeah, I was as surprised by the timing of this development as everybody else. But just because something is surprising doesn't mean it doesn't make sense, and that's the best way to describe this for Boston and for Brad, as a surprising-but-sensible move.
The voter has Northwestern seven spots ahead of undefeated Texas Tech, which just blasted the...

The 7-foot-1 center is the No. 3 prospect in the Class of 2018, according to 247Sports

Alabama enters the top 25 while Northwestern drops out after a rough week
Four years ago, Bryant told Jimmy Kimmel that he'd have picked UNC

Dates, start times and streams of LaVar Ball's interview with CNN

Wichita State and Notre Dame could meet in the final of the Maui Jim Maui Invitational