Surrounded by talent, Tyler Ennis out to prove he's the best
Tyler Ennis runs the show for the loaded CIA Bounce AAU program. Although there is plenty of talent around him in the lineup, Ennis think he's the best point guard in the country.
• 2 min read
Canadian-based CIA Bounce might be the nation's best AAU team right now, sitting undefeated in the Nike Elite Youth Basketball League. Andrew Wiggins is arguably the best high school prospect in the country, while Xavier Rathan-Mayes is picking up a new offer everyday.
But none of it would be possible without Tyler Ennis, the man running the show.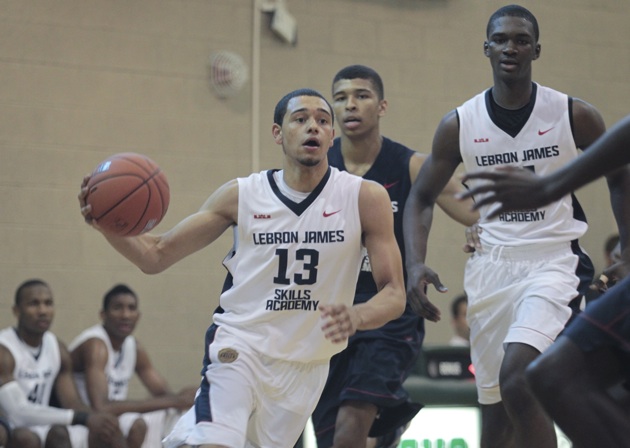 Tyler Ennis has been the leader for Canadian-based -- and undefeated -- CIA Bounce this spring. (St. Benedict's Prep)
"I thought I've been playing well, although you can always play better," Ennis said. "My only care is winning and we have done that thus far."
They certainly have, outscoring opponents by more than 15 points per game in the EYBL. Ennis is third on the team in scoring, but he doesn't mind taking a back seat offensively.
"It just makes it so easy for me," Ennis said. "I don't have the whole defense focused on me. They are so talented, it makes it easier for me."
Ennis, a 6-foot-2 prospect who plays at St. Benedict's (N.J.), is currently ranked No. 27 in CBSSports.com's Top 100. He is the No. 6-ranked point guard in a class loaded with quality facilitators.
That's not high enough for Ennis.
"Some rankings have me top five to even top 10 point guards," he said. "But I think I'm the best."
Ennis is more of a creator than a scorer, as evidenced by his four assists per game in the EYBL. He finds cracks in the defense and is able to exploit weaknesses with his impressive ball-handling and ability to finish in the lane. Ennis changes speeds effectively and is very good in transition.
He's also improving his shooting – previously his biggest weakness. Ennis is knocking down 42 percent from 3-point range and 53 percent from the field.
"I've watched some point guards who can only score and some who can only pass," he said. "I think my ability to do both while winning and thinking the game makes me the best."
Wherever he winds up in the rankings won't affect his college destination. Ennis already has his choice of suitors: Illinois, Syracuse, Memphis, Louisville, Baylor, Wake Forest and UCLA. Others have shown interest, but those are the seven standing out right now.
"They're not favorites, but they're who keeps in touch the most," Ennis said. "Who I'm in touch with the most right now."
Ennis has no favorites and no visits planned, but he has taken trips to Arizona and Syracuse in the past.
While he's not ready to make a decision, he knows what he's looking for in a school.
"Playing time right away," Ennis said. "Good development, talent around me and a relationship with the coach."
The Mountaineers blew a double-digit lead in the second half and Huggins decided he'd seen...

The No. 3 Wildcats crush the No. 4 Musketeers to move closer to winning a 5th consecutive Big...

The No. 2 Spartans overcame a 27-point deficit vs. Northwestern and South Carolina holds on...
John Calipari's team gets a healthy home win over Alabama, and UK fans can finally calm th...

McLemore was taken to a nearby hospital for further evaluation

Bagley is leading the Blue Devils in scoring and rebounding