Syracuse-Georgetown renew rivalry, provide boost for college hoops
Conference realignment stripped college basketball of too many rivalries over the years. But the Orange and the Hoyas have decided to not let that keep them from playing each other.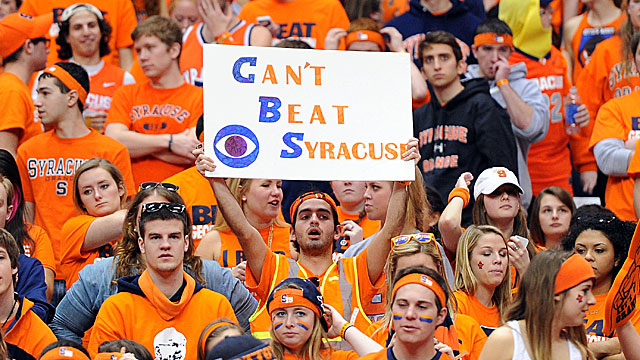 Latest in hoops: NBA Early Entries | Latest News | Coaching Changes
Conference realignment has, over the years, stripped college basketball of several notable rivalries, among them Syracuse-Georgetown. So fans on both sides -- and fans of the sport in general -- must've been celebrating Tuesday morning when the two original Big East members announced that they've agreed to a four-year, home-and-home series that's scheduled to begin at the Verizon Center at some point during the 2015-16 season.
The 2016-17 game will be at the Carrier Dome.
The 2017-18 game will be at the Verizon Center.
The 2018-19 game will be at the Carrier Dome.
(Specific dates for the games have not yet been set.)
"Continuing this historically important rivalry has always been of the highest priority for us since our move to the ACC, and something I know our players, coaches, fans and the entire SU community are excited about," Syracuse AD Dr. Daryl Gross said. "When Syracuse and Georgetown go head-to-head, the history of the rivalry is unmatched, and the entire nation pays attention. Clearly our move to the ACC has been tremendous on all fronts, but sometimes you can have the best of both worlds -- and this series fits that concept."
Amen, Dr. Gross.
Amen.
"Georgetown against Syracuse is one of the great rivalries in college basketball," Georgetown coach John Thompson III said. "From the days when my father [John Thompson] was coaching against [Syracuse coach Jim] Boeheim to our most recent games, this is one of those games that generates passion from both sides."
This announcement will surely lead to folks who follow the sport -- and to folks who speak on behalf of the sport -- suggesting more rivalries halted because of realignment need to do what Syracuse-Georgetown did and start a non-league series. On that, two things:
Non-league scheduling is more complicated than most seem to realize.
Some so-called rivalries aren't really worth rekindling.
That said, I mostly agree.
The college basketball season is a long season that basically stretches over five months. It starts during football season and ends during baseball season, and every measuring device available suggests casual fans don't get too emotionally invested until January, if not later. There are, quite frankly, many reasons for that -- most notably this country's obsession with helmets and shoulder pads. But that doesn't mean the sport can't do better, and one way to do better is to create compelling non-league matchups that'll force people to pay attention.
Syracuse-Georgetown is a perfect example.
I won't overstate it and try to convince you that, if scheduled for a Saturday in November, it'll rate better than whatever SEC football game CBS happens to be broadcasting that afternoon because football is still football (and SEC football is king). But Syracuse-Georgetown is at least the type of non-league college basketball matchup -- i.e., a non-league college basketball matchup between traditional powers with history that'll be played somewhere other than a often-lame neutral court -- that'll likely register nationally smack dab in the middle of football season, and, even if it doesn't, the renewed rivalry will still be a treat for Syracuse and Georgetown fans raised to mock each other.
Bottom line, this is a great thing.
Salute to the schools for making it happen.
Missouri freshman will miss the season and likely never play another minute of college bal...

College basketball fans, especially those at Missouri, are robbed of the excitement Porter...

School officials expect the five-star freshman to miss the rest of the season
Cincinnati and Iowa highlight an impressive inaugural field for the Cayman lslands Classic

The Bluejays are 4-0 with some impressive victories, including a win vs. the Bruins on Mon...

The world's most prominent Basketball Dad responded to Donald Trump calling him 'very ungr...