Syracuse gets 'a little lucky' and wins at Pitt to remain undefeated
Tyler Ennis' 35-footer at the buzzer lifted the top-ranked Orange to a 58-56 win that pushed their record to 24-0.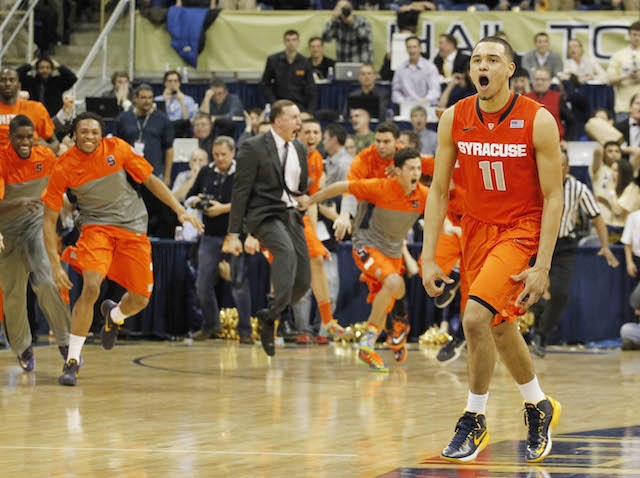 Jim Boeheim has won more games in his career than most coaches ever even coach, and what I like is that he's smart enough to know he's not responsible for all of those wins.
Granted, Boeheim's the reason Syracuse is consistently great.
That's why he's in the Hall of Fame already.
But sometimes wins and losses are determined by things completely out of a coach's control, and that was undeniably the case Wednesday when Syracuse escaped the Petersen Events Center with a 58-56 victory against Pitt thanks to Tyler Ennis' 35-footer at the buzzer.
"You gotta be a little lucky," Boeheim told ESPN's Doris Burke in a postgame interview televised nationally. "That was a little lucky."
A little lucky and a lot awesome.
So Boeheim's Orange remained undefeated with two home games against unranked opponents on deck, meaning that barring a big upset -- they'll be double-digit favorites Saturday against North Carolina State and next Wednesday against Boston College -- Syracuse will be ranked No. 1 and 26-0 when it plays Duke on Feb. 22 at Cameron Indoor.
Boy, is that gonna be something or is that gonna be something?
(That's gonna be something!)
But let's not get ahead of ourselves.
Let's get back to Wednesday's crazy win that looked like a probable loss for the Orange pretty much the entire game ... or, at least, until Ennis reestablished himself as the nation's most important freshman. The Canadian point guard, just as calm as he could be, sank two free throws with 10.8 seconds remaining to give the Orange their first lead since early in the first half. Then, after Talib Zanna made two free throws at the other end to give Pitt a 56-55 advantage, Ennis received the inbounds pass from Jerami Grant with 4.4 seconds remaining, took four dribbles, zigged, zagged, and let a long 3-pointer fly with 1.2 seconds left that swished through the net at the horn.
"That's the shot we wanted him to take," Pitt's Lamar Patterson told WAER Sports after the game. "There's nothing we could do about it."
Sounds like a fair assessment to me.
Yes, I'm aware some are criticizing Pitt coach Jamie Dixon for calling a timeout to let Syracuse design a play at the end, and I recognize Dixon's decision to not put a man on the inbounds passer is questionable. (I mean, we've all seen that Christian Laettner shot, right?) But to focus on that stuff is to miss the larger point, which is that Boeheim didn't actually get what he wanted coming out of that timeout, and that Syracuse was forced into taking the shot Pittsburgh wanted Syracuse to take, which is to say an off-balanced 35-footer.
Like Patterson said, there's nothing Pittsburgh could do about it.
Tyler Ennis just sank a lucky shot.
And that, for the most part, is why Syracuse is still undefeated and Pittsburgh is still looking for its first win over a school currently ranked in the top 40 of the RPI, because Ennis was crafty enough to give himself a decent look and fortunate enough to sink a jumper that, when it left his hand, was statistically way more likely to be a miss than a make.
But it wasn't a miss.
It was a make.
So Syracuse won and Pittsburgh lost.
And Jim Boeheim, with that quote about luck, summarized it best.
Or, actually, Syracuse assistant coach Mike Hopkins summarized it best.
"That game reminded me of playing a round of golf, being in the sand trap all day, then hitting a hole-in-one," Hopkins tweeted late Wednesday. "Incredible."
CBS Sports HQ Daily Newsletter
Get the best highlights and stories - yeah, just the good stuff handpicked by our team to start your day.
Please check the opt-in box to acknowledge that you would like to subscribe.
Thanks for signing up!
Keep an eye on your inbox for the latest sports news.
Sorry!
There was an error processing your subscription.
Porter returned for a sophomore season with hopes of developing into a lottery pick for the...

Class of 2019 standout picked the Mountaineers over a slew of other high-major offers

Williamson scored 14 points in a Duke scrimmage that resulted in a 44-39 win for his team
Gary Parrish and Matt Norlander spend 80 minutes discussing every big headline from the we...

Sister Jean's Loyola-Chicago Ramblers may very well be back in the mix for a spot in this year's...

Commissioner Bernadette McGlade's message to her coaches: Take chances and schedule aggres...