Syracuse lands top-five point guard Tyler Ennis
Syracuse solved its potential point guard issue for 2013-14 on Thursday, by receiving a commitment from Tyler Ennis. The Canadian is ranked as the No. 5 point guard in the class.
• 1 min read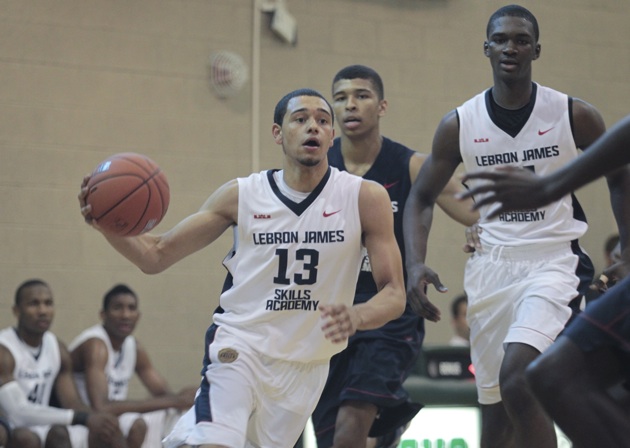 Point guard Tyler Ennis will immediately step in and play major minutes for Syracuse in 2013-14. (Nike)
Syracuse had long been considered the favorite to land Tyler Ennis. The Orange recruited him harder than nearly anyone in the country, and he also attended their Midnight Madness night last season.
On Thursday, Ennis made it official – he's headed to Syracuse.
Ennis chose the Orange over Memphis, UCLA, Louisville and Illinois.
Ennis, who ran alongside consensus No. 1 player Andrew Wiggins with CIA Bounce on the AAU circuit, is a 6-foot-2 point guard from Canada who plays for St. Benedict's (N.J.). When the 2013 rankings are updated, he will sit at the No. 5 spot at his position. He excels in transition because of his speed, but he is also capable of running a halfcourt set and finding teammates for baskets. He knows how to get to the rim off the dribble, and he can also get hot from behind the arc. Ennis' strength is his penetration ability, as he can draw defenders and kickout, or finish himself.
Before Ennis committed, Syracuse looked very thin at the point guard position for the 2013-14 season. Brandon Triche only has one season left, so Michael Carter-Williams would have been the only scholarship point guard on the roster. Carter-Williams is very talented, but he's more of a scorer and could also leap to the NBA if he has a breakout year this season. Ennis should be able to step in immediately and get major minutes running the offense. Defensively, he will need to learn the ins and outs of the 2-3 zone, but he plays the passing lanes well for steals.
Ennis is the first commitment for Jim Boeheim in the class of 2013. He also continues the Canadian pipeline to Syracuse, taking the baton from Andy Rautins and Kris Joseph. 
Arizona's big man from the Bahamas balled out against two talented teams

Coach Shaka Smart doesn't expect him to be out for an extended period of time

Jackson isn't showing the Sun Devils much respect after beating KU
One AP voter must not know ASU is undefeated with wins over the Jayhawks and Musketeers

Duke and Kansas take a hit in the coaches poll

The top 10 gets a major shakeup after a wild week of upsets